ResMed took the world's most popular CPAP machine and turned it up to eleven. Or so they say! If you've recently been looking for a new CPAP machine, you've probably noticed the hype around the long-awaited ResMed AirSense 11. But does it live up to the excitement? And how is it different from the AirSense 10? Is it worth upgrading or should you stick with a proven machine?
Before you buy your next CPAP machine, check out our comparison of the different models, as well as answers to the most common questions about ResMed's newest offering.
What Is the Difference Between the AirSense 11 Models?
Like the AirSense 10 series, AirSense 11 is actually a line of products that encompasses several new CPAP machines– including an APAP and two fixed-pressure CPAPs! These are the:
AirSense 11 AutoSet - This is the APAP version, with ResMed's famously accurate auto-adjusting pressure levels. The 11 uses the same clinically-proven algorithms as the AirSense 10 to monitor your breathing and adjust your airflow as needed.

Sharp-eyed readers will notice there's no "For Her" model of the AutoSet this time. That's because this model has the ability to set your PAP therapy mode to AutoSet, AutoSet For Her, or even fixed-pressure CPAP mode.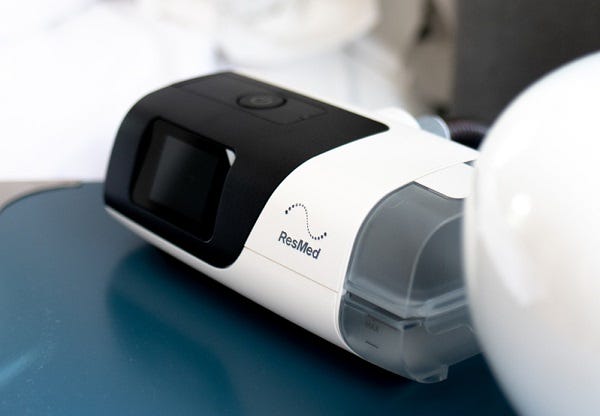 AirSense 11 Elite - The Elite is the upgraded fixed-pressure CPAP, which means it comes with Advanced Event Detection (AED) and Sleep Onset Detection. AED enables your CPAP to detect other breathing problems, like Central Sleep Apnea or Cheyne-Stokes Respiration.

Sleep Onset Detection works together with the AutoRamp feature, allowing you to begin your sleep therapy at a lower setting. When the machine senses that you've fallen asleep, it gradually raises your airflow up to your prescribed settings.
AirSense 11 CPAP - This fixed-pressure CPAP is the more affordable cousin to the other models, but don't dismiss it as the budget knock-off. This entry-level CPAP still has all of the features that made the AirSense 10 so popular, plus a few new tricks of its own. We'll explain those in the next section!
What Is the Difference Between AirSense 11 and AirSense 10?
So now we come to the most important question! What is the difference between the AirSense 10 and AirSense 11?
Aside from its sleek new design and smaller footprint, the AirSense 11 does have some upgrades that you may find worthwhile– including new comfort features, color touch screens, and a more efficient power supply!
Personal Therapy Assistant
This new feature offers voice-guided, step-by-step instructions on setting up your equipment, getting started with CPAP therapy, and troubleshooting common problems. For many CPAP users this will make switching to a new machine faster and easier– but it has the potential to be a total game changer for differently-abled patients who may not prefer written instructions.
Care Check-In
The Care Check-In program offers personalized coaching during your first month of sleep therapy. It uses time-based questions to follow your progress and offer customized tips and advice to make your sleep apnea treatment as comfortable as possible.
Color Touch Screens
It's easy to dismiss this feature as gimmicky, but the touch screen interface will feel easy and familiar to anyone who has used a smartphone or tablet. Quickly access your settings, digital health data, and comfort features with simple, intuitive menus.
Independent SmartStart/SmartStop
You can now toggle SmartStart and SmartStop off independently, instead of having them combined. This is good news for those who found the SmartStop on the AirSense 10 to be a little too sensitive.
Bluetooth Connectivity
In addition to built-in wireless connectivity, the AirSense 11 can now pair with your smartphone through built-in Bluetooth capability!
Test Drive
Test Drive is designed to help first-time CPAP users adjust to sleeping with their machine. ResMed knows that positive airway pressure can be difficult to get used to, but if you can stick with it, CPAP therapy can change your life for the better!
Improved Hose Connection
ResMed replaced the 90 degree angled swivel connector on the back of the AirSense 10 with a straight, fixed connection for the AirSense 11. This may be a controversial choice for some CPAP users who liked the swivel, but the new design allows the AirSense 11 to more effectively maintain consistent and accurate pressure.
Remote Upgrade
Get the latest software updates and new features without having to buy a new machine! With remote upgrade you can update your health technology without leaving your home.
65-watt Power Supply
The AirSense 11 manages to deliver the same effective respiratory care– even when using humidification– while using less electricity. And not by a little either. The 11's 65-watt power supply requires significantly less than the 90-watt motor of the AirSense 10.
Does the AirSense 11 Still Have the Same Features As the AirSense 10?
If you're a fan of the AirSense 10 looking to upgrade your CPAP machine, you'll be glad to know that the AirSense 11 has all of the same features that patients love in the original. For new CPAP users, that means you can look forward to:
AirView - Lets your doctor or clinician remotely adjust your settings, troubleshoot your machine, or monitor your healthcare data.
Climate Control - Automatically keeps your humidifier and ClimateLineAir heated tubing (sold separately) at the perfect temperature and humidity.
myAir App - ResMed's "patient engagement app" gives you personalized reports on your sleep health.
Expiratory Pressure Relief (EPR) - Reduces airflow when you exhale to make breathing more comfortable.
SmartStart/SmartStop - Automatically starts your therapy when you put your mask on, or stops it when you take your mask off. Only now you can control these features separately!
AutoRamp - Starts your air pressure at a lower setting so that it's easier to fall asleep, then gradually raises your airflow up to your prescribed settings.
Frequently Asked Questions About the AirSense 11
Is the AirSense 11 Recalled?
No! The AirSense 11 is not part of the Philips recall. AirSense 11 and AirSense 10 are manufactured by ResMed, which is a different company than Philips Respironics.
When Is the AirSense 11 Release Date?
The AirSense 11 was released in August of 2021; however, a national shortage of CPAP machines led to a limited supply. As ResMed increases their manufacturing capability, these machines are starting to be available more widely.
What CPAP Masks Work with the AirSense 11?
The AirSense 11 was designed to work with any standard CPAP mask– even from competitors! That means if you're upgrading your CPAP machine you can stick with the CPAP mask you already know and love.
If you're new to the world of CPAP, you might like these popular ResMed masks:
Full Face Mask - AirFit F30, AirFit F30i, AirFit F20, or AirTouch F20
Nasal Mask - AirFit N30, AirFit N30i
Nasal Pillow Mask - AirFit P30i, AirFit P10
Does the AirSense 11 Come with a Humidifier?
Yes! All models of the AirSense 11 include an integrated Humidair humidifier.
Is the AirSense 11's Humidifier Smaller Than the AirSense 10?
Both the AirSense 10 and AirSense 11 hold 380 mL of water– plenty for one night. The AirSense 11's water tank may look smaller, but it is the same volume.
Does the AirSense 11 Come with a Warranty?
Yes, all models of AirSense 11 include a 2 year warranty.
Does the AirSense 11 Have an SD Card?
Yes, the AirSense 11 can use an SD card if you prefer not to use the wireless connectivity.
Is the AirSense 11 a BiPAP?
No, none of the AirSense 11 models are BiPAPs. The AirSense 11 CPAP and Elite are both fixed-pressure CPAPs, while the AutoSet is an APAP.
If you're in need of bi-level PAP therapy, take a look at the ResMed AirCurve 10.
How Much Does An AirSense 11 Cost?
Due to the national shortage in CPAP machines, the AirSense 11 is currently only available through insurance– from any CPAP provider– so the cost will depend on your coverage details.
Don't know what your policy covers? No sweat! Your own personal Aeroflow Sleep Specialist can reach out to your insurance company for you! They'll let you know how your deductible and out-of-pocket max will affect the price of an AirSense 11, plus they can handle all of the paperwork on your behalf. All you have to do is fill out the easy qualify form, and Aeroflow Sleep does the rest.