ResMed makes CPAP supplies; including CPAP machines, masks, and accessories. Since the recall on Philips Respironics' Dreamstation machines, ResMed is the most trusted manufacturer among sleep apnea patients; however, many making the switch to ResMed—as well as those who are new to CPAP therapy—still have difficulty understanding which product is best for them. Not to mention, which ResMed CPAP mask is the best fit? Get ready, because our ResMed exclusive mask-fitting guide has all the answers.
AirFit vs AirTouch
Before we get started, let's go over why we'll only be discussing the ResMed AirFit models when there's also the ResMed AirTouch. The primary difference between the ResMed AirFit and ResMed AirTouch series is simply the mask cushions.
Using the AirTouch F20 as an example, ResMed states, "The AirFit F20 uses the InfinitySeal silicone cushion, while the AirTouch F20 uses the UltraSoft memory foam cushion. The headgear, frame, and elbow are the same on both masks," and because the mask cushion is what ultimately determines the fit of your CPAP mask, we'll be focusing on the models designed with fit in mind. After all, it's literally in the AirFit name.
Don't worry though; the AirFit and AirTouch series are interchangeable, so you can buy both and pick which one you like. The parts can still be used together.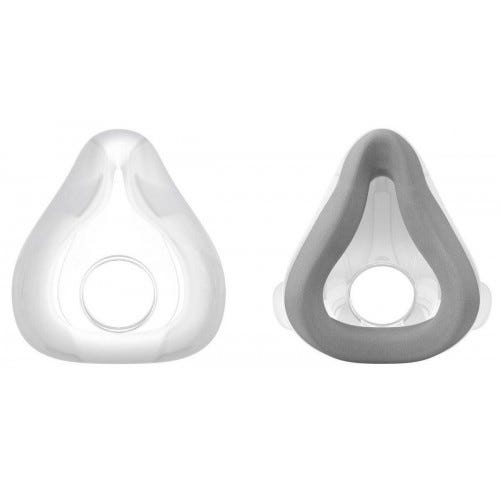 How to Choose the Right ResMed CPAP Mask
The most important thing to remember is that each product is associated with a letter (F, N, P) and a sequential number (10, 20, 30.) The letters represent your CPAP mask type: full face, nasal, and nasal pillow masks. The numbers represent which mask came first, but that doesn't necessarily mean the newest version is the best fit for you. It's not an iPhone.
To get a better understanding of how each model may benefit you, we'll now take a look at all of the ResMed AirFit CPAP masks individually.
AirFit F10
Full face CPAP masks like the AirFit F10 are best for CPAP users who breathe through their mouths, because the mask covers both the nose and mouth. What makes the AirFit F10 unique is that it doesn't need forehead support. It instead relies on dual-wall SpringAir mask cushions.
Designed to minimize pressure on the face while maintaining a reliable seal, SpringAir mask cushions feature a soft inner wall that inflates with air pressure. Ensuring maximum comfort during the night but minimal contact with the face means that CPAP users can enjoy a full range of motion and a clear line of sight while settling in for the night.
AirFit F20
The AirFit F20 still offers a clear line of sight as well as full nose and mouth coverage, but now it includes the InfinitySeal mask cushions. The difference in using silicone is that the mask cushion comfortably contours to the face and works well for a variety of face shapes and sizes.
Even the sensitive nose bridge and chin areas are softly contoured, minimizing the redness and discomfort typical with many full face CPAP masks. And of course, as we mentioned earlier, InfinitySeal remains robust and effective all night regardless of air pressure levels.
AirFit F30 vs AirFit F30i
The AirFit F30 is lighter and more compact, so it fits petite CPAP users well. Of course, it still fits larger faces too, but what gives it that smaller profile? You guessed it; the mask cushion. It uses innovative UltraCompact mask cushions that seal over the mouth, but under the nose, similar to a nasal mask. The AirFit F30 also has fewer points of contact compared to other full face mask cushions, which means less irritation and no red marks while staying soft and comfortable.
But hold on; there's also the AirFit F30i. What's the difference between that and the AirFit F30? Well, the AirFit F30i boasts top-of-head tubing, meaning the hose is connected to the top of your head rather than the front of your mask. The air is then pushed through a hollow mask frame and is a great solution for active sleepers who toss and turn during the night.
Full Face CPAP Masks
AirFit N10
Now, we're on to nasal masks, which only cover the nose; they're right for first-time CPAP users as well as those who feel claustrophobic for this reason. Just like its full-face counterpart, the AirFit N10 is designed with ResMed's SpringAir mask cushions. There's still no need for forehead support and, once again, it delivers a clear line of sight. Plus, this CPAP mask is ranked as the patients' overall first choice compared to industry-leading nasal masks.
AirFit N20
ResMed then took patients' feedback one step further and developed their next nasal mask with the input of over 350 CPAP users in mind. In addition to using InfinitySeal mask cushions, the ResMed AirFit N20 CPAP Mask features a flexible mask frame that adapts to different face shapes, making it the most advanced CPAP mask of its time.
AirFit N30 vs AirFit N30i
Finally, when you think about nasal masks, you still think of total coverage; just over the nose. That changed when ResMed introduced the AirFit N30 series. Both the N30 and N30i models cradle beneath the nose, keeping the design small, simple, and discrete while still maintaining the performance of your unique CPAP therapy pressure settings.
What makes the AirFit N30 unique is that it provides an excellent seal, so it's the perfect nasal mask for patients who sleep on their sides. It's also the lightest nasal mask on the market today and is equipped with ResMed's QuietAir technology, breaking up the air at a diffused ventilation point within the CPAP mask. In fact, the AirFit N30 prides itself on being quieter than the Fisher & Paykel Brevida CPAP Mask and both Philips Respironics' Wisp and Dreamwear models.
Meanwhile, the AirFit N30i continues to use top-of-head tubing and a hollow mask frame, so you can sleep in any position with all of the same benefits.
AirFit P10
Now that we've gone over the full face and nasal models, there's an obvious pattern emerging among ResMed's products. The "P" refers to the nasal pillows CPAP masks, and the AirFit P10 Nasal Pillows CPAP Mask uses dual-wall silicone nasal pillows that insert into the nasal passages. This style is ideal for active sleepers and anyone with facial hair.
The AirFit P10 puts other nasal pillows CPAP masks to shame, because it weighs less than 2 ounces, reduces noise to nearly 20 decibels thanks to ResMed's QuietAir technology, and comes apart in just 3 pieces. The latter is important for anyone who finds assembly or cleaning difficult. Plus, it means there are fewer parts to replace.
Loyal ResMed customers even say they've outdone themselves, because many who once swore by the ResMed Swift FX Nano Nasal CPAP Mask have now switched to the AirFit P10.
AirFit P30i
Just when you thought the pattern was obvious, ResMed skips from 10 to 30 and only offers an AirFit P30i model. Believe it or not, the pattern is there. ResMed doesn't need to offer a 20 or 30 model, because unlike full face and nasal CPAP masks, nasal pillows masks don't require a range of mask cushions. There's simply the AirFit P10 with regular tubing or the AirFit P30i with top-of-head tubing just like the other 30i models, and the AirFit P30i is still great for CPAP users who sleep in different positions and want freedom of movement.
Nasal CPAP Masks
Nasal Pillow CPAP Masks
Get ResMed CPAP Masks from Aeroflow Sleep
There are a lot of options to choose from, but the good news is that ResMed has made all of their CPAP masks compatible with their machines; including the ResMed AirSense 10 AutoSet and the AirCurve 10 Bilevel Machine. Just add tubing!
There's also ResMed's exclusive For Her line, which takes any of the aforementioned CPAP masks and fits them specifically for women's face shapes. The For Her line offers XS sizes, softer headgear, and feminine colors.
Plus, you can get most ResMed products covered up to 100% through insurance when you use Aeroflow Sleep. All you need to do to see if you qualify is fill out this quick and easy form.
If you have any questions, email us at info@aeroflowsleep.com or call at (800) 480-5491. Make Aeroflow Sleep your official partner and finally sleep well and live better, with the peace of mind that we are on your side.