In 2017, researchers claimed 40% of CPAP users never clean their mask, and more than 80% never clean their tubing. This is a truly disturbing statistic, because although the study is years old now, history repeats itself. Not on Aeroflow Sleep's watch! Let's check out why, when, and how to clean your machine, mask, and more so you have the knowledge and tools to rewrite sleep apnea hygiene history.
IN THIS ARTICLE:
Why Cleaning Your CPAP Supplies Is Important
How To Clean A CPAP Machine, Mask & Supplies
How Do I Disinfect My CPAP Supplies?
Important CPAP Cleaning Tips To Remember
Where Cleaning Ends And Aeroflow Begins
CPAP SUPPLIES THROUGH INSURANCE:
Aeroflow Sleep is in-network with most primary insurance companies and is accreditted by Medicare and Medicaid. Complete our Qualify Through Insurance Form, and we will automatically check to see if your plan covers CPAP supplies; including a machine, mask, and accessories. ***Must have a sleep study to qualify.***
You will also receive the care and attention every sleep apnea patient deserves; one-on-one clinical support in-home or via telehealth, a dedicated Sleep Specialist you can contact during business hours, and a user-friendly online portal with tailored replacement schedule, important updates and notifications, and educational resources.
Let us take the headache out of healthcare. Join the Aeroflow Sleep family today! It only takes 5-7 minutes to get started.
Why Cleaning Your CPAP Supplies Is Important
Why cleaning your CPAP is important can be attributed to 3 things: reducing the risk of respiratory infections, stopping skin irritation before it starts, and keeping your parts operating at peak performance.

Remember, your PAP machine—whether it be APAP, BiPAP, or CPAP—works hard to send a constant stream of air into your airway. The air is usually humidified; it might even be heated, which creates the perfect breeding ground for mold and bacteria. Dust and allergens can contaminate your CPAP supplies over time too, and all of these pathogens will be inhaled as you breathe if they're there. This will cause you to become sick or suffer from allergy symptoms.

Preventing illness isn't the only reason cleaning your CPAP is important. Skin irritation (or CPAP rash) is another. The oils on your face and hands are called sebum. It's a shiny, natural substance your skin produces to moisturize itself. But that combined with dead skin cells from your face and hands can build up on your mask, thus causing irritation and red marks. It's why one of the top 5 reasons you see skin irritation as a sleep apnea patient is due to dirty CPAP supplies, especially if you have oily skin already.

Finally, you might even find yourself with a poor mask seal if you don't clean your CPAP supplies on a regular basis. This is because cleaning will extend the life of your supplies; you're actually helping them last longer and stop them from deteriorating faster. Consider cleaning your CPAP supplies for maintenance in this case, ensuring durability over the time you must use your supplies before you can replace CPAP through insurance. You want your sleep apnea therapy to last.
How To Clean A CPAP Machine, Mask & Supplies
Your CPAP machine and supplies should be cleaned daily, following the direction of your device's manufacturer; such as Philips Respironics, ResMed, Fisher & Paykel, etc. If you do not know your device's manufacturer, please contact Aeroflow Sleep for help.

A daily cleaning schedule is crucial, especially when you are sick. However, if you are well and can't commit to daily cleanings, make sure you do it at least once per week. Sanitizers should not be used as a substitute for weekly cleaning, and we'll touch on that more later in the blog. But first…

Refer to the following steps to clean your various PAP supplies:
Clean in the morning to allow enough time to air dry.
Unplug your device and disassemble each part; including the water chamber. Then, wipe the machine's exterior with a clean, dry cloth. Do not use water.
Wash your CPAP mask, tubing, and water chamber in warm, soapy water. Aeroflow Sleep recommends using a mild detergent; such as Dawn or Ivory.
Rinse your CPAP hose and other supplies with clean water.
Allow all supplies to air dry. Do NOT plug in your device or use any supplies again until they're completely dry.
How Do I Disinfect My CPAP Supplies?
When you're sick, cleaning your CPAP supplies daily should kill any germs, but we understand if you'd like to disinfect further. For example, if you've recently gotten over a cold and want to make sure no nasty germs linger on your CPAP, the vinegar technique is a great one...
OPTIONAL: After your mask, water chamber, and tubing have been washed in warm, soapy water, you may then use vinegar to disinfect. To do this, soak your supplies in a solution of 1 part vinegar to 3 parts water for approximately 30 minutes. Then, rinse again with clean water.
Taking that one step further…you might consider using a specialized CPAP cleaning solution with germicide. These come in the form of a CPAP spray, or you can buy them infused in CPAP wipes. A CPAP cleaning solution is not the same as your household chemical cleaner. You should NEVER use these or bleach, as they could leave behind harmful residues that can further irritate the skin or create toxic fumes.
Lastly, you may consider using a CPAP sanitizer. These machines use either ozone or UV light to safely and easily kill over 99% of bacteria, viruses, mold, and fungus. Again, a sanitizer should be used in conjunction with regular cleanings. They won't, for example, remove any buildup of oils, skin cells, or mineral deposits, so they should not take the place of routine washing. Furthermore, CPAP sanitizers, the spray, and wipes are not covered through insurance and, therefore, are not available through Aeroflow Sleep. The CPAP sanitizer can void your machine's warranty too, so it is not recommended to place a machine within a sanitizer.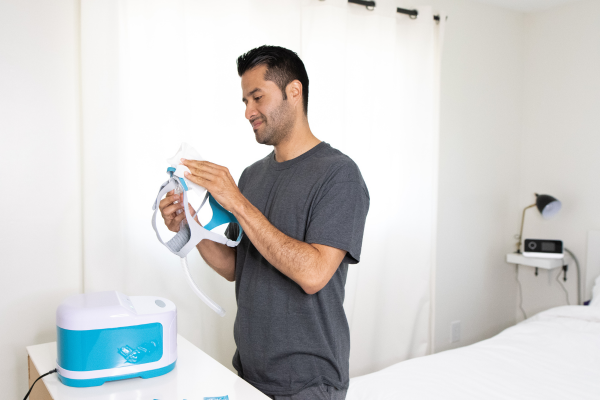 Important CPAP Cleaning Tips To Remember
If you're looking for additional information about how to clean your CPAP supplies, look no further. Michelle Worley, Registered Nurse and Director of Clinical Operations at Aeroflow Sleep, has medically reviewed this blog, providing her backing, and even produced a video to share with you: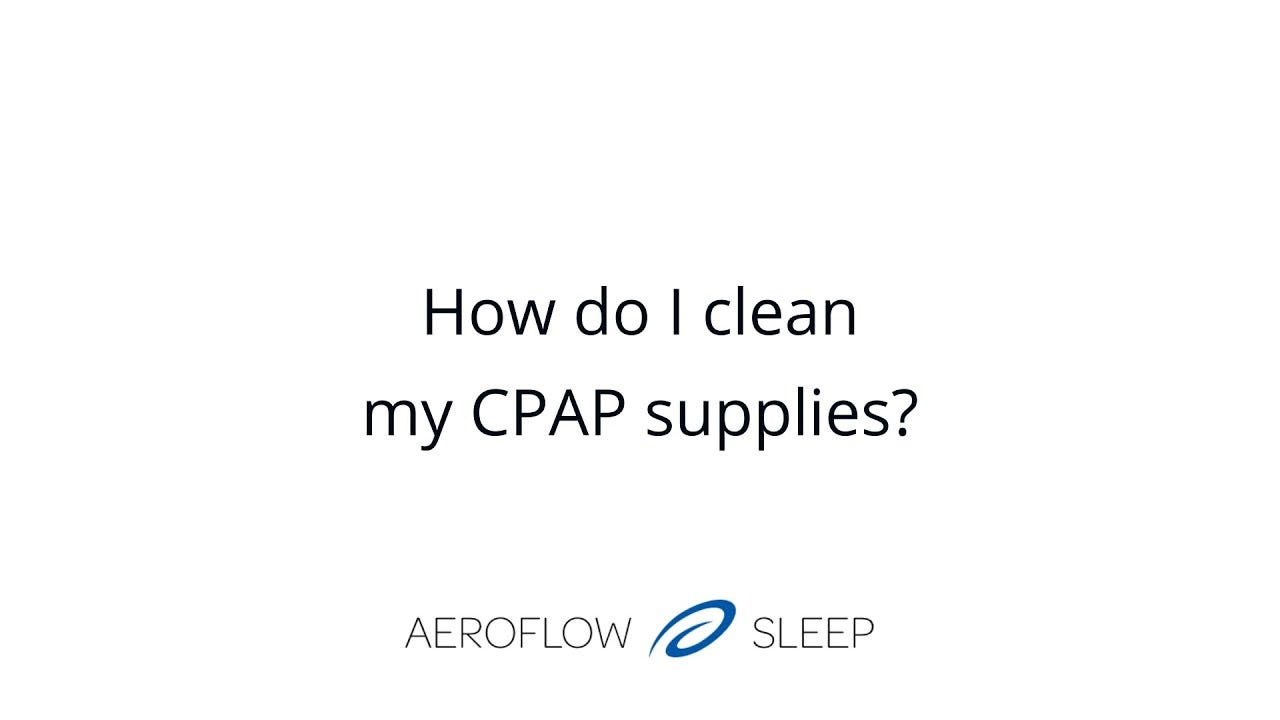 Now that you know how to properly clean and care for your CPAP, there's no need to stress about your CPAP maintenance. Follow these final reminders, and your CPAP will be prepared for anything life throws your way:
Only use distilled water in your humidifier to avoid mineral buildup
Always review the manufacturer's recommendations about how your CPAP filters should be cleaned, since some are disposable and others are not
Do not put your CPAP mask or tubing in the dishwasher; some water chambers are dishwasher safe, but check with your manufacturer first
Never place your headgear or straps in the dryer, as this will ruin the elastic
Do not leave CPAP equipment in direct sunlight; discoloration could occur
Remember to replace or CPAP supplies on a regular basis

Where Cleaning Ends And Aeroflow Begins
Caring for your machine and replacing parts as they wear out will help ensure you have a positive CPAP experience. Please reach out to your dedicated Aeroflow Sleep Specialist if you have any questions or concerns; like when am I due for new CPAP supplies? And, will they be covered up to 100% through insurance?
Wait… You're not a member of the Aeroflow Sleep family yet? It only takes 5-7 minutes to check your eligibility. Fill out our online qualifying form, and we do all of the legwork, verifying your insurance provider is in-network with us and speaking with your doctor for any sleep apnea appointment notes; including sleep test results. If you qualify, we'll let you know right away and get your CPAP supplies order shipped right to your door, conveniently covered up to 100% through insurance.
---
References:
Mercieca L, Pullicino R, Camilleri K, Abela R, Mangion SA, Cassar J, Zammit M, Gatt C, Deguara C, Barbara C, Fsadni P, Montefort S. Continuous Positive Airway Pressure: Is it a route for infection in those with Obstructive Sleep Apnoea? Sleep Sci. 2017 Jan-Mar;10(1):28-34. doi: 10.5935/1984-0063.20170005. PMID: 28966735; PMCID: PMC5611769.
---