Do you qualify for Medicaid? What even is Medicaid, and how exactly does it work? And, can you get the PAP equipment you need through Medicaid? If you're seeking the answers to these questions or similar ones, then you're in the right place, especially since guidelines have recently changed.
What Is Medicaid?
Medicaid is a government resource program that helps those with limited income access the medical care, equipment, and services they need. Simply put, Medicaid is insurance for people who cannot pay for healthcare. It is enacted at the state level, so although it's jointly funded by the state and federal governments, what Medicaid covers can vary from state to state. In fact, each state is not required to participate, but all states have since 1982…to some degree.
In February 2023, it was announced that the United States would end its COVID-19 public health emergency (PHE) on May 11th. USA Today released, "About 15 million Americans who gained Medicaid insurance during the pandemic [were] at risk of losing coverage…as federal subsidies end."
In April 2023, Medicaid covered 94 million low-income families and/or people with disabilities. That number is now expected to cover less than 80 million without PHE, because, as of July 31st, all states are back to independently managing the access given to its Medicaid recipients; including those with sleep apnea. So, are you still eligible for Medicaid post-pandemic…? Let's find out!
Am I Eligible For Medicaid?
For Medicaid eligibility, you must be a United States citizen and low-income adult (with or without children) or someone who has a certain disability; such as a developmental or intellectual disability. Non-citizens who fit the same description may also be eligible, if they are considered "lawfully present immigrants;" such as lawful permanent residents or green card holders.
You will most likely qualify for Medicaid if you make less than 100-200% of the federal poverty line (FLP) and are pregnant, disabled, elderly, or the parent or guardian of a child.
There is no age limit for Medicaid eligibility like there is for Medicare, but each state does set requirements based on age, as well as income, household size and role, the nature of a person's disability, and whether or not you are pregnant. This begs the question, what is the difference between Medicaid and Medicare?
The Difference Between Medicaid & Medicare
Medicaid and Medicare are not the same. They are two different programs that are operated and funded by very different portions of the government, primarily in order to serve different groups of people with different needs. Oh, and did we mention they're different?
How are they different? Remember, Medicaid is available to everyone—no matter your age—as long as you meet the individual requirements set by your state. Medicaid is also funded by taxes collected from the public; it's a need-based program. Whereas, you must be 65 or older to apply for Medicare (unless you have a separately listed disability,) and income is not a factor.
Because income is not a factor, Medicare-covered medical services may require payment. These are generally plans that offer additional coverage, of which PAP supplies are often included; typically, 80% of the cost of PAP supplies is covered by Medicare, and you would pay for the rest. This isn't the same for Medicaid-covered medical services.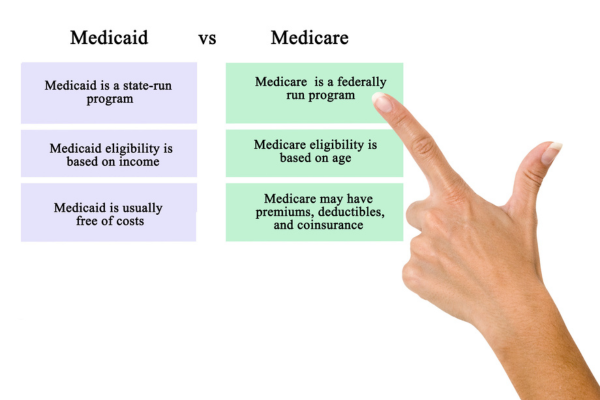 When Does Medicaid Cover PAP Supplies?
It's really not a question of when Medicaid covers PAP supplies but where. You can probably bank on Medicaid covering your PAP machine, but masks and supplies may be another story. Rather than list off which state covers which piece of PAP equipment, Aeroflow Sleep recommends enrolling in Medicaid and then contacting us to help determine your state by state coverage.
How Do I Apply For Medicaid To Get My PAP Supplies?
To apply for Medicaid, you need to complete the appropriate application for your state. There's no enrollment period, and you can apply online. Some states will even allow you to submit a paper application. With a paper application, you do not have to go to your Medicaid office. You can mail it, fax it, or (if you insist) return it to your local government office.
Be sure to have the following in front of you when completing the application:
Birth Certificate or Driver's License: Used to verify age and citizenship
Medical Records: Used to verify disability
Recent Pay Stubs or Tax Returns: Used to verify income
Properly Lease or Utility Statement: Used to verify address
Bank Statements: Used to verify savings resources
Each state has 45 days to process your application; 90 days, if your eligibility includes a disability. And, don't worry; if you don't qualify, you may still be offered subsidized healthcare plans from the federal government. This is especially true for those who recently lost Medicaid coverage due to PHE ending.

Once you've qualified, all that's left is to advocate for you and your sleep apnea. Aeroflow Sleep's parent company, Aeroflow Healthcare recently launched its Government Relations Program to help ensure equitable access to care at both the state and federal levels. Ryan Bullock, COO, says, "Expanding government relations capabilities…will only enable us to continue pushing more proposed solutions to improve the lives of the individuals and families we serve," so put your trust in us. Remember to notify Aeroflow Sleep of any changes in insurance coverage; Medicaid or otherwise. We're here to help!
---

References
Rodriguez, Adrianna, and Ken Alltucker. "The COVID Public Health Emergency Is over in the US. Here's What That Means for You." Health, 11 May 2023, www.usatoday.com/story/news/health/2023/05/11/end-covid-public-health-emergency-explained/70182594007/.
"April 2023 Medicaid & CHIP Enrollment Data Highlights." Medicaid & CHIP Enrollment Data, May 2023, www.medicaid.gov/medicaid/program-information/medicaid-and-chip-enrollment-data/report-highlights/index.html.
"What's the Difference between Medicare and Medicaid?" Medicare and Medicaid, Aug. 2023, www.hhs.gov/answers/medicare-and-medicaid/what-is-the-difference-between-medicare-medicaid/index.html.
"Select Your State for Medicaid Eligibility or to Apply for Coverage." Beneficiary Resources, Aug. 2023, www.medicaid.gov/about-us/beneficiary-resources/index.html#statemenu.
Staff, HME News. "AEROFLOW LAUNCHES GOVERNMENT RELATIONS PROGRAM." Business News For Home Medical Equipment Providers, 21 June 2023, www.hmenews.com/article/aeroflow-launches-government-relations-program.
---