Now that you're on a CPAP machine and wake up feeling refreshed, isn't it time you look the part? A common complaint among sleep apnea patients is that CPAP masks irritate the skin, resulting in red marks, nose sores, and dermatitis. This is especially true for CPAP users who have a latex allergy. Aeroflow Sleep is here to reveal the top 5 reasons you see skin irritation on CPAP, plus which supplies help reduce the rash.
Why CPAP Rash Happens
The skin irritation you get from a CPAP mask is called CPAP rash, and there are a variety of reasons this happens. Let's get right to it and focus on the top 5:
1. Your CPAP Mask Fits Poorly
Finding the perfect CPAP mask fit can be a struggle. Yours may be too tight to begin with, which will cause the mask frame to cut into your skin and leave those unsightly red marks. Worse yet, yours may be too loose, which will cause air leaks and, instead of swapping the poorly-fitting CPAP mask out for something better, you opt to over tighten the headgear and/or chin straps. Thus, the cycle repeats itself.
You should be able to slide a finger between your straps without feeling any CPAP mask leaks. If you cannot do this, you need to order a new mask. Watch our video featuring Michelle Worley, Aeroflow Sleep's Director of Clinical Operations to troubleshoot your mask fit in order to avoid nose sores:
2. Your CPAP Supplies Are Old And Dirty
CPAP supplies should be cleaned regularly for your health and safety. Side effects from dirty equipment can range from skin irritation to chronic respiratory illness! If you notice any yellowing around the cushions or straps, you're definitely overdue for a cleaning and may need to replace parts altogether.
Mask frames, cushions, tubing, and humidifier water chambers should be washed weekly with warm, soapy water. Mask wipes and CPAP cleaners may be used occasionally but are not a substitute for your regular cleanings. Also, you should empty your water chamber every morning. Always air dry before you use your CPAP machine again at night and refill the water chamber with distilled water only.
Don't forget your replacement schedule!
Every 2 Weeks: Replace your nasal pillows and disposable filters
Every 1 Month: Replace your full-face and/or nasal mask cushions
Every 3 Months: Replace your mask frame and tubing
Every 6 Months: Replace your humidifier water chamber
Every 5 Years: Replace your CPAP machine
Call 866-650-7508 if you are due for new CPAP supplies, or log in to your Aeroflow Sleep account to place an order online.
3. You Have Sensitive Skin
Not to be confused with dry mouth syndrome, which is another side effect of CPAP but only affects the airways; sleep apnea patients with sensitive skin are more likely to experience dryness, chafing, inflammation, and even blisters due to the highly pressurized air blowing against your face.
Furthermore, the air may be too cold. One way you can tell is if you see any condensation in your tube, mask, or on your face when you wake up. This is called rainout, and it often occurs during the winter months. Luckily, there are CPAP machines that let you raise the temperature of your air, plus you can purchase heated humidifier and tubing options separately.
In either case, talk to your doctor before adjusting your air pressure or making any changes to your CPAP equipment setup.
4. You Have Oily Skin
Unfortunately, those with oily skin don't get a pass either. Oily skin is caused by an overabundance of sebum, which is a waxy, shiny substance your body naturally produces to moisturize and protect your skin. Too much of it can cause acne though, especially when rubbed the wrong way. Literally.
Some CPAP masks—like the ResMed Mirage FX Nasal CPAP Mask or the Fisher & Paykel Zest Nasal CPAP Mask—lay flat against the T-zone. The T-zone runs the length of your forehead then down the bridge of your nose, and it's where most of your oil-producing facial glands are. Obviously, anything blocking already angry pores from being able to breathe will lead to breakouts, so steer clear of these mask types to put a stop to your mask irritation.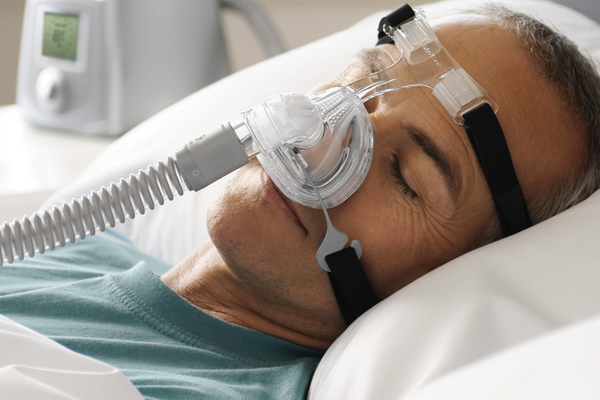 5. You Have A Latex Allergy
Last but not least, the answer you've all been waiting for—no, several CPAP masks are not latex free. If you have a latex allergy, you'll want to order silicone or gel mask cushions. On the other hand, if you have a silicone allergy, CPAP masks that contain rubber or latex are your friends. Consult your dedicated Aeroflow Sleep Specialist about which products are best-suited for your condition.
How To Treat CPAP Mask Skin Irritation
We've covered a handful of long-term solutions for treating CPAP mask skin irritation based on the top 5 reasons you may have it, but what can you do right now? The American Academy of Dermatology suggests the following tips to relieve itchy skin:
If you have redness, apply cooling agents; like menthol or calamine.
If you have blisters, apply an oatmeal-based ointment or any topical anesthetics that contain pramoxine.
If you have swelling, place a cold, wet cloth against the affected area. You can also use an ice pack.
Finally, wash your face daily with unscented soap, use sunscreen, and moisturize.
CPAP Masks That Reduce CPAP Rash
If none of these solutions seem to be helping and you're convinced you need a new mask entirely, try one of these models, designed to reduce CPAP rash:
Philips Respironics' Amara Gel Full-Face CPAP Mask is great for both silicone and latex allergies. Its unique gel mask cushion is flexible, comfortable, and exclusive to the Amara product line. That said, this is a full-face mask that lays flat against the T-zone. Its sister, the Amara View does not, but then you sacrifice the gel pads. Philips Respironics does not currently make a CPAP mask that offers both features.
ResMed's AirTouch N20 Nasal CPAP Mask gives you the opportunity Amara lacks if you want a nasal mask instead. It's latex-free and silicone-free thanks to the UltraSoft memory foam cushions that easily conform to all face shapes. And, because they resist moisture, memory foam cushions don't require cleaning! Just remember to replace them every 3 months.
Bleep DreamPorts are another strong contender and don't fall in with conventional mask types. In lieu of a nasal pillow option, this alternative comes with adhesive patches you place around the nose and connect to your tubing. There's no CPAP headgear, it's hypoallergenic, and the patches are disposable. All you need to do to maintain your healthy, radiant skin is change your DreamPorts nightly.
CPAP mask liners also exist. Although these single-use cotton pads are sold separately, the benefit of having a minimal-contact barrier between your skin and mask cushion is worth it. Compatible with most Philips Respironics and ResMed CPAP Masks, Remzzzs is one such mask liner Aeroflow Sleep highly recommends.
Beauty Sleep Is Achievable With Sleep Apnea
Your CPAP therapy shouldn't keep you from feeling beautiful. That's why Aeroflow Sleep proudly provides its sleep apnea patients with CPAP equipment that combats CPAP rash. Plus, we work hard to get it all covered up to 100% through insurance, accepting most private insurance plans, Medicare, and Medicaid.
Not a member of the Aeroflow Sleep program yet? Take 5-7 minutes to fill out our qualifying form, where we will ask you certain questions, verifying your eligibility for CPAP supplies through insurance and determining which parts you use now (if any.) That's all we need to add you to our system!
You will then receive 24/7 access to our online patient portal and be paired with a sleep expert who can answer any questions you may have during business hours. So, sign up now! Aeroflow Sleep is ready to bring you a good night's sleep without skin irritation.