You wake to greet another October morning and suddenly notice a chill in the air. Groggily searching for the source, you see red and yellow leaves dancing in the autumn breeze outside the window—the same window you left open. Now, your body temperature is relying on the bundle of blankets you're burrowed within for warmth.
Despite the cold, this was your first good night's sleep in months. Why is that? In today's blog, Aeroflow Sleep will reveal what the best temperature for sleep is, 6 tips to achieve it, how your sleep environment should change as you age, and where OSA fits into all of this.
What's The Best Temperature For Sleep?
The best temperature for sleep varies from person to person. In fact, the best temperature is so difficult to pinpoint that you have WebMD sleep experts like Melinda Ratini, DO, MS advising, "...set [the thermostat] somewhere between 60 and 65 degrees Fahrenheit" while Michael J. Breus, PhD is quoted as saying, "The sweet spot for great sleep is between 68 and 72 degrees [Fahrenheit.]"
What we do know is that, although the best temperature for sleep varies from person to person, it is not a matter of personal preference. Having the heat on while sleeping is the last thing you want. Our Sleep Science Advisor, Dr. Carleara Weiss tells HUM Nutrition, "Keeping the room warm may increase body temperature and tell the brain to stay alert. With that, you may wake up several times during the night, having a night of fragmented and non-restorative sleep. In other cases, you may wake up and be unable to fall asleep again."
In short, it's easier to fall asleep—and attain REM sleep—when your core body temperature decreases. You may avoid bouts of insomnia too! After all, getting overheated is just another contributing factor to a disrupted sleep cycle.
6 Tips For Temperature Regulation
Now that you know a solid circadian rhythm is dependent on your core body temperature, how can you cool down for some optimal sleep? Here are 6 tips on thermoregulation:
1. Keep Your Thermostat In Auto Mode
Thermostats have come a long way since smart technology was integrated into the home. The newest models even have a feature that automatically switches from heating to cooling as the room temperature crosses a certain threshold. This is called auto changeover, and all you have to do is designate what that threshold temperature is to keep your bedroom nice and cold and leave the switch toggled to the Auto position.
2. Coordinate Your Cool Down With Bedtime
You can also set when the thermostat begins cooling the room. This is considered a manual function, because it does require more than a little toggling but is still very easy to accomplish! Simply program the thermostat to reach the appropriate degree for sleeping by your preferred bedtime; sort of like programming an alarm clock.
3. Use A Fan To Draw In Cool Air
If your home doesn't run off of a thermostat, you can still achieve a cool room with a fan! There's no limit to the number of fans you can use to produce that ideal sleeping temperature. You can install a ceiling fan, purchase a box fan or tower fan, or get one that oscillates to reach every corner of the bedroom.
4. Try Cooling Pillows, Sheets, And Mattress Toppers
Another amazing innovation is cooler temperatures incorporated into your pillows, sheets, and mattress toppers. Check the labels for certain materials like gel and copper that are used to absorb your body heat, so the heat isn't redistributed. Or, take the process one step further; the best mattress toppers push leftover air back to you rather than keeping it trapped.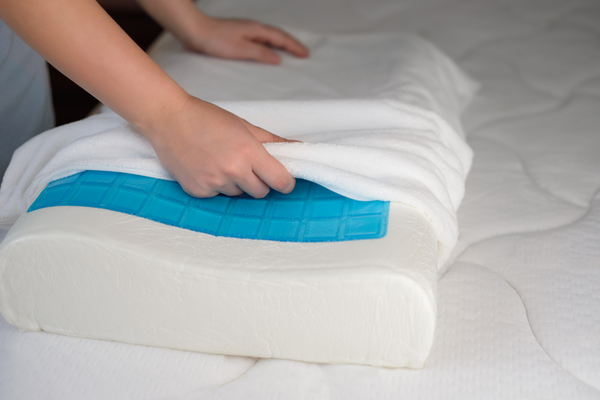 5. Invest In Egyptian Cotton
Egyptian cotton does come with a higher price tag; however, there are benefits that outweigh the cost. When you invest in this special wick-away fabric, your bedding will let the excess moisture from night sweats slide right off, preventing unnecessary dampness and promoting deep sleep.
6. Open Your Windows
No, seriously. Our opening narrative—pun intended—is a great way to improve your sleep quality. As the seasons change and temperature drops, the natural cross ventilation of prevailing winds is extremely healthy for sleepers. Just be sure to close your windows again if humidity levels exceed 30%; your air conditioning unit will have to work harder after any exposure to wet conditions, because AC is meant to suck water out of the room, even pulling water from your skin.
Your Perfect Room Temperature Changes As You Age
Feeling that much closer to attaining the perfect room temperature? Well, having these 6 tips at your fingertips isn't the only thing you need to think about when trying to reach the nirvana that is quality sleep. Let's next review which temperature ranges you should test in your home according to your age…
As A Child
Obviously, we're not suggesting kids operate the thermostat, but parents can learn what the perfect room temperature is for their child with some small trial and error. Start with the thermostat set at 72 degrees Fahrenheit. Then, reduce the temperature every 15 minutes until your son or daughter drifts off to dreamland. Whatever you land on is their optimal sleeping temperature and can help keep them from overheating.
As An Adult
Your perfect room temperature shouldn't have changed much since adolescence, but if it has, we're not surprised that the same trial and error process hasn't appeared in your busy schedule. Instead, you reach for whatever knocks you out fastest, opting for a nightly supplement like melatonin or practicing better sleep hygiene. Neither are bad choices, but you should still take the time to learn at what temperature your body cools. It will be an important factor in diagnosing fluctuations later; hormonal or otherwise.
As A Senior
The CDC defines a senior as anyone 65 years or older. And, when you're a senior, your perfect room temperature probably doesn't go past 67 degrees Fahrenheit. Wait…wouldn't a colder internal temperature warrant a warmer ambient temperature? The CDC holds fast, "Older adults can't adjust to sudden temperature changes as fast as younger people, [because their blood vessels don't react quickly.] This may happen because of certain medicines they take or chronic illnesses." Yes, that's why the bedroom temperature is freezing at Meemaw's.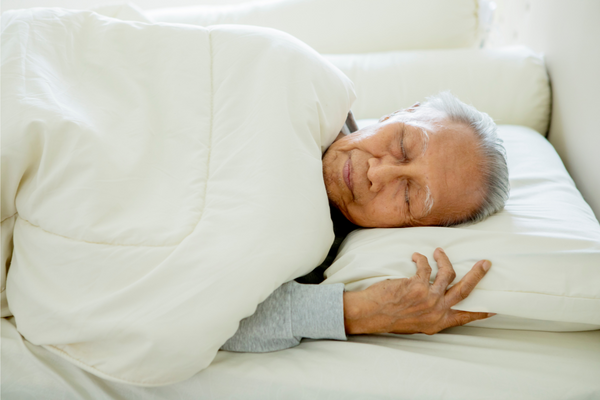 As A Sleep Apnea Patient
Bonus! It's time to address our primary audience: those with obstructive sleep apnea (OSA.) Research found that when adults—regardless of age—had a sleep disorder like sleep apnea "slept in an environment where the temperature was 60 degrees Fahrenheit, they slept longer, had higher sleep efficiency, and felt significantly more alert…" Talk about a really cold perfect room temperature, but when it works, it works!
How Aeroflow Sleep Can Help With Sleeping Temperatures
Congratulations! You are now equipped with the tools you need to determine what your ideal sleeping temperature is. But wait; Aeroflow Sleep also has temperature-related PAP supplies for sleep apnea patients:
When air gets trapped in your tubing and becomes cold, condensation (or rainout) is more likely to form, and nobody wants to wake up with the resulting damp face or runny nose. Heated tubing is available to combat this. Plus, it helps prevent side effects; like dry mouth, sore throats, and respiratory illness.
Much like heated tubing, heated humidifiers exist too! This product is especially effective for anyone living in a place where it's cold and dry, because the air is warmed as it moves through your PAP machine's water chamber. Not to mention, CPAP users who have a humidifier see better compliance results.

You deserve the best sleep, so join the Aeroflow Sleep family today for all of your PAP therapy needs. It's as easy as filling out our online qualify form! Simply take 5-7 minutes to answer a handful of questions, so our team of dedicated Sleep Specialists can verify your insurance is in-network with us. If it is, we've got you covered. Literally.
---
References
Okamoto-Mizuno, K., Mizuno, K. Effects of thermal environment on sleep and circadian rhythm. J Physiol Anthropol 31, 14 (2012). https://doi.org/10.1186/1880-6805-31-14
Charkoudian N. Skin blood flow in adult human thermoregulation: how it works, when it does not, and why. Mayo Clin Proc. 2003 May;78(5):603-12. doi: 10.4065/78.5.603. PMID: 12744548.
Fredrik Valham, MD, Carin Sahlin, PhD, Hans Stenlund, PhD, Karl A. Franklin, MD, PhD, Ambient Temperature and Obstructive Sleep Apnea: Effects on Sleep, Sleep Apnea, and Morning Alertness, Sleep, Volume 35, Issue 4, 1 April 2012, Pages 513–517, https://doi.org/10.5665/sleep.1736
Higuera, Valencia. "What Is the Best Room Temperature for Baby?" Edited by Carissa Stephenes, Parenthood, Healthline, 21 Feb. 2020, https://www.healthline.com/health/baby/room-temperature-for-baby.
"Is There a Thermostat That Switches from Heat to Cool Automatically? (Explained)." Smart TechVille, Smart TechVille, 22 Apr. 2022, https://smarttechville.com/is-there-a-thermostat-that-switches-from-heat-to-cool-automatically/.
Kelly, Alice Lesch. "Temperature for the Best Sleep: FAQ." Edited by Michael W. Smith, WebMD, WebMD, 14 Oct. 2013, https://www.webmd.com/sleep-disorders/features/sleep-temperature.
McMillen, Matt. "What's the Best Temperature for Sleep?" Edited by Melinda Ratini, WebMD, WebMD, 23 Mar. 2022, https://www.webmd.com/sleep-disorders/features/cant-sleep-adjust-the-temperature.
"Older Adults and Extreme Heat." Emergency Preparedness, Centers for Disease Control and Prevention, 9 June 2021, https://www.cdc.gov/aging/emergency-preparedness/older-adults-extreme-heat/.
Walsh, Karla. "THIS IS THE IDEAL TEMPERATURE FOR OPTIMAL SLEEP, ACCORDING TO SLEEP EXPERTS." The Well Nest, HUM Nutrition, 1 Sept. 2022, https://www.humnutrition.com/blog/best-temperature-for-sleep/.
"What Air Conditioning Does to Your Body." Edited by Michael W. Smith, WebMD, WebMD, 25 June 2021, https://www.webmd.com/a-to-z-guides/ss/slideshow-what-ac-does-to-your-body.
---