Every CPAP user knows there are standard CPAP supplies that sleep apnea patients need to get a good night's rest; like a CPAP machine, mask, and tubing. Anything else is considered a luxury...until you try it. Heated tubing is one such piece that many consider a necessity.
Today, we'll answer 8 questions about CPAP tubing; including how it fits into your existing CPAP therapy and if Aeroflow Sleep can get yours covered up to 100% through insurance.
IN THIS ARTICLE:
CPAP THROUGH INSURANCE
Aeroflow Sleep is in-network with most primary insurance companies and is acreditted by Medicare and Medicaid. Complete our Qualify Through Insurance Form, and we will automatically check to see if your plan covers CPAP supplies; including a machine, mask, and accessories. ***Must have a sleep study to qualify.***
You will also receive the care and attention every sleep apnea patient deserves; one-on-one clinical support in-home or via telehealth, a dedicated Sleep Specialist you can contact during business hours, and a user-friendly online portal with tailored replacement schedule, important updates and notifications, and educational resources.
Let us take the headache out of healthcare. Join the Aeroflow Sleep family today! It only takes 5-7 minutes to get started.
1. How do I make my CPAP air warmer?
First, let's talk about why heated CPAP tubing (or heated hoses) is even a thing. Standard tubing is what comes with your CPAP machine, because all it really needs to do is act as a connector between your CPAP machine and CPAP mask, right?
That's fine if you're happy with the temperature of the air you breathe through your CPAP mask. However, a common complaint among patients is that the air is too cold.
The easiest way to make your CPAP air warmer is to purchase heated tubing, which will warm the air as it travels from your CPAP machine to your mask.
2. What is the benefit of heated CPAP tubing?
The primary benefit of heated CPAP tubing is comfort, but it also helps maintain your CPAP therapy over longer periods of time. For example, heated tubing allows airflow to hold more moisture rather than dispense condensation or rainout.
Rainout is when air gets trapped in your tubing and cools, becoming water. The air pressure then pushes the water through to your CPAP mask instead of warm air. No one wants to wake up with a damp face or runny nose.
The warm air in a heated tube reduces the need for a CPAP humidifier too. Of course, when used together, heated tubing works in harmony with your humidifier to give you measured and controlled heat. The best product pairing that offers this benefit is ResMed's ClimateLine Heated Tubing and H5i Humidifier.
Finally, heated tubing helps prevent side effects; like a dry mouth, dry nose, sore throats, and nasal irritation.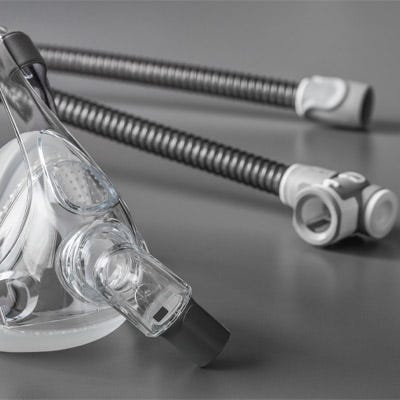 3. How does heated CPAP tubing work?
Heated CPAP tubing works by passing an electric current through coils of copper wire that run through the length of the hose. Extra parts don't make it heavier than standard tubing though. In fact, most manufacturers—namely Philips Respironics and Fisher & Paykel—have designed their heated tubing to be lightweight and provide additional flexibility with 6 feet of hose.
4. What temperature should a CPAP tube be?
According to ResMed, your CPAP tube temperature should be set between 60-86℉. ResMed AirSense 10 CPAP Machines use a Climate Control system, and its default setting is 81℉. You can access Manual Mode at any time to change the temperature and make it more comfortable for you.
Other CPAP manufacturers offer similar settings on their CPAP machines and recommend similar temperatures too. That said, don't get confused when you see both tube temperature and humidity level; they are two different things.
5. Do I need heated CPAP tubing and a heated CPAP humidifier?
As previously mentioned, heated tubing works in harmony with your humidifier, but a heated humidifier alongside heated tubing may be excessive.
A humidifier controls the amount of water vapor in the air and ultimately attacks dryness. If dry air is causing you to wake up with a dry mouth, you want a stronger humidification level. You can adjust this just as easily as the temperature on CPAP machines, but a heated CPAP humidifier also adds the element of temperature, doubling your warm air when used with heated tubing.
If you're experiencing dryness despite increasing the humidity, then it may be time to consider a heated CPAP humidifier too. ResMed recommends increasing your overall temperature by 1-2 ℉ to start.
6. Can you wash heated CPAP tubing?
Yes, you can wash heated CPAP tubing with mild soap and water and should do so every week. Just don't soak it and make sure it's completely dry before reattaching it to your CPAP device.
You can also try cleaning your CPAP hose with a half and half solution of vinegar and soapy water. The vinegar recipe works well for most general cleaning purposes and is easy to do yourself. You still need to make sure it's completely dry though.
7. How long do heated CPAP hoses last?
Heated CPAP tubing only lasts 3 months; same as standard tubing. It's important to replace your CPAP equipment, because over time, allergens, mold, and bacteria can get trapped in your CPAP supplies and make you sick.
If you haven't replaced your tubing recently, it's time to try Aeroflow Sleep.
8. Will insurance cover heated CPAP tubing?
At Aeroflow Sleep, your heated CPAP tubing may be covered up to 100% through insurance with a doctor's prescription. We work with your insurance provider and primary care physician to find you the best coverage possible for all your CPAP supply needs.
From CPAP and BiPAP machines to nasal CPAP masks, full-face masks, and every attachment in between, we have the perfect products for you.
All you have to do to see if you qualify for heated CPAP tubing through insurance is fill out this form on our website.