Married couples who do not sleep together in the same room are experiencing sleep divorce. For some, it's an empowering choice, rebelling against modern society and promoting self-care. For others, it really isn't a choice; it's a necessity to get any sleep at all. The latter is especially true among couples with partners who have sleep apnea. Fortunately, there are solutions, and we're here to tell you about them.
IN THIS ARTICLE:
How Is My Sleep Apnea Causing My Sleep Divorce?
How Can I Fix My Sleep [Apnea] Divorce?
How Do I Know If I Have Sleep Apnea?
Fix Sleep Divorce With CPAP From Aeroflow Sleep
CPAP SUPPLIES THROUGH INSURANCE:
Aeroflow Sleep is in-network with most primary insurance companies and is accreditted by Medicare and Medicaid. Complete our Qualify Through Insurance Form, and we will automatically check to see if your plan covers CPAP supplies; including a machine, mask, and accessories. ***Must have a sleep study to qualify.***
You will also receive the care and attention every sleep apnea patient deserves; one-on-one clinical support in-home or via telehealth, a dedicated Sleep Specialist you can contact during business hours, and a user-friendly online portal with tailored replacement schedule, important updates and notifications, and educational resources.
Let us take the headache out of healthcare. Join the Aeroflow Sleep family today! It only takes 5-7 minutes to get started.
The History Of Sleep Divorce
"Sleep divorce" is a relatively new term for an age-old practice. To this day, the home is a representation of its owners' wealth based on the size and space within it. Prior to the 20th century, monarchs, world leaders, and society's most distinguished families specifically inflated the size of their homes by adding to the number of bedrooms (or bedchambers.)
Therese O'Neill, New York Times' Bestselling Author of "Unmentionable and Ungovernable," writes in a Quora forum, "Only wealthy, QUITE wealthy spouses had separate rooms, usually with an adjoining door. And they had separate rooms because: an overabundance of living space with no designated need or use has always been a status symbol.
Fast forward to 1892, the twin bed was popularized by English aristocrats. At the time, it was considered fashionable to maintain the separation between sleeping partners but share sleeping quarters. We now know the aristocracy was dramatically failing financially, so those who could once afford to sleep in different rooms no longer could and put on this fad facade instead. Yet, they wished to keep up appearances, and so did The United States; Americans also used twin beds in the master bedroom briefly in the 1920s.
Two World Wars and The Great Depression leveled the "paying" field, and the world's majority embraced the practicality of one bedroom per couple. Not to mention, sleeping in twin beds became a sign of a failing marriage in the 1950s. Only recently has that sign and practicality lost favor with our fellow man again, because the 21st century populus is very in tune with the importance of self-care. Thus, sleeping in separate beds—if not separate rooms—has returned.
How Is My Sleep Apnea Causing My Sleep Divorce?
Sleep apnea is a unique culprit among partners in a sleep divorce. For example, you go to sleep in the same bed, and an hour into sleep, your spouse begins to snore. Loudly. Loud enough that it wakes you, and you can't fall back to sleep without some peace and quiet. Rather than end the snorer's life with their own pillow, you move to the couch or a guest bedroom, because that's the only way you'll get some shut eye. Does this sound familiar…? This is an example of how undiagnosed sleep apnea may be causing your sleep divorce.
If you or your loved one has already been diagnosed with sleep apnea but sleep divorce court is still in session, it could be the CPAP equipment causing the problem. You see, we all know it takes time for the CPAP user to get used to wearing their CPAP mask, but it can also take time for a sleep apnea patient's partner. They have to get used to the noises a CPAP machine makes, become comfortable with embracing and cuddling around things like CPAP tubing, and even the look of someone in a CPAP mask could be scary at first.
How Can I Fix My Sleep [Apnea] Divorce?
There are 5 tried and true methods to fixing your sleep divorce when sleep apnea is to blame. In this case, we're going to be looking at obstructive sleep apnea (OSA) specifically, because it is the most common type of sleep apnea. However, patients diagnosed with other types of sleep apnea may be able to use these as well. Talk to your doctor about which method may be right for you and your sleep partner.
1. Switch To A No- Or Low-Noise PAP Machine
Some PAP machines can make a lot of noise, especially if they're older models. Luckily, motor technology has come a long way since CPAP was first invented and sleep divorce began. Aeroflow Sleep recommends switching to a no- or low-noise machine that was manufactured within the last 5 years; like the ResVent iBreeze Auto. These machines are quieter, so no one is being disturbed.
2. Check For Air Leaks, Cracks, And Dirt
If you already have a PAP machine with reduced noise but it's been making more noise than usual, check for air leaks, cracks, and dirt. Air leaks are not only troublesome for your sleep divorce, it's troublesome for your sleep health, because you're not getting the same quality of CPAP therapy you need to treat your OSA. Cracks in a humidifier water chamber are just as bad, and dirt built up in your filters will actually make you sick.
Call 866-616-1687 for CPAP replacements from Aeroflow Sleep.
3. Try A CPAP Mask With Top-Of-Head Tubing
When you're an active sleeper, side sleeper, or someone whose love language is touch, try a CPAP mask with top-of-head tubing. Most CPAP masks are connected to the hose at the front, which means it can easily get in the way of you and your partner. Top-of-head tubing is a feature that literally allows you to connect the tube at the top of your head, thanks to a hollow mask frame. One example Aeroflow Sleep patients love is the ResMed AirFit F30i Full-Face; Richard D. said in his review, "I've used this mask for a year, and it's been the most comfortable, best sealed, lowest maintenance mask I've ever used."
4. Look For CPAP Parts That Swivel
The same patients who want top-of-head tubing may dually ensure sleep divorce is off the table by looking for CPAP parts that swivel. The ResMed AirFit F30i Full-Face CPAP Mask already takes this into account, because ResMed manufactured the port between the mask frame and tube to move with you. And at the other end of the tube, the ResMed AirSense 11 CPAP Machine has its own swiveling port.
5. Make A Statement With Your CPAP Accessories
Yes, sleep apnea is a serious sleep disorder, but that doesn't mean your PAP setup has to look like you're sharing a hospital bed. There are sleek, modern designs available for those who can't get past the undesirable medical look. In fact, ResMed has once again outdone itself, offering an entire line of CPAP products "For Her;" from a BiPAP machine to petite, lavender-accented masks. You can even get creative by purchasing colored, fabric tubing wraps.
How Do I Know If I Have Sleep Apnea?
Undiagnosed? Unsurprising. More than 26% of Americans, between the ages of 30-70, have OSA and don't know it. To find out if you have sleep apnea, first acknowledge the cause of your sleep divorce. Is it loud snoring? Or, are there other symptoms at fault; like waking gasping for air or insomnia? These are all key indicators that you should talk to your doctor about sleep apnea.
Next, your doctor will refer you to a sleep specialist, and they'll want to perform a sleep study. These can be done in-home or in a lab, and they ultimately determine whether or not you have a myriad of sleep disorders; including sleep apnea. If you do, you will most likely be prescribed CPAP therapy and need to order CPAP supplies to treat your sleep apnea. That's where Aeroflow Sleep comes in.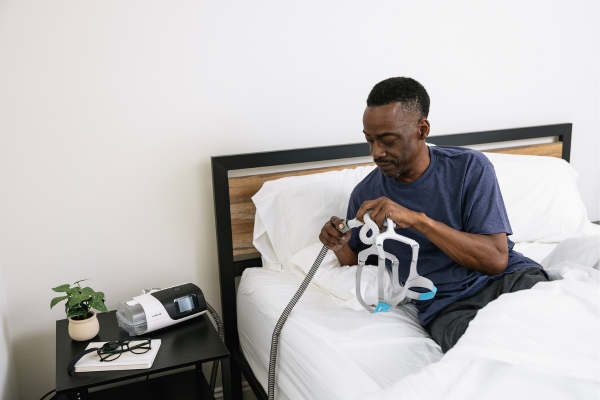 Fix Sleep Divorce With CPAP From Aeroflow Sleep
The sixth and final way to fix your sleep divorce is by advocating for yourself, your bed partner, and your sleep apnea. Take charge of the situation, and sign up for PAP supplies from Aeroflow Sleep. We work with your sleep specialist to find you the treatment you deserve, and more importantly, negotiate with your insurance provider to get it covered up to 100%.
Aeroflow Sleep has all of the aforementioned products and services available to you on your sleep apnea journey; including a regular replacement schedule we monitor so you don't have to. Plus, you can reach out to our own team of dedicated Sleep Specialists and licensed clinicians if you ever have any questions related to your PAP equipment.
So, let's bring better sleep back into your one and only bedroom together. It takes 5-7 minutes to sign up. Start now:
---

References
Therese O'Neill, reply to "Why did spouses have separate bedrooms in Victorian times and when did that change?," Quora, 2019, https://www.quora.com/Why-did-spouses-have-separate-bedrooms-in-Victorian-times-and-when-did-that-change/.
Hinds, H. (2019). A Cultural History of Twin Beds. London,: Bloomsbury Academic. Retrieved November 8, 2023, from http://dx.doi.org/10.5040/9781350045453
Santilli M, Manciocchi E, D'Addazio G, Di Maria E, D'Attilio M, Femminella B, Sinjari B. Prevalence of Obstructive Sleep Apnea Syndrome: A Single-Center Retrospective Study. Int J Environ Res Public Health. 2021 Sep 29;18(19):10277. doi: 10.3390/ijerph181910277. PMID: 34639577; PMCID: PMC8508429.
---