You've been asleep for an hour at most, and now the dog is barking or the baby's crying. Frustrated, you roll over and get in a staring contest with your digital clock, willing it to say something other than 3 AM. You groan, knowing that it's a losing battle, so you begin to shuffle about the house in the dark. Just as you realize the coffee isn't even brewing yet, you stub your toe on a misplaced shoe, curse it all, and seriously contemplate going back to bed. How can you be expected to feel rested and alert with this as your morning routine, especially when you suffer from sleep apnea?
Ladies, we understand, and Aeroflow Sleep is here to help. While we can't save you from being up before the sun, we will discuss which CPAP masks are exclusive to women and how a female-specific design may improve your sleep therapy.
---
The Best CPAP Masks for Women
Not all CPAP masks are created equal. Most unisex models were designed to fit men's facial features, and many don't even take into account that the size of a male's skull varies greatly from that of a female's. Headgear becomes loose, mask cushions slide uncomfortably against the skin, and leakage is more common when women use a unisex CPAP mask.
Plus, there's nothing cute about the way they look. Let's face it; becoming Darth Vader every night isn't sexy to anyone.
Fortunately, these obstacles have been overcome thanks to specialty "For Her" models, so let's take a look at 4 CPAP masks real women swear by:
---
ResMed AirFit P10 For Her Nasal Pillow CPAP Mask
Mask Style: Nasal Pillow
Sleeping positions: Side, stomach, and back
"I have been using the ResMed AirFit P10 For Her since 2016. Greatest comfort and seal possible. Can't imagine sleeping without it ever!!!" ~ Stacey G.
"This mask is a GIANT improvement over my old [one]. It stays right in position; so, it doesn't leak, and it's super comfortable, so I can wear it all night. Also, the frame doesn't embed embarrassing imprints into my cheeks that I have to deal with before leaving the house every morning." ~ Wendy D.
Weighing 50% less than the unisex model, the ResMed AirFit P10 For Her Nasal Pillow CPAP Mask is petite, with nasal pillows starting at Size XS. It also comes in small and medium sizes. Nevertheless, this lightweight design doesn't compromise on effective CPAP therapy. You still get the proven performance and reliability for which ResMed is known.
---
ResMed AirFit F20 For Her Full-Face CPAP Mask
Mask Style: Full-Face
Sleeping positions: Back
"Love my new CPAP. I've been sleeping like a baby! It's so quiet." ~ Marian T.
"This mask fits with no leaks." ~ Kaylene K.
If you're interested in a full-face option, the ResMed AirFit F20 For Her-Full Face CPAP Mask offers a fit better aligned with a woman's facial features than that of its unisex model. And it still comes with the same advanced technology packed into the original; just with smaller CPAP supplies, tubes, and adjustment points. That's great since up to 97% of sleep apnea patients agree that the headgear ResMed designed exclusively for the AirFit F20 Full-Face CPAP Mask fits best.
---
ResMed Swift FX Nano For Her Nasal CPAP Mask
Mask Style: Nasal
Sleeping positions: Side, stomach, and back
"This is a great alternative to the full face mask and the larger versions of nasal masks. This mask allows me to sleep on my side more often without the annoying sound and feel of escaping air. It is much easier to put on and off. I really like the way it fits, so my hair isn't so messed up the next morning." ~ Janet A.
Small in size but big on comfort is definitely the way to go when talking about "For Her" CPAP masks, and the ResMed Swift FX Nano For Her Nasal CPAP mask delivers. Another CPAP product by ResMed, this CPAP mask was developed to be the ultimate nasal option for women, combining the streamlined design of nasal pillows with the natural breathing comfort of a nasal mask.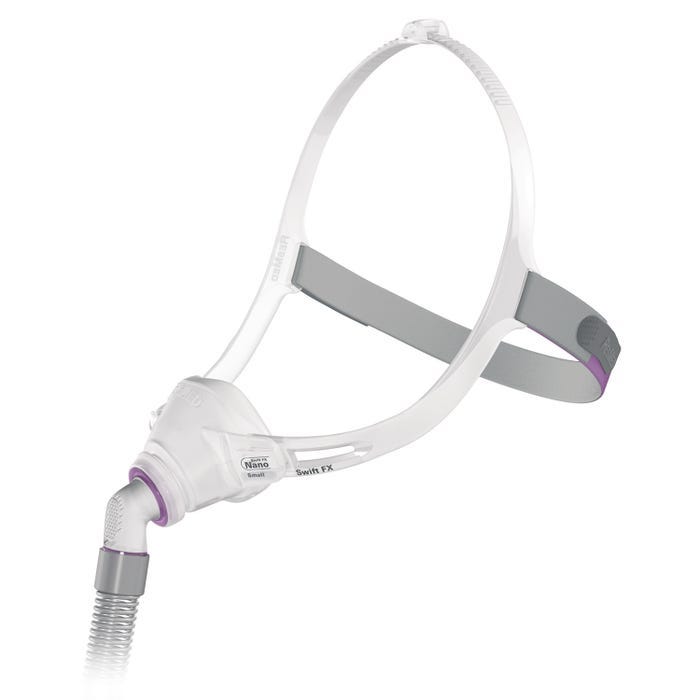 ---
Bleep DreamPort CPAP Mask
Mask Style: Alternative
Sleeping positions: Side, stomach, and back
"I've only been on CPAP for 5 months and so far I have tried 2 different nasal masks and 2 different full face masks. I was feeling like I would never get the results that I needed to achieve medically... Also, I have allergies and my skin is very sensitive. These ports are perfect for me, and [I] have not had any reactions." ~ Janet J.
Not a "For Her" model; however, this lightweight and flexible sleep solution is a great alternative to traditional CPAP masks for women. Instead of headgear, a mask frame, and cushions, the Bleep DreamPort CPAP Mask uses hypoallergenic, disposable, adhesive seals called DreamPorts. You get a 16-night supply of DreamPorts when you order the full starter kit, plus a unique interface that connects this mask's hose with your existing CPAP machine.
---
What Makes a CPAP Mask "For Her?"
Gone are the days when manufacturers make a product pink and call it "For Her." (At least, that's the case in the world of sleep apnea.) Dedicated time and effort goes into the creation of each "For Her" CPAP mask, and there are 3 key components to be considered when introducing a new model: size, comfort, and style.
Size
We've already touched on how beneficial size is, given how well your CPAP mask fits directly correlates with the effectiveness of your sleep therapy. Facial anatomy is one area where men and women tend to be different, and that fact needs to be addressed when finding a CPAP mask. That's why the inclusion of XS sizes or a petite mask frame—like what the ResMed AirFit P10 For Her Nasal Pillows CPAP Mask offers—is so important.
Comfort
Comfort is just as important as size is to maintaining your CPAP therapy. If the CPAP mask you are wearing is uncomfortable, it will take longer for you to fall asleep. You may even fall behind on your CPAP compliance, which tells insurance companies whether or not new CPAP users truly need their supplies covered. To be compliant, you must wear your CPAP mask at least 4 hours every night within the first 30 consecutive days.
Never fear! The ResMed AirFit F20 For Her Full-Face CPAP Mask for instance includes plush headgear, and the ResMed Swift FX Nano For Her Nasal CPAP Mask boasts SoftEdge™ technology; a fabric unique to ResMed that offers a snug fit without red marks in the morning. The latter can even be equipped with soft wraps to minimize abrasion.
Style
Style, on the other hand, is purely for aesthetic purposes. After all, women want to be trendy, contemporary, fashionable, keeping up with appearances, in vogue; take your pick. The Bleep DreamPort CPAP Mask is the hot, new thing, and Aeroflow Sleep is one of the only providers who can get yours covered through insurance.
Get your CPAP Mask Covered through Insurance
All of the CPAP masks mentioned within this blog are available at Aeroflow Sleep, and we are committed to getting yours covered through insurance. Simply complete Aeroflow Sleep's quick qualification form, and you will be assigned a dedicated Sleep Specialist.
Your Sleep Specialist will contact your insurance provider and doctor to verify coverage and gather any necessary paperwork. Once approved, you're enrolled in our complimentary Aeroflow Sleep Program and will regularly receive new CPAP supplies. It's that easy!
So, don't let another moment pass without a "For Her" CPAP mask added to your cart, because being an inspirational woman by day means you deserve reliable sleep at night.