"As a combat veteran myself, I understand the sacrifices our nation's warfighters have made in defense of our nation. We owe it to these brave men and women and their families to uphold the promises our country has made to them when they took their oath to serve. We must ensure that our veterans receive the quality care that they earned and deserve. In addition, we must work to eliminate barriers that impede veterans from accessing their education and employment benefits and promote opportunities for success outside of the military. I am committed to being a fierce advocate for those who have served our country in uniform."
These are the words of Andrew S. Clyde, included within an email sign-off by "Jaz;" an Aeroflow Sleep patient. Veteran's Day is around the corner, and America's servicemen and women are top-of-mind here at Aeroflow Sleep. It is with great respect that we acknowledge Clyde's service, Jaz's insight, our brothers in arms, and all they have conquered to grant us our freedoms.
Yet, how much they deserve financially is often a point of contention among the healthcare system, and being treated for sleep apnea is no exception. That's why we're here to help point our military families in the right direction, informing you how the armed forces community may receive VA CPAP supplies.
IN THIS ARTICLE:
Who Is Eligible For VA Healthcare?
Does The VA Help With Sleep Apnea?
Does The VA Supply CPAP Equipment?
Does Aeroflow Sleep Work With The VA?
CPAP SUPPLIES THROUGH INSURANCE:
Aeroflow Sleep is in-network with most primary insurance companies and is accreditted by Medicare and Medicaid. Complete our Qualify Through Insurance Form, and we will automatically check to see if your plan covers CPAP supplies; including a machine, mask, and accessories. ***Must have a sleep study to qualify.***
You will also receive the care and attention every sleep apnea patient deserves; one-on-one clinical support in-home or via telehealth, a dedicated Sleep Specialist you can contact during business hours, and a user-friendly online portal with tailored replacement schedule, important updates and notifications, and educational resources.
Let us take the headache out of healthcare. Join the Aeroflow Sleep family today! It only takes 5-7 minutes to get started.
What Are VA Benefits?
The Department of Veterans Affairs (or the VA) "runs programs benefiting veterans and members of their families." VA benefits include education opportunities, rehabilitation services, and compensation payments for a multitude of reasons. The compensation payments we will be discussing is for disabilities related to military service; i.e. sleep apnea.
Who Is Eligible For VA Healthcare?
According to VA.gov, VA healthcare is available for active duty, National Guard, and Federal Reserve veterans only. Additionally, if you served during wartime, are at least 65-years old or have a service-connected disability, and have limited or no income, you may qualify for a pension. Contact affairs offices for more information or to find a VA location near you.
Does The VA Help With Sleep Apnea?
Yes, with 22% of veterans suffering from sleep apnea, Veterans Affairs has a program in place to help, but there are requirements you have to meet beyond eligibility for VA care. Federal Regulations recognize all 3 types of sleep apnea as a disability: obstructive sleep apnea, central sleep apnea, and mixed. A VA rating for your disability is then assigned, based on your diagnosis and whether your sleep disorder is a service-connected condition or not. This rating determines how much you'll have to pay for care.
The VA ratings for sleep apnea are 0%, 30%, 50%, or 100%. They correlate with the possible discount you may receive, and yes, being found ineligible is still a possibility.
When a veteran is diagnosed with sleep apnea but no longer experiences symptoms of the condition, they are then assigned a 0% VA rating and are no longer entitled to sleep apnea-related disability payments. However, the VA acknowledges that comorbidities are possible, and the veteran in question may still receive compensation for one of those medical conditions; including hypertension, diabetes, and heart disease.
It is also possible that the VA ratings will change. In fact, changes have already been proposed for the sleep apnea ratings. If that happens, you'll want to revisit your percentage of coverage by speaking with Veterans Affairs directly.
Does The VA Supply CPAP Equipment?
Unless you are currently admitted to a VA medical center, have received a tracheostomy, or suffer from chronic respiratory failure, the VA will not directly supply you with CPAP equipment.
Claiming a disability through Veterans Affairs entitles you to paycheck; not a health insurance plan. It is meant to offset "dollar for dollar" the medical care you receive in conjunction with your own private insurance, Medicare, Medicaid, or Tricare coverage. Therefore, it is important to make all parties—your doctor, your insurance provider, and the VA—aware if you are receiving care outside of Veterans Affairs, so the appropriate amounts can be issued.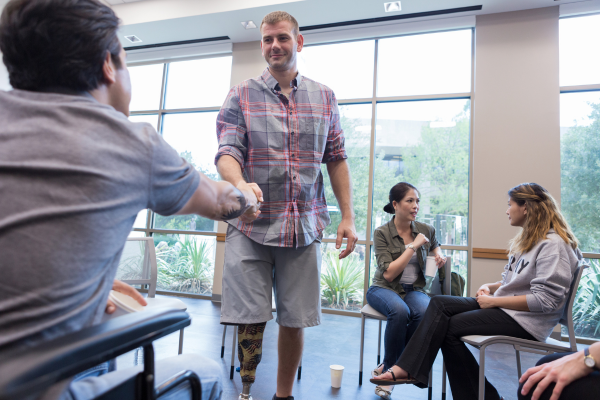 Outside care includes CPAP therapy. Continuous positive airway pressure (or CPAP) therapy is the recommended treatment option for sleep apnea and is administered via a CPAP machine, CPAP mask, and CPAP accessories; like its hose and humidifier. APAP (or automatic) and BiPAP (or bilevel) machines are also options.
To receive a CPAP device while also receiving disability checks from the VA, you will need 5 things...
Health insurance
Doctor's notes
A sleep study
A current prescription
An accredited DME company
...the latter of which is your CPAP supplier, and Aeroflow Sleep is one such accredited, durable medical equipment (DME) company.
Does Aeroflow Sleep Work With The VA?
Aeroflow Sleep may apply as care you are receiving outside of Veterans Affairs, and if approved, we can be the DME that sets you up with CPAP supplies through insurance. We work with your insurance provider—including Tricare—to negotiate the best possible coverage for you; up to 100% off. And, that's not all! You'll have peace of mind knowing we ship replacement parts on a regular basis, so you don't have to keep up with the ongoing pressure of knowing when something is due.
So what are you waiting for? You're already eligible for VA healthcare. Let's get you a CPAP worthy of your status as a United States veteran. Please fill out our online qualification form; it takes 5-7 minutes to complete, and our team of dedicated Sleep Specialists will evaluate your case.
---

References
"U.S. Department of Veterans Affairs (VA): Usagov." U.S. Department of Veterans Affairs (VA) | USAGov, www.usa.gov/agencies/u-s-department-of-veterans-affairs. Accessed 31 Oct. 2023.
"VA Benefits for Service Members." Veterans Affairs, www.va.gov/service-member-benefits/. Accessed 31 Oct. 2023.
Code of Federal Regulations, 38 CFR Part 4. Department of Veterans Affairs, 38 U.S.C. 1155, 22, May 1964. Accessed 31 Oct. 2023. https://www.ecfr.gov/current/title-38/part-4.
"Go to Tricare Home." TRICARE, tricare.mil/. Accessed 31 Oct. 2023.
---