There are many reasons why you might want to buy your CPAP supplies in person. You want to make sure you get the right mask the first time. That it fits properly before you leave. That your new CPAP machine is set up by a healthcare professional who knows what you personally need.
But there are also drawbacks to buying medical supplies from a brick-and-mortar store. You're limited to the choices they have in stock, and by the hassle of complicated billing and reimbursement policies. But what if you could have the best of both worlds? If you find yourself searching for "CPAP supplies near me", we'll show you how to get all of the benefits of an in-person shopping experience without leaving your own home! After all, how much nearer can you get than your own front door?
Choosing the Right CPAP Mask the First Time
It used to be that one of the downsides of buying CPAP equipment online was spending weeks of trial-and-error finding the right CPAP mask. Now thanks to AI mask fitting technology, you can get customized recommendations while choosing from a wide variety of mask types and styles– no matter if you prefer a full face mask, nasal mask, or nasal pillows.
Simply use your smartphone to take your picture with our easy app, and an advanced algorithm provides you with options that are suited to your unique face shape. You can choose from a wide selection of top-name brands like ResMed, Philips Respironics, Fisher & Paykel, and more!
But if it's still not the perfect fit, our 30 Day Mask Swap lets you try a new mask without having to drive back and forth to the store.
Finding the Right Mask Fit
Once you've found the perfect CPAP mask, you need to find a comfortable fit. That's a lot easier to do when you work with someone who knows how to do it! But that doesn't mean you need to go to them.
When you join Aeroflow Sleep you'll be paired with a personal Sleep Specialist who knows your sleep apnea challenges, your prescription details, and your specific CPAP equipment. They'll walk you through finding the best fit and can offer tips and tricks for adjusting your headgear, seating your cushion, and getting the best sleep possible.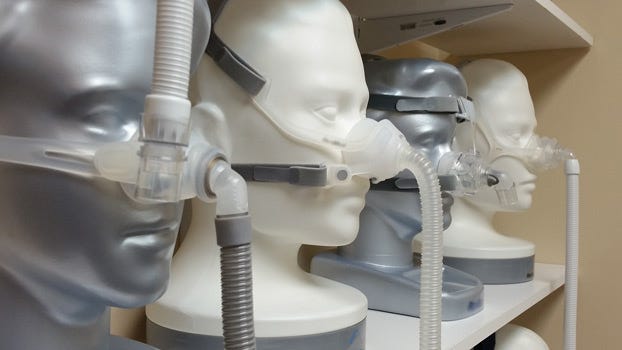 Get Your CPAP Setup by a Board-Certified Respiratory Therapist
Your CPAP, BiPAP, or APAP is an advanced piece of medical equipment, and the air pressure needs to be titrated to your specific prescription by a medical professional. This was one advantage that going to an in-person medical equipment provider has typically held over buying CPAPs online– access to clinicians who know how to properly adjust your sleep therapy.
With Aeroflow Sleep your machine will be set up by a board-certified Respiratory Therapist without having to leave your house. During a convenient telemedicine appointment, our experts will walk you through every step of the process right from your own smartphone, laptop, tablet, or desktop computer.
Avoid the Hassle of Insurance Paperwork
No matter whether you go to your local DME (durable medical equipment provider) or order from an online retailer, you'll need to bring them your prescription. And if you get your CPAP supplies through insurance, you'll need to figure out their billing or reimbursement policies.
At Aeroflow Sleep we handle all of that for you! Your personal Sleep Specialist will reach out directly to your doctor and insurance provider. We'll get your prescription and handle any paperwork, prior authorization, or special requirements on your behalf. Your Sleep Specialist will even help you make the most of your insurance benefits, letting you know when you qualify for new CPAP supplies. Or if you prefer to shop for your own, our exclusive web portal will notify you when an item you've selected is available and covered by your insurance. All you have to do to get started is fill out our easy qualify form, then sit back and wait for CPAP supplies to be shipped right to your door!
So you can stop worrying about searching for "CPAP supplies near me" and start getting the benefits of home health care without leaving home!