Whether you're choosing your first CPAP mask or your hundredth, this simple guide will help you find the perfect fit and get back to sleep quickly.
Table of Contents
One of the most important parts of CPAP therapy is finding the best CPAP mask for your individual needs. That's because you're more likely to abandon your treatment if your mask isn't comfortable. This not only leaves your health at risk, but may cause your insurance to stop paying for your CPAP machine and supplies.

To figure out what mask style will be the most comfortable fit for you you'll need to consider how you sleep, how you breathe, and your pressure settings. But first, you'll need to understand your options...
What Types of CPAP Masks Are There?
Though there are hundreds of different mask combinations, there are only three main types of CPAP mask: Full Face, Nasal, and Nasal Pillow.
Full Face CPAP Mask
This style covers your mouth and nose, allowing you the option to breathe through either. Some people find full face masks to be more comfortable, because the wider surface area spreads the air pressure out.
Though full face masks tend to be bulkier than the other styles, newer designs offer a slimmer profile that provides a wider field of vision and requires less headgear.
Sleeping Position: Back sleepers, some side sleepers
Breathing Style: Mouth breathers, nose breathers
You should choose a full face CPAP mask if…
You breathe through your mouth or sleep with your mouth open.

You experience frequent nasal congestion or allergies.

You require high

airway pressure

.
You should choose a different CPAP mask if…
Your facial hair prevents a good seal.
A full face mask makes you experience claustrophobia.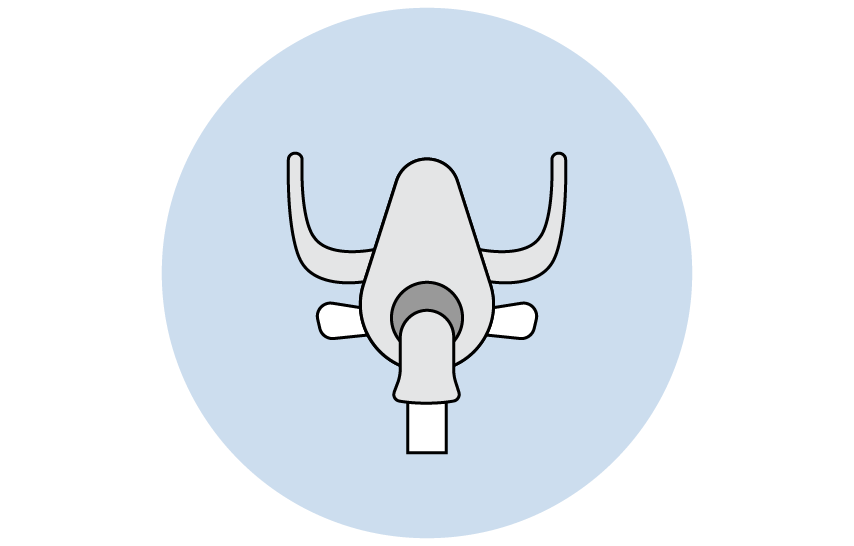 Nasal CPAP Mask
There are two different styles of nasal mask. The first kind fits over your nose, covering from the bridge of your nose to your upper lip. These may or may not include a forehead pad for stability.
Newer styles of nasal mask cradle underneath your nose, for a slimmer profile and less contact with your face.
In either case, nasal masks deliver airflow to your nasal area, but not directly into your nostrils like a nasal pillow would.
Sleeping Position: Side sleepers, back sleepers, active sleepers
Breathing Style: Nose only
You should choose a nasal CPAP mask if…
You sleep on your side, or toss and turn in your sleep.

You like to read or

watch TV

before bed.

You want a smaller mask, but don't like

airflow

directly in your nostrils.
You might consider a different mask if…
You experience frequent nasal congestion or struggle to breathe through your nose.

Injury or a deviated septum limits

airflow

through your nose.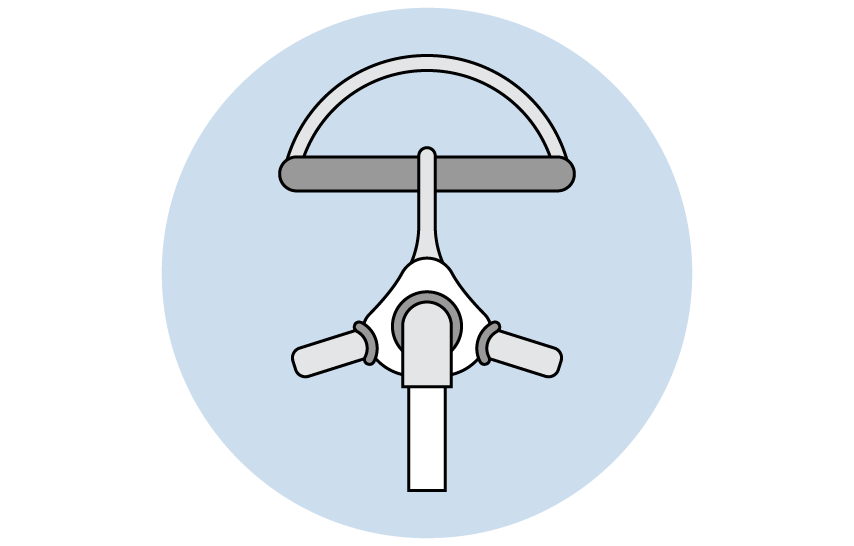 Nasal Pillow CPAP Mask
The "pillows" of a nasal pillow mask are two soft, silicone pads that fit just inside the nostrils. These inflate slightly to create the seal and deliver air directly into your nasal passage. This allows for a smaller and lighter mask, that still delivers an effective seal and minimizes the potential for air leakage.
Since the seal occurs at the nostrils, you won't have to worry about facial hair preventing a good seal. This makes nasal pillows a popular choice for CPAP users with beards.
Nasal pillow masks offer the most minimal contact of the main mask styles, though some may find it uncomfortable to have the cushion against their nostrils.
Sleeping Position: Side sleepers, back sleepers, stomach sleepers, active sleepers
Breathing Style: Nose only
You might consider a different mask if…
Your

facial hair

prevents a good seal.

A full face mask makes you experience

claustrophobia

.
You might consider a different mask if…
You have a high

pressure setting

.

You experience frequent nasal congestion or struggle to breathe through your nose.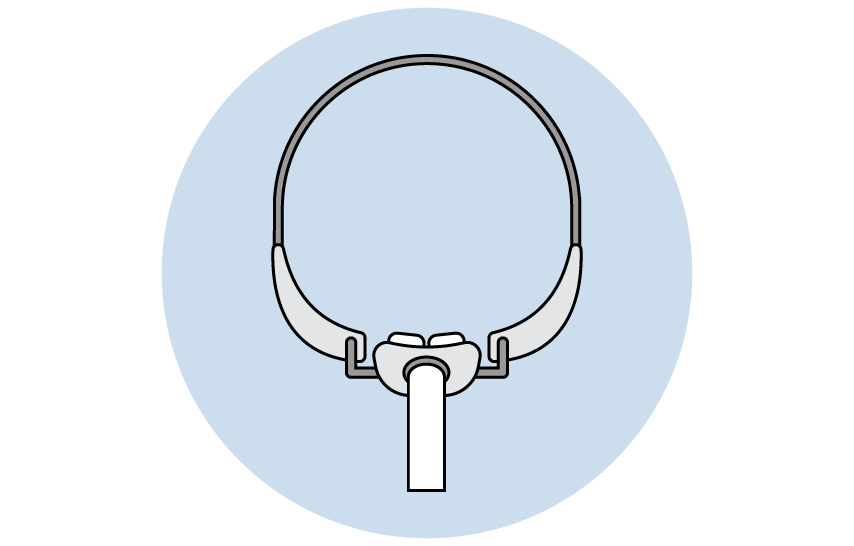 Specialty CPAP Masks
Though most of the masks you'll find fall into the main categories, there are some less common mask types you might see. While they're not prescribed as often, if you have difficulty adjusting to CPAP therapy, your doctor may recommend one of these specialty masks.
Hybrid CPAP Mask
A hybrid mask is like a full face mask combined with a nasal pillow. The mask seals over the mouth, but under the nose. Hybrid CPAP masks are a great choice for CPAP users who require a full face mask, but don't want to cover the bridge of their nose.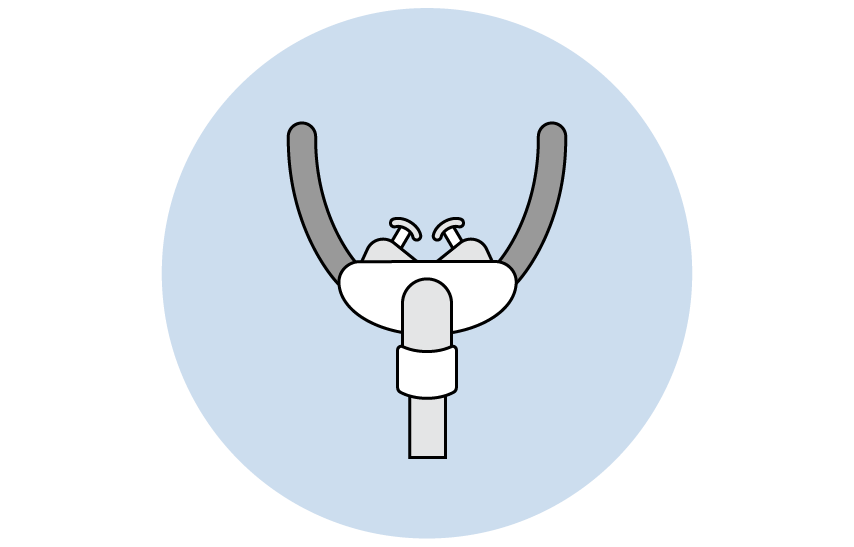 Nasal Prong CPAP Mask
Nasal prong masks insert gently into the nostrils, and may use adhesive pads, a mouth flap, or a forehead pad to stay in place. Unlike nasal pillows they don't cradle under or around the nose. These offer the least contact of any mask style, but may not work for CPAP users with high pressure settings.
Oral CPAP Mask
Oral masks seal around the mouth only, and require only minimal headgear. They may include a flap that rests between your teeth to help keep the mask stable. These masks can be helpful for people with an injury or deviated septum which prevents them from breathing through their nose.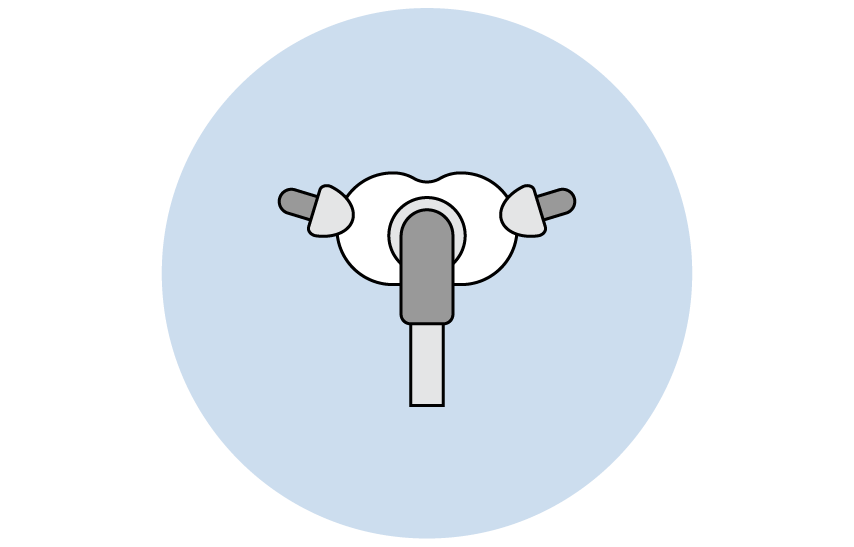 Total Face CPAP Mask
A total face mask seals over your entire face, from your chin to your forehead. These are typically prescribed to patients with facial irregularities that prevent proper mask seal, or who have difficulty tolerating other mask types.
How to Choose the Best CPAP Mask For Your Sleeping Position
It may seem like a no-brainer that you'd pick the smallest, lightest mask possible, but that won't mean much if it won't stay on your face. One of the most important things to consider is your sleeping position and how much you move in your sleep.
The Best CPAP Mask for Side Sleepers
Since your mask will be touching your pillow, a side sleeper should choose one with a smaller profile and a flexible design. That's why most side sleepers prefer a nasal or nasal pillow CPAP mask, like the ResMed AirFit P10.

If you're a side sleeper that requires a full face CPAP mask, don't fret! Newer styles of full face masks have been designed with you in mind. Minimal-contact masks– like the Philips Respironics DreamWear or ResMed AirFit F30– feature smaller cushions and sleeker profiles to better suit side sleepers.
The Best CPAP Mask for Stomach Sleepers
Like side sleepers, a stomach sleeper should look for a flexible mask with a minimal design. Take a look at masks like the Fisher & Paykel Brevida or Evora.
Since the mask will be pressed against your face, you'll want to choose one with a softer cushion like a nasal mask with memory foam, or a nasal pillow with gel pillows. An example is the ResMed AirTouch N20.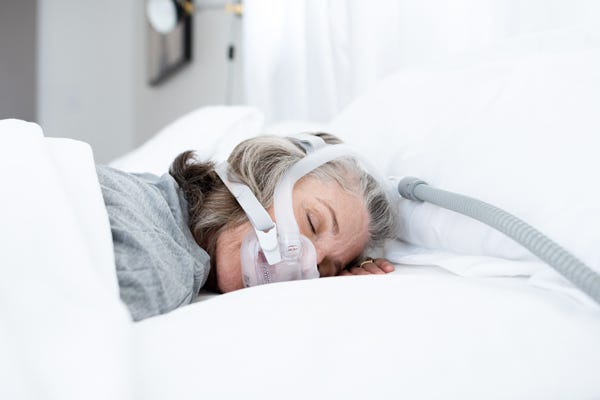 The Best CPAP Mask for Back Sleepers
While back sleeping is the worst choice for obstructive sleep apnea, it offers the most flexibility when choosing a CPAP mask. Back sleepers can safely choose from any style of mask, though you'll want to make sure your headgear doesn't feature any connections at the back of the head.
The Best CPAP Mask for Active Sleepers
If you toss-and-turn in your sleep, your main concern will be keeping your hose from getting tangled. Active sleepers should look for a mask that features a top-of-the-head connector, such as the ResMed AirFit N30i.
The N30i also features a hollow-frame design, so if your sleep position closes off one side of the mask, the airflow is simply redirected through the other side.
How to Choose the Best CPAP Mask by Breathing Type
The Best CPAP Mask for Mouth Breathers
Whether you sleep with your mouth open by habit, or suffer from frequent nasal congestion, you're most likely to benefit from a full face or hybrid CPAP mask. The wide coverage and indirect airflow allows you to breathe naturally, and switch as necessary.
If you're not able to tolerate a full face mask, or simply not a fan, you're not out of luck. An inexpensive chin strap can be paired with a nasal or nasal pillow CPAP mask. This may also help reduce the potential side effects of mouth breathing such as...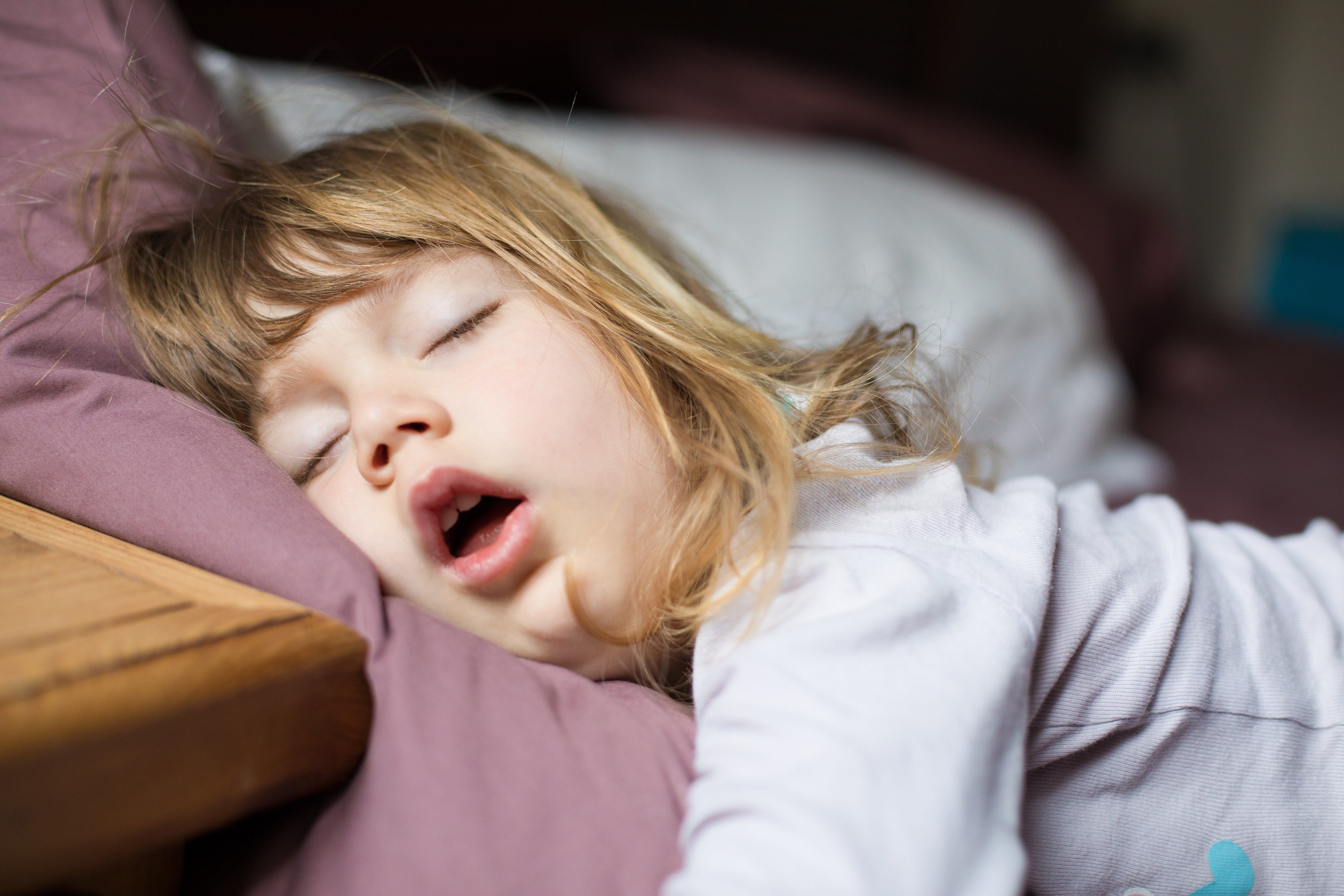 The Best CPAP Mask for Nose Breathers
Breathing through your nose is not only the healthiest choice for sleep apnea, it's also beneficial to your health in general. As an added bonus, it also allows for the widest selection of CPAP masks!
If you breathe through your nose when you sleep, you can use nearly any style of CPAP mask– with the obvious exception of an oral mask, of course.
Using AI to Find the Right Mask Fit
Finding the right size CPAP mask can be difficult, because sizes differ between brands and between mask types. What might be a 'medium' for one manufacturer, could be a 'small-wide' for another.
The old way of finding your size involved printing and cutting out sizing guides. Or worse, returning mask after mask until you found the right one.
Now, thanks to advances in AI technology, finding the perfect mask fit is as easy as taking a selfie! When you sign up for Aeroflow Sleep you'll get access to our revolutionary AI mask fitting program.
Simply download the app, and take a picture of your face. The program will ask a few simple questions about your sleeping habits and preferences. The app then uses 30 unique parameters to recommend a selection of masks tailored just for you!
Try a Mask with a 30 Day Guarantee
Bodies come in all shapes and sizes, and have different needs, so there's no such thing as a "one size fits all" mask. Once you've narrowed down your options by sleeping position, breathing style, and lifestyle, there's still a wide range of features, sizes, and materials to choose from.
Your personal Aeroflow Sleep Specialist can help you pick the best CPAP mask for you, give you access to our AI mask fitting app, and even offer tips on how to get the most comfortable fit.
But if you still decide you need a different mask, our 30-day mask guarantee means you can exchange it for full credit towards the purchase of a new mask! That way you can explore your options and be confident you'll find the right fit, with plenty of time to decide.
So reach out to Aeroflow Sleep, and find your CPAP mask today!