It may surprise some CPAP users to find that their insurance company requires them to rent their CPAP machine– sometimes for as long as 3 months to a year– before they're allowed to own it.
If you've just discovered that you're facing a rental policy, you probably have a lot of questions. To help you out, we'll take a look at why your insurer requires a rental period, and what it means for the cost.
Why Does My Insurance Require CPAP Rental?
Sleep apnea affects an estimated 18 million Americans, and better testing is leading to more and more people seeking treatment. However, CPAP therapy can be difficult for some to adjust to, and a significant number of sleep apnea patients abandon their CPAP device within the first few months. To be completely up front, your insurance provider doesn't want to pay for something you don't use.
During the rental period, your insurer will likely require you to prove that you're using your machine. The exact details differ from plan to plan, but many insurers follow the Medicare guidelines, which require a minimum of 4 hours per night for 70% of nights.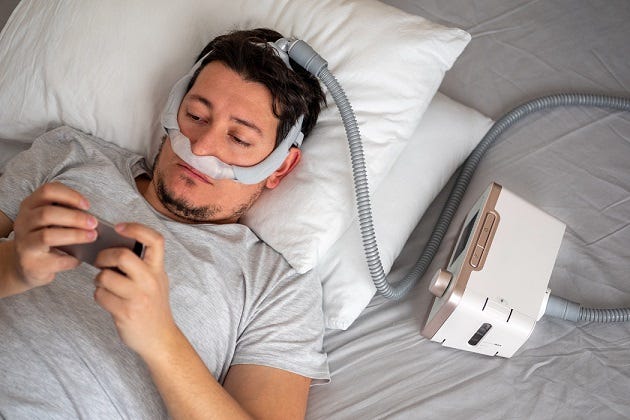 Once you've completed the rental period, you'll own the machine outright. On the other hand, if you stop using your CPAP device during that time, your insurer may refuse to cover the cost. When this happens, your DME (durable medical equipment provider) doesn't have a say in the matter, but they can help you avoid that scenario!
If you're having difficulty adjusting to CPAP therapy, don't give up; reach out to Aeroflow Sleep! Your personal Sleep Specialist can offer tips to increase your comfort, find the right fit and pressure, and even make sure you've got the right CPAP mask.
Am I Required To Rent CPAP Supplies Too?
CPAP rental programs only apply to CPAP, APAP, and BiPAP machines themselves. Other CPAP equipment– such as CPAP masks, tubing, filters, and humidifiers– will be paid for up front like any other covered purchase.
Since these items are considered medically necessary, your healthcare insurance will almost always cover them, though your deductible and coinsurance rates will likely apply.
How Much Does CPAP Rental Cost?
Typically, your monthly rental fees are simply the cost of the new CPAP machine divided by the number of months in the rental period. So, for example, if you chose a $500 machine with a 10 month rental, your monthly cost would be $50 (plus any applicable taxes).
During this time, your deductible and coinsurance rates would apply. Your Sleep Specialist from Aeroflow Sleep can contact your insurance provider directly, and help you find out where your deductible stands.
The Benefits of CPAP Rental
For those who cannot afford a large payment up front, cpap machine rental can be a big help, working like a payment plan to distribute the cost over time.
Your insurer may even allow you to try out different models, so you can be sure to get the right type of CPAP for you. (Though you should first talk to your durable medical equipment provider about what your insurance plan and their return policies will allow.)
What Do I Do If I Don't Want to Rent My CPAP?
Rental policies are determined by your insurance company and not your CPAP equipment provider, so if you want to skip the rental you'll need to purchase your machine without insurance.
But before you pay out of pocket, consider how the purchase fits into the bigger picture. A rental period may seem like a bit of a hassle, but using your insurance could help you in the long run:
You could save money. Your insurance plan doesn't just cover your CPAP machine, it also likely covers a regular schedule of replacement CPAP supplies. The cost of mask cushions, headgear, water chambers, and new filters can add up over time, and if you buy your CPAP out of pocket you'll also be responsible for replacing them. Your insurance coverage could reduce these costs enough to make dealing with a rental period worthwhile.
It may help you stick with your sleep apnea treatment. Research has shown that people who use their CPAP consistently in the beginning are more likely to stick with their therapy in the long-term. For some, the rental requirements could be just the incentive they need to keep going.
How Do I Know If I'm Required to Rent My CPAP?
Not all insurers require a rental period, and many will cover your CPAP machine outright. So how do you know what your policy requires? Aeroflow Sleep can help you find out!
We'll reach out to your insurer directly, so there are no surprise rules or requirements. And if there's any need for prior authorization or prescription confirmation, we handle all of the paperwork for you. We'll even tell you how often your plan covers replacement supplies, so you can get the most out of your coverage. All you have to do to get started is fill out our easy qualify form, then sit back and wait for your CPAP supplies to be shipped straight to your door!