Aeroflow Sleep recently learned that one of its patients believes, "Toothbrushes are now monitoring your habits but don't tell your dentist about it. CPAPs shouldn't either!" With that, we quickly realized the truth behind CPAP cellular modems and WiFi may not be fully understood. Today, we're going to clear that up!
IN THIS ARTICLE:
3 PAP Machines With Connectivity
What Happens If My Recorded Data Is Wrong?
Order Your PAP Machine From Aeroflow Sleep
CPAP SUPPLIES THROUGH INSURANCE:
Aeroflow Sleep is in-network with most primary insurance companies and is accreditted by Medicare and Medicaid. Complete our Qualify Through Insurance Form, and we will automatically check to see if your plan covers CPAP supplies; including a machine, mask, and accessories. ***Must have a sleep study to qualify.***
You will also receive the care and attention every sleep apnea patient deserves; one-on-one clinical support in-home or via telehealth, a dedicated Sleep Specialist you can contact during business hours, and a user-friendly online portal with tailored replacement schedule, important updates and notifications, and educational resources.
Let us take the headache out of healthcare. Join the Aeroflow Sleep family today! It only takes 5-7 minutes to get started.
Big Pharma Is Not Watching
Let's get one thing straight: Big Pharma is not watching you through your CPAP machine. The aforementioned patient went on to say that this monitoring was "spy technology," and we can assure you, it's not. What your CPAP machine is doing is far from harmful; unlike the conspiracy theory suggests. In fact, it's helpful to both you and your doctor.
What Does CPAP Monitor?
The monitoring your CPAP does is helpful to both you and your doctor, because it primarily looks at three things: your breathing patterns, pressure settings, and compliance status.
Breathing Patterns
Montoring your breathing patterns was crucial to diagnosing you with sleep apnea. You may recall that your sleep study—whether performed at home or in a lab—measured something called the Apnea Hypopnea Index (AHI,) which is how often you stop breathing within an hour of sleep. An AHI greater than 5 indicated that you did indeed have sleep apnea.
"The reason why you stop breathing indicates the type of sleep apnea you have. If something is physically blocking the airway, causing you not to be able to breathe, it's obstructive sleep apnea (OSA. When your brain does not communicate with your body to tell you to breathe, that's central sleep apnea (CSA.) When you have both of these apneas, it's mixed."
Michelle Worley, RN and Aeroflow Sleep's Director of Clinical Operations elaborates, "The reason why you stop breathing indicates the type of sleep apnea you have. If something is physically blocking the airway, causing you to not be able to breathe, it's obstructive sleep apnea (OSA.) When your brain does not communicate with your body to tell you to breathe, that's central sleep apnea (CSA.) When you have both of these apneas, it's mixed."
That then tells the doctors whether you need a CPAP, APAP, or BiPAP machine, and all of it is continually monitored in order to get you the best treatment possible. "For example," Michelle postulates, "Your AHI should reduce as you acclimate to CPAP therapy. If we notice it's worsening, your growing AHI may indicate a more advanced PAP is needed such as a BiPAP in order to control your sleep apnea." Therefore, we want this monitoring in place to alert us of these possibilities.
Pressure Settings
Of course, if your AHI isn't changing positively or negatively, your doctor may just need to prescribe you with a different pressure setting.
CPAP stands for continuous positive airway pressure, and Aeroflow Sleep programs its machines with your unique pressure settings before we ship them to your home. The highest pressure on CPAP machines today is 20 cmH2O, and this is what blows into your mouth and/or nose to keep your upper airway open all night long.
Our clinical experts meet with every new Aeroflow Sleep patient, either in-person or via telehealth, to set up your machine, fit your mask, and discuss all of the PAP accessories in between. By doing this, you can be confident that everything is as it should be before you're on your own, discovering how the pressure feels for yourself.
That said, comfort is not a reason to change your pressure settings. Feeling suffocated or claustrophobic can be a common problem for first-time CPAP users. If these feelings don't go away within a week or so, reach out to your dedicated Aeroflow Sleep Specialist for another mask; one that fits properly and doesn't leak. Never change your pressure settings yourself, without first speaking with your doctor or Aeroflow Sleep Specialist.
Compliance Data
Aeroflow Sleep's clinical experts are there to set you up for success not just with treatment but for insurance purposes as well. At the same time your health stats are being collected, compliance data is being collected too.
Compliance (or adherence) is a CPAP use goal set by your insurance provider to know whether or not they should cover your PAP supplies. Most insurance companies expect you to use your PAP machine at least 4 hours per night, for 30 consecutive days, within the first 3 months you're a CPAP user. If you don't, insurance won't cover the cost; 100% or otherwise.
The financial impact is certainly important, but compliance can actually impact your treatment success too. One study found that of the 54% sleep apnea patients who were compliant, most saw improvement in their sleep health over the course of the 3.7 months since diagnosis. Meanwhile, those who were not compliant were 15% more likely to abandon PAP therapy altogether and continue to suffer.
If you're concerned about meeting your insurance policy's specific requirements, we can come up with solutions together that make adjusting to PAP therapy as easy as possible.
3 PAP Machines With Connectivitiy
As you're beginning to see how CPAP monitoring does in fact benefit you and your doctor, you may be wondering if your machine is on the list of those that have connectivity. Well, the truth behind cellular modems and WiFi is that CPAP monitoring is nothing new. Older machines used to store all of the same data on SD cards. The only difference is that updates in technology now allow us to review the data without a doctor's visit, thanks to cellular modems and WiFi.
Nevertheless, a few of the PAP machines that do use connectivity instead of SD cards are:
All of the above allow you to view your compliance data on their LCD display screens but also have information sent to The Cloud. Furthermore, ResMed users can track your progress using the myAir smartphone app. Simply download it from the Apple app store or from Google Play.
What Happens If My Recorded Data Is Wrong?
Technical innovations, while helpful, may still need some troubleshooting. For example, your CPAP usage hours may appear to be less than what they actually are, especially first thing in the morning. In this video, Michelle explains, "Many times, your machine is only going to show the last session that you used your CPAP, so—especially with ResMed—it shows the last time you turned it on or off, which is considered a session.
"So, if you got up and went to the bathroom in the middle of the night and came back and laid back down, it'll only show the last few hours you slept." In short, that break starts a new session, but don't worry; your CPAP machine will play catch up and display the correct recorded data within 2-3 hours of awakening. If it doesn't, please contact your Aeroflow Sleep Specialist for additional troubleshooting.
Resvent is one such machine that sometimes needs additional troubleshooting, because the WiFi connection has to be performed manually once it reaches your home. Obviously, Aeroflow Sleep doesn't want you to wait on your clinical appointment to connect your Resvent iBreeze and start compliance, so we've created another brief video you can follow along with when connecting your machine to WiFi: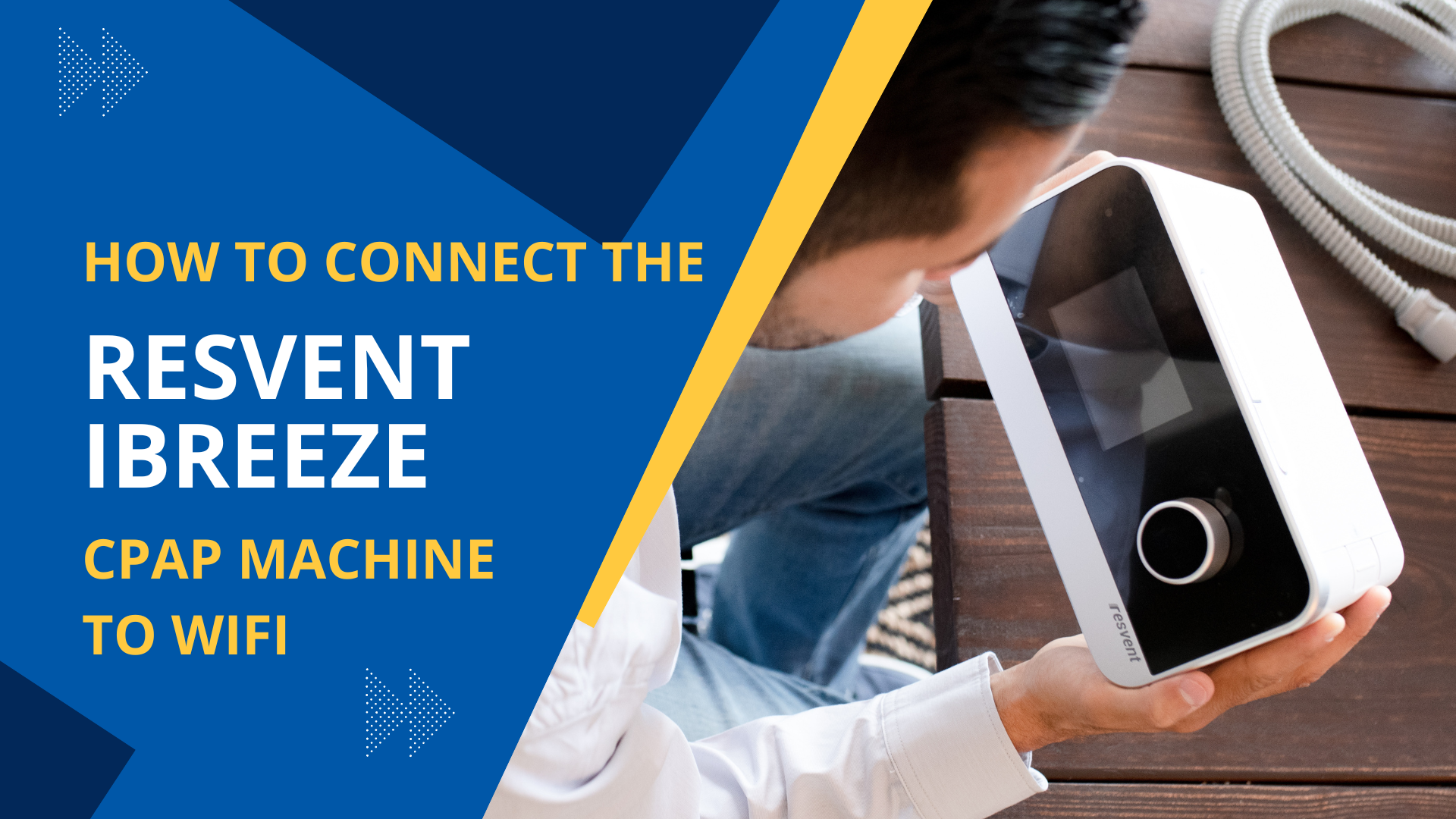 Order Your PAP Machine From Aeroflow Sleep
We hope you're more at ease with your PAP therapy, knowing Big Pharma is not watching you and your CPAP monitoring is filled with worthwhile information for your treatment options. Don't hesitate to ask if you still have questions or concerns though! Aeroflow Sleep is here to help. Call 1-800-480-5491, Monday through Friday, 8AM - 5PM EST.
---

References
Wolkove N, Baltzan M, Kamel H, Dabrusin R, Palayew M. Long-term compliance with continuous positive airway pressure in patients with obstructive sleep apnea. Can Respir J. 2008 Oct;15(7):365-9. doi: 10.1155/2008/534372. PMID: 18949106; PMCID: PMC2679572.
---