You may think of asthma and sleep apnea as two unrelated conditions. Asthma typically occurs during the day, such as when doing vigorous exercise or when exposed to a trigger like allergies or heavy fumes, while sleep apnea occurs of course only at night (or when someone is asleep).
However, it may come as a surprise that asthma and sleep apnea are actually related. Both are lung conditions that may have an impact on your body both day and night. They also can contribute to and worsen each other. So, how exactly are they connected, and what should you do if you're at risk?
IN THIS ARTICLE:
Obesity, Obstructive Sleep Apnea, and Asthma
How Asthma Contributes To Sleep Apnea
How Sleep Apnea Contributes To Asthma
Preventing Sleep Apnea and Asthma
CPAP SUPPLIES THROUGH INSURANCE:
Aeroflow Sleep is in-network with most primary insurance companies and is accreditted by Medicare and Medicaid. Complete our Qualify Through Insurance Form, and we will automatically check to see if your plan covers CPAP supplies; including a machine, mask, and accessories. ***Must have a sleep study to qualify.***
You will also receive the care and attention every sleep apnea patient deserves; one-on-one clinical support in-home or via telehealth, a dedicated Sleep Specialist you can contact during business hours, and a user-friendly online portal with tailored replacement schedule, important updates and notifications, and educational resources.
Let us take the headache out of healthcare. Join the Aeroflow Sleep family today! It only takes 5-7 minutes to get started.
Asthma and Sleep Apnea
Both asthma and sleep apnea are incredibly common. Asthma has been on the rise since the 1980s and affects more than 26 million Americans, which is about 1 in 13 people, while sleep apnea is found in over 22 million Americans.
These conditions are on the rise in every age and demographic group due to increasing rates of air pollution, smog, allergens, particles and irritants in the lungs. Obesity, also a risk factor, is on the rise as well, affecting 4 out of every 10 adults in the U.S.
Obesity, Obstructive Sleep Apnea, and Asthma
Obesity plays a major role in both obstructive sleep apnea and asthma because it contributes to blocking the airways. When a person lays down, the fatty tissue around his or her neck and throat can collapse, blocking the airways during sleep. This is called obstructive sleep apnea.
But being obese also places more fat on and around the lungs, and can cause inflammatory chemicals to be made which can cause the airways to not work as well as they should.
Not being able to breathe well during the night or during the day causes fatigue, worsens asthma symptoms, and makes it difficult to exercise, creating a deadly cycle that leads to more weight gain.
How Asthma Contributes to Sleep Apnea
While asthma is normally viewed as a condition that takes place during the day time, symptoms can certainly worsen during the night. When nocturnal asthma occurs, the airways struggle to pull enough oxygen into the lungs and this may cause attacks of coughing, chest tightness, shortness of breath, and wheezing during sleep. As a result, over time the airways may become inflamed and restricted.
You may or may not wake up completely from nocturnal asthma, but as your body fights to restore normal airflow, these interruptions disrupt your normal sleep and prevent your body from getting necessary oxygen and proper rest, very similar to how sleep apnea disrupts restful sleep. They both can lead to fatigue and poor concentration.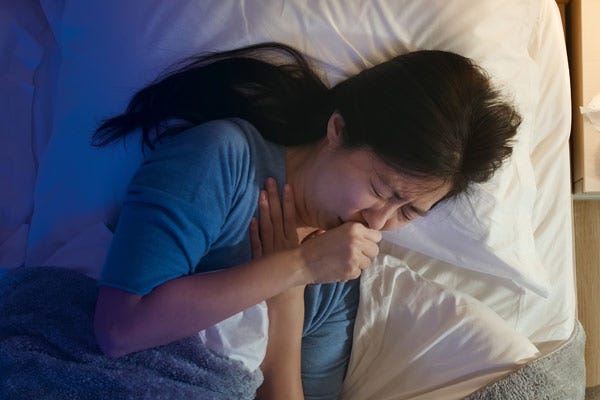 Because severe asthma can cause periods of apnea, or moments during sleep when you stop breathing, it can contribute to sleep apnea symptoms like low oxygen levels, sleep deprivation, high blood pressure, diabetes, stroke, heart attacks, weight gain, depression, and much more.
How Sleep Apnea Contributes To Asthma
When sleep apnea causes you to stop breathing during the night, your body reacts by raising your heart rate and blood pressure, which can result in tossing and turning. There may also be the backward flow of stomach acid (also known as reflux) into the esophagus which can then irritate the lungs if it gets sucked into the throat and airways. This is one reason why it is important to not eat within two to three hours of going to bed, since reflux is less likely to happen on an empty stomach.
As acid reflux burns your throat and airways the lungs may become inflamed, making it more difficult to draw in oxygen. This may also lead to your lungs being overly sensitive and reactive to allergens, fumes, and weather changes, and could result in worsening asthmatic symptoms. It may even lead to uncontrolled asthma that requires more doses of daily and rescue medicines, and that can result in scarring and damage of the lungs.
Sleep deprivation contributes to hypersensitivity to common triggers and can weaken the immune system, creating a cycle of inadequate sleep and poor health. Sleep apnea can also cause people to wake up with dry mouth, headache, irritability, and feelings of fatigue.
How CPAP Can Help
A continuous positive airway pressure (CPAP) device provides a constant stream of air that holds your airways open during the night, allowing your body to get enough oxygen and help you get a good night's rest and allow your body to heal.
Once people begin CPAP therapy they experience a variety of positive effects, such as reduced amounts of stress, more energy, improved mood, more insulin sensitivity, a stronger immune system, and more. CPAP can also help manage poorly-controlled asthma by reducing airway inflammation as well as other asthmatic symptoms.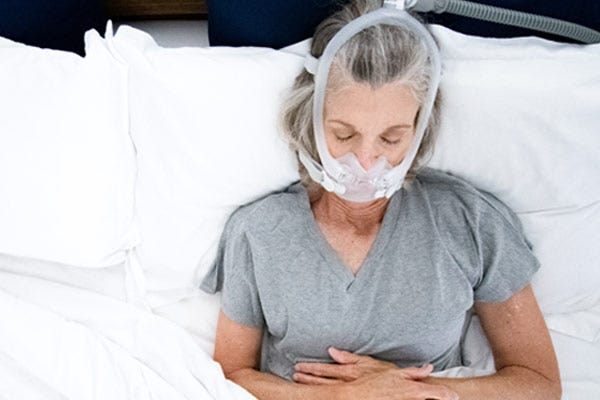 Preventing Sleep Apnea and Asthma
In order to do your part towards claiming your life back from sleep apnea and asthma, it is very important to actively manage these conditions. Take your asthma medicine as directed and use your CPAP machine every single night. You should get a minimum of six to eight hours of sleep per night.
Engage in just a few lifestyle changes to improve your overall health.
For example, watch what you eat. Reduce your intake of sugar, carbs, and junk food and instead opt for healthier options like fruit, veggies, nuts (if you are not allergic), seeds, and whole grains to reduce your weight.
Also, engage in moderate exercise at least three times a week by taking a brisk walk, going for a swim, cycling, or using an elliptical to burn fat, build muscle and strong bones, and reduce stress.
If you suspect you may have sleep apnea on its own or in addition to asthma, it's imperative that you consult with your healthcare provider. They can order a sleep study to determine how often you stop breathing during the night, and if your symptoms can be treated effectively with CPAP therapy. Once you have a diagnosis, fill out our qualification form and we'll work with your doctor and insurance provider to get your CPAP supplies covered up to 100% through insurance.
---

References
Asthma & Allergy Foundation of America. (2023, April 13). Asthma facts. Retrieved April 27, 2023, from https://aafa.org/asthma/asthma-facts/
Dixit, R. (2018). Asthma and obstructive sleep apnea: More than an association! Lung India : official organ of Indian Chest Society. Retrieved April 27, 2023, from https://www.ncbi.nlm.nih.gov/pmc/articles/PMC5946549/
Trust for America's Health. Nation's obesity epidemic is growing: 19 states have adult obesity rates above 35 percent, up from 16 states last year. (2022, September 27). Retrieved April 27, 2023, from https://www.tfah.org/article/nations-obesity-epidemic-is-growing-xx-states-have-adult-obesity-rates-above-35-percent-up-from-xx-states-last-year/
---