Sleep apnea patients are usually prescribed CPAP therapy, which immediately brings to mind images of wearing a CPAP mask and being hooked up to a CPAP machine. Sure, it's the gold standard, but not everyone can stand the continuous positive airway pressure that comes with this type of treatment. Luckily, there's eXcite OSA; a product that Aeroflow Sleep now offers our newest patients who hate CPAP.
What Is eXcite OSA?
eXcite OSA is a daytime therapy solution for sleep apnea. A daytime therapy solution for sleep apnea? But sleep apnea occurs while you're sleeping, which usually happens at nighttime. How does eXcite OSA work then?!
Well, the eXcite OSA device is an oral application that sends small vibrations in the form of neuromuscular electrical stimulation (NMES) to areas of the upper airway that are most likely to cause obstructive sleep apnea (OSA.)
OSA is the most common type of sleep apnea, and it occurs when your upper airway is literally being obstructed. The obstruction may result from fatty neck tissues pushing down, the throat muscles collapsing from fatigue, or your tongue's resting position being off kilter.
NMES activates the nerves and trains your neck, throat, and tongue muscles to return to their natural state over time and, ultimately, improve the obstruction. This training doesn't need to occur overnight, and so the device doesn't need to be used overnight. It really is the daytime treatment to prevent your OSA.
Who Can Use eXcite OSA?
Now that you know what eXcite OSA is, it's important to know if you're a candidate for this revolutionary daytime therapy. After all, eXcite OSA is for mild obstructive sleep apnea patients or those with primary snoring only.
OSA may be the most common type of sleep apnea, but there's also central sleep apnea (CSA) and mixed sleep apnea. The former is due to the brain failing to send signals to your breathing muscles, and the latter is a severe combination of OSA and CSA. Unfortunately, the brain is one muscle NMES cannot train using an oral application alone, so eXcite OSA does not work for either CSA or mixed sleep apnea patients.
Of cours, to find out if you even have sleep apnea, a doctor needs to perform a sleep study. This measures your AHI or how often you stop breathing within an hour of sleep. A normal AHI score on the Apnea-Hypopnea Index is anything less than 5 (apnea episodes,) and mild OSA ranges between 5-15. Anything higher puts you out of the running for eXcite OSA, because NMES is not enough to treat moderate to severe sleep apnea.
Let's say your sleep study comes back with a normal AHI score though. You may still be at risk for OSA...
AHI Scores Indicating Sleep Apnea:
Mild OSA: 5-15 episodes
Moderate OSA: 15-30 episodes
Severe OSA: 30+ episodes
If you already have certain sleep apnea symptoms—like primary snoring, and boy your bed partner will tell you if you do—you may still be at risk for OSA. Therefore, eXcite OSA may be a recommended treatment of snoring if the root cause of your inadequate sleep is due to the muscle function of the tongue, because NMES may yet correct primary snoring.
How Do You Use eXcite OSA?
If you are an eXcite OSA candidate, there are 3 things you need to do in order to use it properly, and each comes with some similarities and differences to CPAP therapy:
1. Download the App
First, you'll want to download the eXciteOSA Daytime Therapy App from the Apple App Store or Google Play to any smartphone. You will use it to control the intensity of your muscle stimulation. Plus, you'll receive tips, tricks, and reminders about your overall treatment; just like you would if you had a ResMed CPAP machine and the myAir App.
2. Insert Mouthpiece
Being that eXcite OSA is an oral application, you'll want to insert the mouthpiece so that its four electrodes rest directly on the tongue. These four electrodes are where the small vibrations will occur, once you pair your device with the app. Unlike CPAP, eXcite OSA is one-size-fits-all but without any further need for accessories.
3. Run for 20 Minutes
That's right! One session with eXcite OSA runs for just 20 minutes, and again, it doesn't have to be when you're sleeping. You can read a book, watch TV, fold laundry; whatever it is you need to do in 20 minutes. Noticeable improvements in your sleep quality will take time though; experts recommend running daily sessions for six weeks.
Seems easy enough, especially with zero masks, headgear, and tubing to wear at night, but there's still that lingering question we need to answer...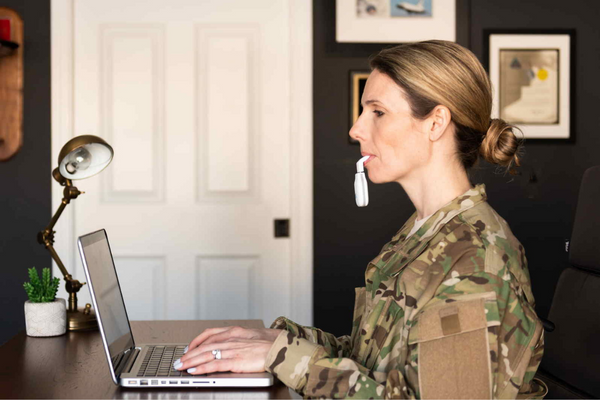 Does eXcite OSA Really Work?
The sleep apnea patients who treated their sleep disorder with NMES "found a 52% reduction in their AHI." Of 115 eXcite OSA users who snored, "90% responded to therapy, [and] an average 41% reduced their snoring time by less than 40db." And finally, eXcite OSA is FDA approved; the Food & Drug Administration's Director of the Office of Ophthalmic Anesthesia, Respiratory, ENT, and Dental Devices, Malvina Eydelman, MD., stated last year, "[This] authorization offers a new option for thousands of individuals who experience snoring or mild sleep apnea."
Yes, eXcite OSA really works and has countless statistics and authorities to back it up, except that was probably a lot of scientific jargon leaving you scratching your head, right? Well, let's take the headache out of healthcare a bit by simply asking…
Is eXcite OSA (and NMES) Safe?
The side effects of eXcite OSA are minimal. Signifier Medical Technologies, the manufacturer of eXcite OSA notes, "In clinical trials, some patients reported transient side effects of excessive salivation, tongue discomfort, tooth discomfort, tingling, metallic taste, or mouth tightness.
All of these make sense given that this sleep therapy device is a mouthpiece, but studies have also shown that NMES as a whole has reported adverse effects, "In one, 15% of patients described a prickling sensation," which mirrors what Signifier has already noted in its clinical trials.
Finally, there are some additional contradictions you should be aware of. If the patient...
Is pregnant or may become pregnant
Has a pacemaker or any implanted electrodes
Has metal implants; including but not limited to braces and prosthetics
Suffers from one or more mouth ulcers
...eXcite OSA is not safe. Typically, there are risks associated with every treatment if you are not the right candidate, and since we've already discussed who the right candidate is, it's now up to you to share this information with your doctor if you want to try eXcite OSA.
Is eXcite OSA Covered by Insurance?
Already talked to your doctor? Well then, all you need to do now is have them refer you to Aeroflow Sleep! eXcite OSA is a device that may be covered by insurance, and we will work hard to get you the best possible coverage; up to 100%.
Aeroflow Sleep is in-network with most private insurance companies, Medicare, and Medicaid and offers several forms of sleep apnea therapy to our patients. And, if eXcite OSA doesn't work out, you can always try (or retry) CPAP through us too. We don't judge!
So, to use eXcite OSA or not to use eXcite OSA? That is the question Aeroflow Sleep can help you navigate. Regardless of the therapy you choose, every one of our patients is paired with a dedicated Sleep Specialist you can talk to, so don't wait; call 1-800-480-5491 for guidance today. We'll take care of you.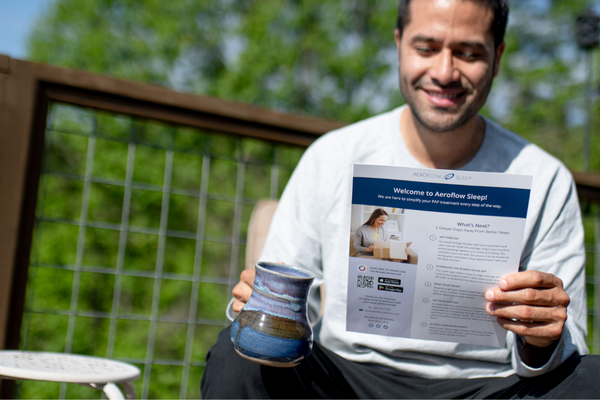 ---

References
Baptista PM, Martinez Ruiz de Apodaca P, Carrasco M, Fernandez S, Wong PY, Zhang H, Hassaan A, Kotecha B. Daytime neuromuscular electrical therapy of tongue muscles in improving snoring in individuals with primary snoring and mild obstructive sleep apnea. J Clin Med 2021;10(9):1-11.
"Find out If You're a Candidate for FDA-Authorized Daytime Therapy for Mild Sleep Apnea and Snoring." EXciteOSA, EXciteOSA, 2022, https://exciteosa.com/quiz/.
Nokes B, Baptista PM, Martínez Ruiz de Apodaca P, Carrasco-Llatas M, Fernandez S, Kotecha B, Wong PY, Zhang H, Hassaan A, Malhotra A. Transoral awake state neuromuscular therapy for mild obstructive sleep apnea. Sleep Breath [accepted; in-press].
Simson, Shirley. "FDA Authorizes Marketing of Novel Device to Reduce Snoring and Mild Obstructive Sleep Apnea in Patients 18 Years and Older." FDA News Release, U.S. Food & Drug Administration, 5 Feb. 2021, https://www.fda.gov/news-events/press-announcements/fda-authorizes-marketing-novel-device-reduce-snoring-and-mild-obstructive-sleep-apnea-patients-18.
1. E.Wessoleck et al. Intraoral electrical muscle stimulation in the treatment of snoring. Somnologie (Berl). 2018; 22(Suppl 2): 47–52. 2. A.Sama et al. Daytime Intraoral Neurostimulation with Snoozeal® for treatment of Snoring and Mild Sleep Apnea. CHEST Annual Meeting Notes, 2018. 3. Clinical study of 115 patients with snoring or mild OSA (Apnea- Hypopnea Index (AHI) <15 n=65) completed the trial. Objective snoring and respiratory parameters were recorded with 2 consecutive WatchPAT® night sleep studies before and after the use of the device. An intra-oral tongue stimulator device was used for 20 mins, once a day for 6-week period. 4. B. Kotecha et al. A Novel Daytime Intra-Oral Neuromuscular Stimulation Therapy in Simple Snorers: Objective Improvement in Snoring . Sleep 43(Supplement_1):A245- A245 5. B. Kotecha et al. Daytime Intra-Oral Neuromuscular Stimulation Therapy on Patients with Mild Obstructive Sleep Apnoea. Sleep 43(Supplement_1):A245-A246 6. B. Kotecha et al. A Novel Daytime Intra-Oral Neuromuscular Stimulation Therapy in Simple Snorers: Objective Improvement in Snoring . American Journal of Respiratory and Critical Care Medicine 2020;201: A2445 7. B. Kotecha et al. Daytime Intra-Oral Neuromuscular Stimulation Therapy on Patients with Mild Obstructive Sleep Apnoea. American Journal of Respiratory and Critical Care Medicine 2020;201: A2444, https://exciteosa.com/wp-content/uploads/2021/04/HCP-Q_A.pdf.
Sachetti A, Carpes MF, Dias AS, Sbruzzi G. Safety of neuromuscular electrical stimulation among critically ill patients: systematic review. Rev Bras Ter Intensiva. 2018 Apr-Jun;30(2):219-225. doi: 10.5935/0103-507X.20180036. PMID: 29995088; PMCID: PMC6031422.
---