If you've ever skipped your sleep therapy while traveling you know the importance of bringing your CPAP device. Sleep apnea sucks all of the fun out of vacations and leaves you sluggish during meetings.
But if you've ever tried to cram a bulky, heavy CPAP machine into your luggage, you've probably thought about just leaving it at home.
You've heard about travel CPAP machines, but are they worth it? Today, we'll take a look at the benefits of a portable CPAP, recommendations for the best travel CPAP machines, and whether your insurance will cover them!
Is a Travel CPAP Machine Worth It?
If you're a frequent traveler, a portable CPAP machine is worth its weight in gold. (Or more, since they weigh so little!) These machines are designed to be easy to use on-the-go, so you're more likely to stick with your CPAP therapy.
That's a big deal, because studies have shown that even one night without your CPAP can bring back the full symptoms of sleep apnea.
Here are some of the benefits you can find in a travel CPAP: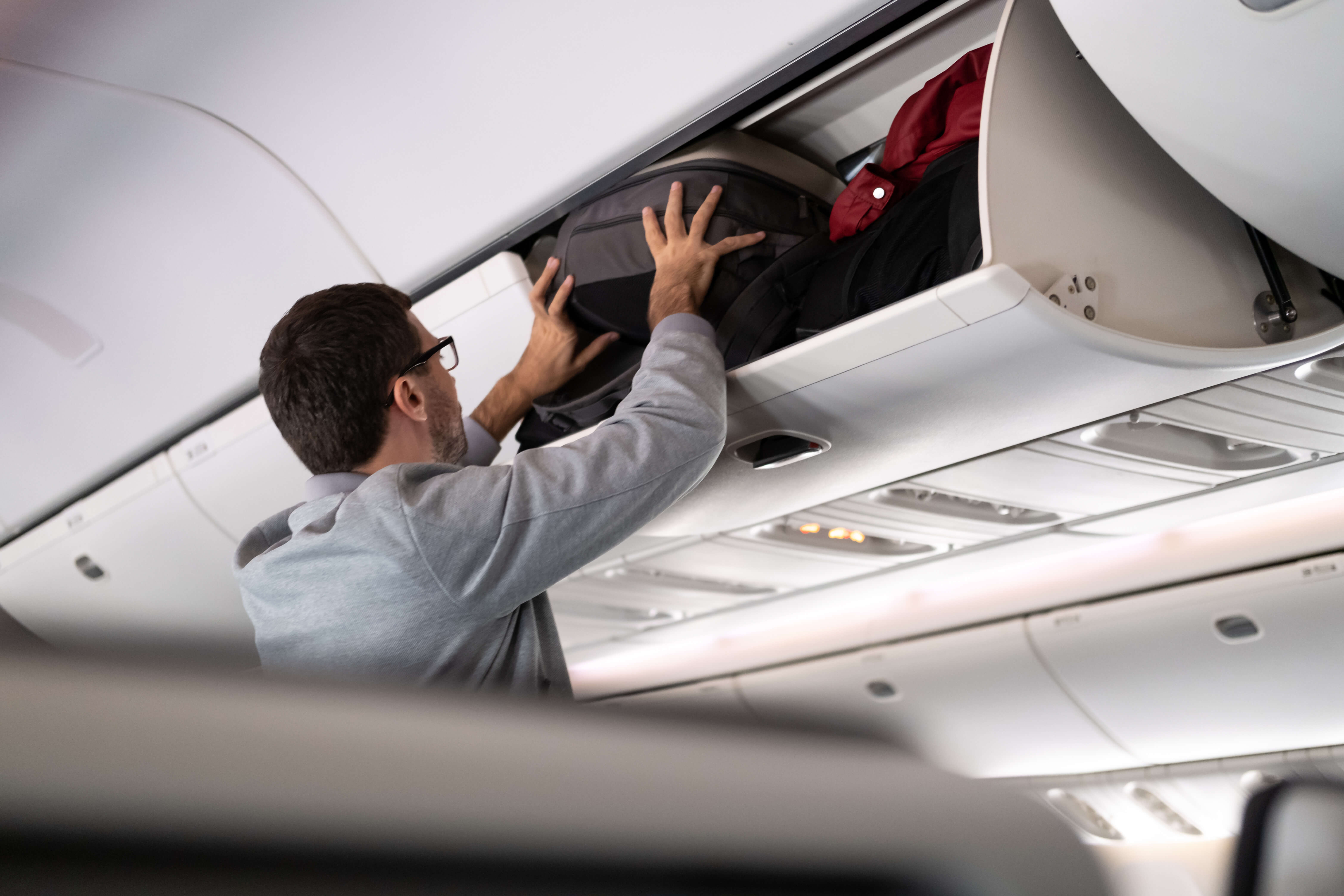 Small size and lightweight

- Most travel CPAPs are small enough to fit in the

palm of your hand

, and weigh less than 2 pounds. Some are as light as 10 ounces! Packing them is as easy as tossing it in your

travel bag

or

carry-on

luggage.

Automatic Altitude Adjustment

- Are you traveling to a higher elevation? Do you plan on using your CPAP while flying? The difference in altitude can actually affect the pressure from your CPAP.





Many travel CPAPs will automatically compensate, so you don't have to worry about changing your

pressure settings

.



Auto-adjusting pressure settings

- Many travel CPAPs can function as an

auto CPAP machine

, or

APAP

. This means they can sense your breathing pattern and adjust your pressure accordingly. (You'll still need to have your pressure range set by a doctor or sleep specialist.)



Flexible power options

- Some travel PAPs can accept DC power without an

adapter

. Some even come with built-in USB ports. Others can automatically switch between 100V and 240V.





These features can free you from being tethered to an outlet by opening up a range of alternate

power sources

– like

battery packs

, solar panels,

cigarette lighter

outlets, car chargers, phone chargers, or even deep cycle batteries!





That's a huge bonus for

CPAP users

who find themselves camping or off-grid.

Portable humidifier/Waterless humidification

- Advances in

humidifier

technology allow many travel CPAPs to use less water, or no water at all!

This is huge for international travelers, since it means you'll no longer have to worry about packing bottled water, or having to find clean water at your destination.
The Best Travel CPAP Machines
Based on the above benefits, let's take a look at some of the best travel CPAPs available. It should be no surprise that these are some of the most highly-rated and best-selling machines on the market.
Weight: 0.66 lb
Noise Level: <30 decibels
Auto-Adjusting Mode: APAP or APAP For Her
Humidifier: HumidX Waterless Humidifier
Battery: External (Sold separately)
DC Power: 12V and 24V with converter
CPAP Masks: AirTouch N20, AirTouch F20, AirFit N20, AirFit F20, AirFit F30, AirFit P10 for AirMini, or AirFit N30 for AirMini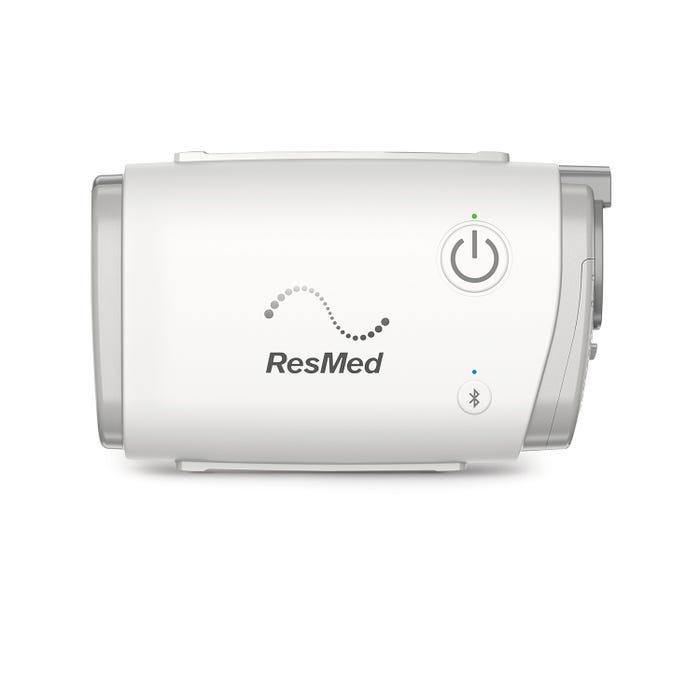 ResMed AirMini
The ResMed AirMini is possibly the world's smallest CPAP machine! Yet it still comes loaded with all of the features of its larger siblings.
It includes 3 therapy modes; CPAP, AutoSet (APAP), and AutoSet For Her. The second two modes allow the AirMini to automatically adjust your airflow based on your breathing pattern. These settings, and all of the advanced features, are controlled from your smartphone– which also receives daily reports on your sleep health!
AirMini uses waterless humidification, which draws moisture from the ambient air, so you don't have to worry about carrying clean water with you.
The AirMini does require a compatible CPAP mask, but with seven models to choose from– in full face mask, nasal mask, and nasal pillow– you're sure to find a comfortable fit.
Philips Respironics DreamStation Go
Weight: 1.86 lbs
Noise Level: ~30 decibels
Auto-Adjusting Mode: APAP
Humidifier: Heated Humidifier (Sold separately)
Battery: Optional integrated overnight battery (Sold separately)
DC Power: 12V and 24V with DC/AC inverter
CPAP Masks: ANY!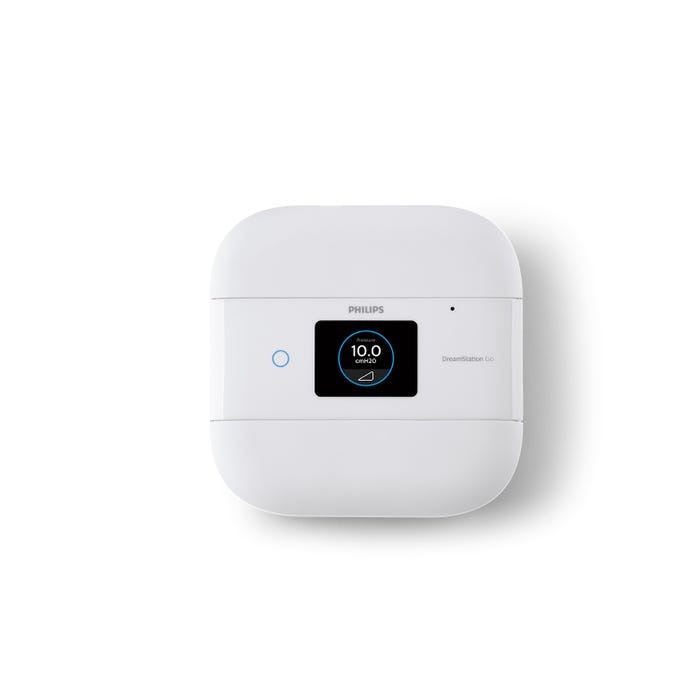 The DreamStation Go combines simplicity and portability with advanced technology.
Its color touchscreen allows you to quickly and easily control the same therapy algorithms as the full-sized DreamStation Auto CPAP. Yet it's less than 6 inches across!
The Go's powered USB port lets you connect to (and charge!) devices like your smartphone. And its bluetooth capability and wireless connectivity allow you to receive daily reports on your sleep health through the DreamMapper app.
Use the mask you're already used to, because the DreamStation Go is compatible with any CPAP mask! The 12mm micro-flex tubing is almost 60% smaller than standard tubing, but the Go will also work with 15mm and 22mm tubing as well.
And unlike some travel CPAPs, the DreamStation Go can be used as your daily CPAP machine, because it was designed with a lifespan of 5 years of nightly use!
HDM Z2 Auto CPAP Machine
Weight: 10.5 ounces
Noise Level: 26 decibels
Auto-Adjusting Mode: APAP
Humidifier: HME Waterless Humidifier (Sold separately)
Battery: Powershell extended life battery (Sold separately)
DC Power: DC power cord (Sold separately)
CPAP Masks: Any mask without a proprietary connector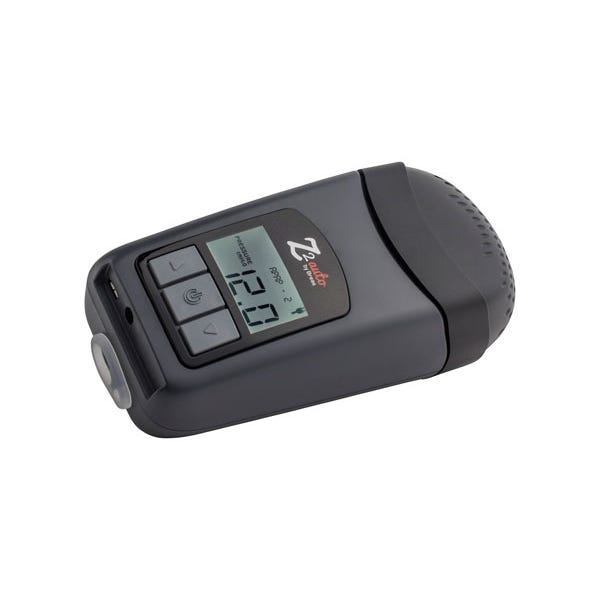 At only 10.5 ounces, the Z2 is easily the lightest CPAP available. And thanks to its advanced features, mask options, waterless humidifier, and optional battery it's also one of the most flexible.
The Z2 uses its own advanced algorithm to sample your breathing several times per second, and then adjust your airflow as necessary. This algorithm features the Z-Breathe setting which reduces swings in pressure between exhaling and inhaling, for a more natural breathing pattern.
HDM's heat/moisture exchange (HME) humidifier is waterless, so you don't have to worry about access to clean water. The HME draws moisture from your own breath!
The Z2 doesn't require a special mask, so you can use the one you already have! It's compatible with any mask that doesn't have its own proprietary connector.
And its Bluetooth connectivity syncs your smart devices with the Nitelog app, allowing you or your doctor to quickly access your sleep data.
Somnetics Transcend 3 miniCPAP Auto
Weight: 0.94 lb
Noise Level: <30 decibels
Auto-Adjusting Mode: APAP
Humidifier: CFV vaporizing humidifier
Battery: External (sold separately)
DC Power: Integrated DC power jack
CPAP Masks: Any mask that connects to 22mm tubing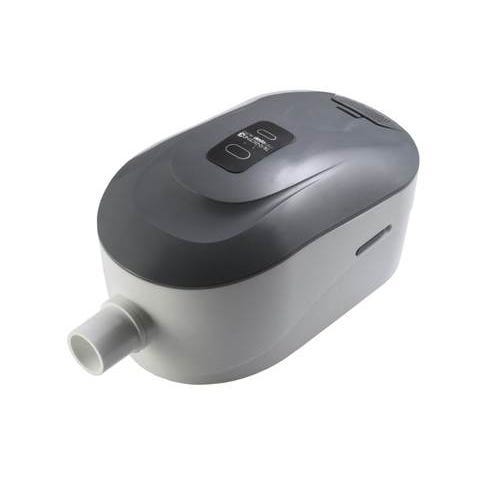 The Transcend is the original miniCPAP, and it's only gotten better! The Transcend 3 is roughly the size of a can of cola and weighs less than a pound.
The rugged construction, grippy silicone base, and 3-year warranty make it one of the most durable travel CPAPs available.
It has an integrated DC power jack which allows you to connect it to car chargers and solar panels as easily as a standard outlet. And the optional CPAP battery is only as big as a deck of playing cards. This makes it a popular choice for CPAP users who like to camp off-road or off-grid.
Campers will also love the drying mode, which prevents mold and mildew, and the CFV humidifier which uses half the water as a regular heated humidifier. The Capillary Force Vaporizer (CFV) uses the same technology as a nebulizer to deliver humidification without a heater.
The Transcend 3 is also compatible with any CPAP mask that uses a standard 22mm connection, so you can use the mask you're already comfortable with.
Will Insurance Cover a Travel CPAP Machine?
This depends on the details of your insurance policy, and which machine you're considering! Insurance companies almost never cover a second CPAP, but your policy may cover a travel CPAP if it qualifies as your primary machine.
Most providers follow Medicare guidelines, which means they'll usually cover a new CPAP machine every 5 years!
Your personal Aeroflow Sleep Specialist can work with your insurance directly to tell you what your plan will cover!