CPAP users know that mask leaks are annoying– the whistling sounds, the dry eyes – but left unchecked CPAP mask leaks can be potentially dangerous.
To treat obstructive sleep apnea your CPAP machine has to deliver enough air pressure to stop your airways from collapsing, so any leakage in that airflow reduces the effectiveness of your CPAP therapy. A large enough air leak from your CPAP mask can allow a partial, or even full, airway collapse. Most CPAP users discover a mask leak when the escaping air blows into their eyes, creating an irritating hissing sound and causing dry mouth or sore throat.
With smaller leaks, users may not see such obvious signs. They may notice that their therapy doesn't seem quite as effective as it once did. Maybe they have a bit less energy during the day or their bed partner notices they're snoring. These too can be indications there is mask leakage.
While these symptoms may seem minor by comparison, they're actually some of the leading causes for CPAP users giving up on their sleep therapy altogether. Let's explore some of the most common causes and what to do about them.
IN THIS ARTICLE:
What Causes Mask Leaks And How to Stop Them
Don't Let CPAP Mask Leaks Keep You Awake
CPAP Through Insurance:
Aeroflow Sleep is in-network with most primary insurance companies and is accreditted by Medicare and Medicaid. Complete our Qualify Through Insurance Form, and we will automatically check to see if your plan covers CPAP supplies; including a machine, mask, and accessories. ***Must have a sleep study to qualify.***
You will also receive the care and attention every sleep apnea patient deserves; one-on-one clinical support in-home or via telehealth, a dedicated Sleep Specialist you can contact during business hours, and a user-friendly online portal with tailored replacement schedule, important updates and notifications, and educational resources.
Let us take the headache out of healthcare. Join the Aeroflow Sleep family today! It only takes 5-7 minutes to get started.
What Causes CPAP Mask Leaks And How To Stop Them
1. Your CPAP Headgear Is Too Loose or Too Tight
It may seem unusual that over-tightening your straps could lead to an air leak, but many CPAP mask cushions achieve their seal by inflating. An overly tight mask may stop the cushion from inflating all the way, preventing a good seal.
On the other hand, headgear that's too loose may leave gaps for air to escape. Once your airflow is turned on your headgear should be snug enough that there aren't any open spaces, but not tight enough to cause discomfort.
The Fix: Try adjusting your headgear while laying in your preferred sleep position. Your face shape differs when you're lying down compared to when you're sitting or standing.
Your Aeroflow Sleep Specialist can share tips on how to find the right fit for your specific type of CPAP mask!
2. You're Wearing The Wrong Size CPAP Frame Or Cushion
Though this may seem like a no-brainer, it's actually very common for CPAP users to end up with the wrong size mask. That's because mask sizing isn't standard between brands, and measurement guidelines often don't tell you where to measure from.
This is especially true if you purchase a new mask without having a proper mask fitting session.
The Fix: Using advanced AI technology, our mask fitting program scans your anatomical characteristics to recommend the perfect mask for you. It's as easy as downloading the app and taking a selfie! To get started, fill out our easy qualify form and an Aeroflow Sleep Specialist will reach out to you.
Or, if you prefer the low-tech way, your Specialist can send you a printable sizing guide specific to your mask. They'll also walk you through taking your measurements, so you can be confident that you're choosing the right size CPAP mask.
3. Your CPAP Equipment Is Old
Through normal, everyday use your CPAP mask will begin to break down over time. The cushion will wear thin. Silicone parts develop micro-tears. Your old mask frame and headgear will stretch.
These can all contribute to air leaks and improper mask seal.
The Fix: Your CPAP cushion or nasal pillows should be replaced every 2-4 weeks, your mask frame every 3 months, and your headgear every 6 months.
Luckily, most insurance plans will cover your replacement CPAP supplies on this same schedule. With Aeroflow Sleep, your Sleep Specialist will tell you when you qualify for new supplies!
Get CPAP Masks Through Insurance
With our wide selection and AI mask-fitting technology, you're sure to find the best CPAP mask for you.
4. You've Got The Wrong Mask For Your Sleep Style
Not every mask is suitable for every sleep position or breathing style. Side sleepers may find that their pillow prevents a good seal with a full face mask. Yet, if that side sleeper is also a mouth breather, then a nasal mask may lead to mouth leak– where airflow escapes through your mouth before it can reach your airways.
It's important to be realistic about your lifestyle when choosing your CPAP mask, or you may not stick with your CPAP treatment.
The Fix: Test out a different mask or different style of mask.
In general, side sleepers, stomach sleepers, and active sleepers tend to prefer a nasal mask or nasal pillow mask. Their slim profile and smaller cushions may provide more freedom of movement.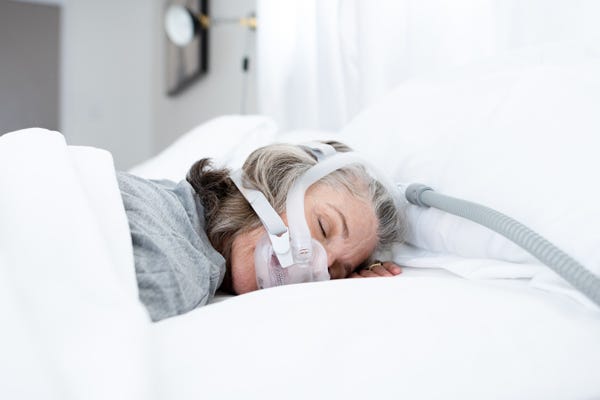 On the other hand, mouth breathers tend to do better with a full face CPAP mask. Or, for those who would still rather a nasal or nasal pillow mask, a chinstrap can be used to prevent mouth breathing.
Your Sleep Specialist can talk about the right type of mask for your sleep style, or you can read more about the best types of CPAP mask.
5. Your CPAP Cushion Is Dirty
Without regular cleaning, dirt, facial oils, and dead skin cells can build up on your cushion and stop your mask from sealing properly against your face.
Worse, this buildup can break down the silicone and lead to cracks and tears– not to mention turn it into a breeding ground for germs and bacteria.
The Fix: The best solution is to wipe down your mask daily with a damp cloth or CPAP wipe, then wash it with warm, soapy water once a week.
However, if life gets in the way of the recommended cleaning schedule, you can also try using mask liners. Mask liners help keep your mask clean and improve your seal by sitting between your cushion and your face, absorbing body oils and wicking away sweat.
Don't Let CPAP Mask Leaks Keep You Awake
The most important thing is not to give up on your sleep therapy. If you've tried to troubleshoot your mask leak and are still having issues, reach out to Aeroflow Sleep right away. Your dedicated Sleep Specialist will help you solve the problem so that you can get back to a good night's sleep.