The top manufacturer of CPAP supplies, ResMed shared this statistic: "As many as 48% of people diagnosed with Type 2 Diabetes have also been diagnosed with sleep apnea. Even more striking, researchers believe that 86% of obese Type 2 Diabetic patients suffer from sleep apnea." These two disorders are very heavily connected, which is exactly why Aeroflow Sleep wants you to know about both; especially since our parent company treats both and has Medical Advisors (like Dr. Carleara Weiss and Dr. Rich Marlar) on staff to represent each.
What Is Diabetes?
As your body processes food, its primary job is to convert that food into energy. It does this by breaking down the energy into sugar (or glucose) so it can enter your bloodstream. When your sugar level goes up, it tells your pancreas to release insulin; without insulin, you can't convert that blood sugar to energy, leaving you lethargic and full of sugar. The more sugar, the more likely you have diabetes.

There are two reasons your body may not be breaking down food, and this is the difference between a Type 1 and Type 2 Diabetes diagnosis. For Type 1 Diabetes, your pancreas doesn't produce enough insulin. The more common type is Type 2, and that happens when the cell rejects the insulin even though it's producing enough. This is also called insulin resistance.
The Connection Between OSA & Diabetes
So, why is diabetes so prominent among obstructive sleep apnea (OSA) patients in particular? Well, OSA is the most common type of sleep apnea and is caused by a blocked airway; a literal obstruction in the upper airway due to enlarged tonsils, tongue, even neck circumference.
One reason for this connection is weight and obesity. A person's neck circumference is often correlated to their weight, and diabetics are traditionally overweight or obese. In fact, one study out of Johns Hopkins found that 62% of adults with Type 1 Diabetes and 86% of those with type 2 diabetes were overweight or obese (compared to 64% of those without diabetes). Comparatively, 77% of obese patients who go in for bariatric surgery also have sleep apnea.
Bariatric surgery is a blanket term for weight loss procedures; including gastric bypass and sleeve gastrectomy. To qualify for weight loss surgery, Johns Hopkins requires the patient to have a Body Mass Index (BMI) of 40 or higher. You may also qualify with a BMI between 35-40 if you already have an obesity-related medical condition; such as OSA or diabetes. Given the high correlation of these conditions in obese patients, it's easy to see why the connection exists.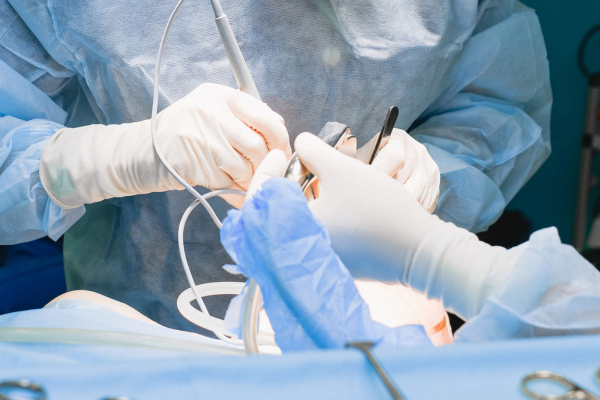 Another reason is the low level of oxygen during sleep. Dr. Weiss explains, "A person with undiagnosed or untreated OSA will stop breathing for short periods during sleep. Although short, these 'breathing pauses' are enough to accumulate carbon dioxide in your blood. This accumulation affects how the body uses insulin and elevates blood sugar levels."
Does Sleep Apnea Cause Diabetes?
Sleep disorders (such as sleep apnea) are highly linked to developing diabetes. More accurately, the weight gain that causes insulin resistance can also cause sleep apnea. The combination of these two comorbidities make it more difficult to get rid of either, too, because sleep apnea can worsen diabetes and vice versa. That's why it's so important to become aware of sleep apnea symptoms now.
Not only do a high number of diabetics have sleep apnea but research within the National Institutes of Health (NIH) states, "22 million Americans have sleep apnea, and 80% don't know it." Furthermore, Dr. Marlar points out, "Treating sleep apnea can actually improve blood sugar control in people with diabetes, just like losing weight can improve sleep apnea."
If you already have diabetes, let's take a look at which sleep apnea symptoms you may be experiencing without realizing it…
7 Sleep Apnea Symptoms Diabetics Experience
All but one sleep apnea symptom overlaps with possible diabetes symptoms:
Loud snoring
Chronic daytime sleepiness
Weight gain
Morning headaches
Dry mouth
Sore throat
Irritability and mood swings
The one that's not included in this list—but is exclusive to sleep apnea—is waking up gasping or choking in the middle of the night. Although that may not be a symptom of diabetes, we still, of course, recommend talking to your doctor about any symptoms you may be experiencing. You can certainly have sleep apnea without having diabetes; just like you can have diabetes without having sleep apnea. Nevertheless, both may be severe medical conditions needing treatment.
How To Get CPAP And CGM Through Insurance
The preferred sleep apnea therapy is continuous positive airway pressure (CPAP,) and diabetics should be using a continuous glucose monitor (CGM) to regulate their blood sugar. Both are covered up to 100% through insurance when you order supplies from Aeroflow Healthcare divisions: Aeroflow Sleep and Aeroflow Diabetes.
Our teams are dedicated to providing patients with safe, quality products you need to make life better. We also work with the insurance companies on your behalf, verifying your primary, supplemental, Medicare, and Medicaid plans are in-network and communicating with the doctors for the necessary paperwork, prescriptions, and office notes. With this, Aeroflow will then deliver your order anywhere in the continental United States.
Click either button below to see if you qualify for CPAP supplies or CGMs from Aeroflow:
Please know it takes 5-7 minutes to fill out each form. Filling out one for Aeroflow Sleep does not guarantee you will receive Aeroflow Diabetes' products and vice versa.
---

References
Einhorn D, Stewart DA, Erman MK, Gordon N, Philis-Tsimikas A, Casal E. "Prevalence of sleep apnea in a population of adults with type 2 diabetes mellitus." Endocr Pract. 2007 Jul-Aug;13(4):355-62.
Foster GD, Sanders MH, Millman R, Zammit G, Borradaile KE, Newman AB, Wadden TA, Kelley D, Wing RR, Sunyer FX, Darcey V, Kuna ST; Sleep AHEAD Research Group. "Obstructive sleep apnea among obese patients with type 2 diabetes." Diabetes Care. 2009 Jun;32(6):1017-9. doi: 10.2337/dc08-1776. Epub 2009 Mar 11.
Eichberger, Jonathan, and Kristine Henry. "Overweight and Obesity in People With Type 1 Diabetes Nearly Same as General Population." Johns Hopkins, Bloomberg School of Public Health, 13 Feb. 2023.
Lee W, Nagubadi S, Kryger MH, Mokhlesi B. Epidemiology of Obstructive Sleep Apnea: a Population-based Perspective. Expert Rev Respir Med. 2008 Jun 1;2(3):349-364. doi: 10.1586/17476348.2.3.349. PMID: 19690624; PMCID: PMC2727690.
---