If you're considering the ResMed AirFit N20, you don't need a sales spiel, you need to know how it stacks up in the real world! That's why we've put together this collection of answers to common questions about ResMed's most popular nasal CPAP mask. In our no-nonsense review we'll take a look at who this mask is right for and who it's not right for. Then we'll compare it against some similar masks so you can make the right decision for you.
Who Is the AirFit N20 Right For?
ResMed boasts that internal testing shows that the N20 fits 99% of users, but fit is just the tip of the iceberg. A CPAP mask absolutely has to fit your lifestyle as well as it fits your face. With that in mind, you might love the N20 if you:
Are An Active Sleeper
With its slim profile and improved short-tube hose connection, the AirFit N20 is a great choice for those who toss and turn. Plus, the InfinitySeal cushion is designed to roll with you, so it won't slip while you sleep.
Are A Side Sleeper
The side sleep position can be rough on CPAP users, with your mask frame pressing against your face and an awkward angle causing air leakage. Compared to many other nasal masks the AirFit N20 offers a smaller cushion profile and a thin, flexible frame that reduces red marks and irritation.
Get Out Of Bed Frequently
If you are in and out of bed often during the night, adjusting and re-adjusting your mask each time can be a pain. Luckily, the AirFit N20 features a quick release elbow, so you can disconnect your mask without having to refit it each time. With one squeeze you're free from your CPAP hose, or reconnected to your CPAP machine.

And if you do need to remove your mask, the magnetic clips allow you to take off or put on your headgear with two quick clicks.
Don't Know If You Prefer Silicone or Memory Foam
One of the best features of the AirFit N20 is that it's also compatible with the memory foam cushion of the AirTouch N20. Don't know which you like best? Try them both without having to buy a completely new mask!
Have A Pressure Setting That's Too High For Nasal Pillows
Unlike nasal pillows which rest just inside the nostril, a nasal cushion delivers airflow to a wider area. This can help keep your sleep apnea treatment more tolerable, while still providing a reliable seal.
Who Should Consider a Different Mask?
The most popular mask in the world still won't be right for everyone– and that holds true for the ResMed AirFit N20. You may wish to consider a different mask if you:
Wear Glasses
Despite its slim profile, the AirFit N20 still covers the bridge of your nose. If you wear glasses, and like to read or watch TV before bed, you might consider the AirFit N30– which cradles underneath the nose instead.
Are A Mouth Breather
If you often find yourself waking with a dry mouth or sore throat, you may be breathing through your mouth at night. In this case, you'll probably benefit from a full face mask, like the AirFit F20, instead.
Comparing the AirFit N20 To Similar Masks
What is the difference between the AirFit N20 and the AirFit N20 For Her?
The N20 and N20 For Her are nearly identical, except that the For Her model comes in a smaller cushion size, and features lavender colored highlights on the mask headgear.
What is the difference between the AirFit N20 and the AirTouch N20?
The AirFit N20 includes a silicone cushion, while the mask cushion for the AirTouch N20 is made of an ultra-soft memory foam. Otherwise, these masks offer the same mask frame, short-tube connector, and plush headgear. In fact, the replacement cushions for these masks are interchangeable, so you can try out different types of cushions without buying a completely different mask!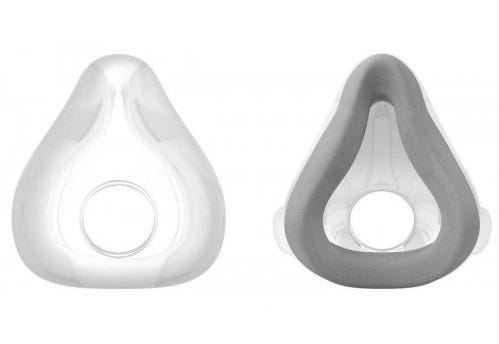 What is the difference between the AirFit N20 and the AirFit N10?
The AirFit N10 is from ResMed's first-generation of AirFit masks and is the direct precursor to the AirFit N20. Using feedback from real users and customer reviews, ResMed created the N20 to improve upon its original designs.
For example, the N20 features magnetic clips that replace the N10's plastic key-clip connectors for a faster and easier fit. The N20 also upgrades to the advanced InfinitySeal cushion from the N10's dual-wall SpringAir cushion.
What Is the AirFit N20 Made Of?
The mask cushion for the AirFit N20 is made of silicone because it's lightweight, durable, and hypoallergenic. It's also extremely easy to clean, requiring only a quick wipedown with warm, soapy water.
The N20 headgear is made from a soft fabric with an elastic nylon panel in the back. This helps to keep a secure seal, while also ensuring that soft fabric is all that touches your face.
What CPAP Machines Is the AirFit N20 Compatible With?
The AirFit N20 is compatible with nearly any CPAP machine, including the wildly popular ResMed AirSense 10. The N20 can also connect to the ResMed AirMini travel CPAP with the use of an inexpensive adaptive connector.
How Do I Find My Size for the AirFit N20?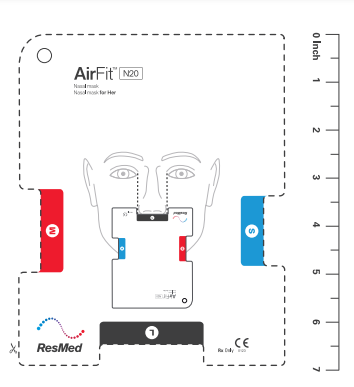 Will Insurance Cover the AirFit N20?
You bet! Most insurance providers, including Medicare and Medicaid, will cover the AirFit N20 Nasal CPAP Mask. If you're not completely sure of your coverage, your personal Aeroflow Sleep Specialist will be happy to reach out directly to your insurance company for you! They'll confirm your coverage and help you with any prescription or prior authorization requirements.
Plus, your Sleep Specialist can offer advice on how to fit the N20, provide a helpful sizing guide, and even notify you when you qualify for replacement parts. To get started, just fill out the simple qualify form and an Aeroflow Sleep representative will reach out to you!