CPAP Machine Buyer's Guide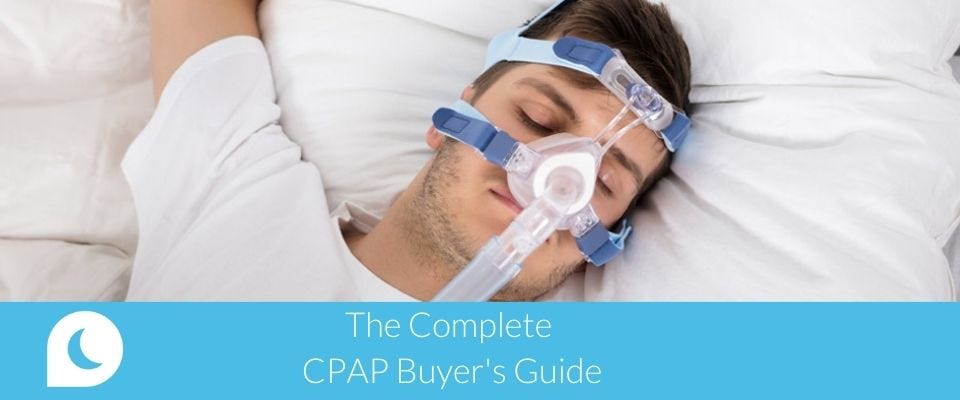 ---
This isn't your first rodeo. You've been diagnosed with sleep apnea and may have had a CPAP machine or two. You regularly replace your CPAP supplies and work to remain compliant and that makes your doctor proud. However, you don't have to settle for the same type of mask, tubing, machine, and more every time.
Over time new CPAP parts and devices have been created to increase user comfort. You don't stick with the same old cell phone every upgrade, so why stick with older parts? Check out the best CPAP supplies as well as solutions for even better sleep.
Best CPAP Machines
It's recommended to upgrade your CPAP every five years to remain compliant with the best sleep apnea treatment options available. Do you know what can happen with technology over the span of five years? A LOT. New CPAP machines are incredibly advanced with convenient features designed specifically for user comfort. Check out what a new CPAP can do for you.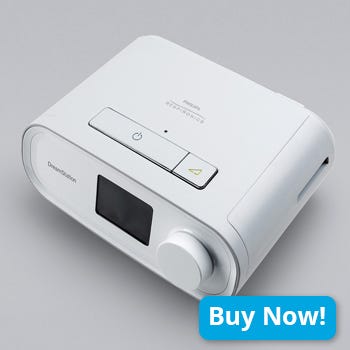 DreamStation CPAP
The DreamStation is a modern, advanced CPAP that makes it incredibly simple to customize therapy settings based on your individual needs without compromising comfort.
This CPAP has a lightweight, noise-reducing design to quietly take your therapy to the next level with features such as SmartRamp to monitor sleep apnea events while ramping up and C-Flex pressure relief for peaceful breathing. Use the bright, easy to read LCD screen to monitor your last 30 days of treatment or connect to the DreamMapper app via Bluetooth to review compliance and feedback on your phone!
DreamStation Features:
Bluetooth, Cellular, and WifI connectivity
SmartRamp comfort and tracking technology
C-Flex comfort settings
Daily feedback and in-depth reporting
Bright LCD screen
Easy to use
Quiet operation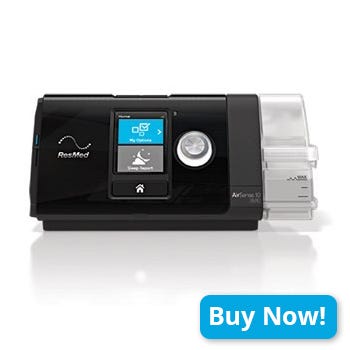 Resmed AirSense S10 CPAP
The AirSense S10 automatically adjusts air pressure based on your breathing pattern to help you fall asleep, and stay asleep. Plus, the Expiratory Pressure Relief (EPR) lowers the pressure as you exhale, for relaxed therapy.
Use the advanced LCD screen to easily change your settings at any time and forget pressure buttons. The AirSense's smart therapy will automatically begin during your first breath! The lighter SlimLine tubing and heated humidifier create the perfect recipe for incredible sleep every single night.
ResMed AirSense S10 Features
Built-in heated humidifier
SlimLine 40% lighter, 20% thinner tubing
EPR easy pressure relief
Auto-adjusting air pressure
Easy to use LCD screen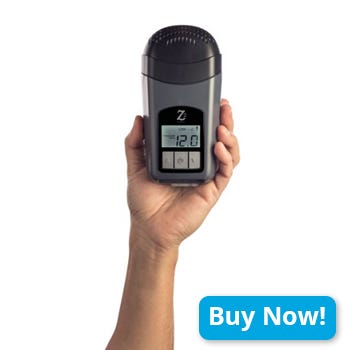 Z2 CPAP
The Z2 takes comfort and convenience to the next level with it's lightweight, quiet design. It includes a free Qtube to muffle mask noise. Plus, the auto ramp feature gradually adjusts as you fall asleep so you'll drift to dreamland faster!
The Z2 has Z-Breathe technology to reduce air pressure as you exhale for trouble-free breathing during the night. Use the bright LCD screen to easily adjust your settings for personal comfort in a snap!
Z2 CPAP Features
Z-Breath technology
Ramp feature
Lightweight design
Connects to PCs for data review via USB
Free Qtube inline muffler
Waterless humidifier - Heat/Moisture exchanger (HME)
Best CPAP Masks
In order to remain compliant with your sleep apnea treatment, you need to replace your CPAP mask every three months. But that doesn't mean you have to stick with the same old mask time after time. New CPAP masks have been designed to increase user comfort with lightweight, breathable frames and softer materials. Discover the latest options to help you sleep better!
CPAP Mask Types
Different strokes for different folks, right? This is a phrase used to simply say that different people like different things and this is very true when it comes to CPAP masks. If you haven't found the type that puts you right to sleep consider choosing a different style. Plus, having a backup mask can really come in handy.
Full Face CPAP Mask
A full face mask covers the nose and mouth to create a large seal that allows air to flow through both airways. They assist patients who require higher pressure settings because the air is dispersed over a greater area and are recommended for mouth breathers.
Full Face Mask Pros:
Great for mouth breathers
Help break up congestion from colds or allergies
Disperses higher air pressures
Comfortably fits above the bridge of the nose
Stays connected for side sleepers
Full Face Mask Cons
It takes up more space on the face
Leaking air could irritate the eyes
It can be difficult to wear glasses with or watch TV before bed
Nasal CPAP Mask
Nasal masks create a smaller seal that only covers the nose, creating minimal contact with the face. They direct airflow into your nostrils and are great for those who move around a lot during their sleep.
Nasal Mask Pros:
Lightweight design
Great for people with beards
They prevent claustrophobia
Great for side sleepers
Nasal Mask Cons:
Mouthbreathers may need a chin strap to keep their mouths closed
Sinus blockages and congestion may block airflow
The pressure placed on your nose or forehead may be uncomfortable
High-pressure settings may cause irritation
Nasal Pillow CPAP Mask
Nasal pillows have the least amount of facial contact out of every mask type. They have two pillows that sit at the base of your nostrils to direct air directly into your nose. Nasal Pillow CPAP masks are extremely lightweight and are easy to wear while reading or watching TV.
Nasal Pillow CPAP Mask Pros:
Larger field of vision
Great for those who move in their sleep
Great for those with beards
Takes up less space
Reduced risk of air leaks
Nasal Pillow CPAP Mask Cons:
Only recommended for those with low-pressure settings
Could dry out the nose
Not for mouth breathers
Popular CPAP Masks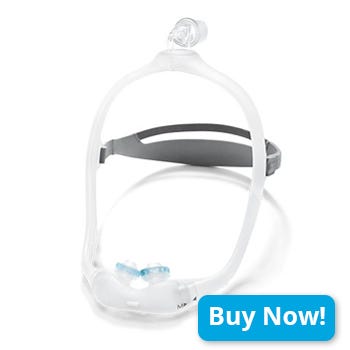 Respironics DreamWear CPAP Mask
The DreamWear CPAP Mask has a comfort-enhancing design for better sleep. The lightweight frame is made of soft, flexible material for a weightless feel that makes minimal contact as it comfortably sits beneath your nose. It won't place any pressure on the bridge of your nose or leave red marks.
The DreamWear is a versatile mask that offers three different cushion options so you can pick which works best for your sleep needs. Choose your preferred cushion from nasal, nasal pillow, and full-face options.
Respironics DreamWear Benefits
Comfortable, minimal design
Provides more freedom to sleep on your back, stomach, or side
Easy to move in your sleep
Unobstructed view and wider field of vision
Easy to use
Convenient easy to remove magnetic frame clips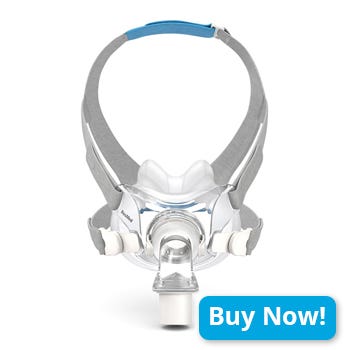 ResMed AirFit F30 Full Face CPAP Mask
Enjoy feeling more comfortable with the ResMed AirFit F30's minimal design that places the soft frame lower on your face, widening your field of vision. It's perfect for reading and watching TV before bed and sleeping on your side or back.
The QuietAir elbow peacefully diffuses exhaled air for disturbance-free rest. Enjoy the comfortable that seal gently sits under the nose to prevent nasal pressure and irritation and wake up without red marks. The headgear contours to your face for an instant perfect fit.
RedMed AirFit F30 Benefits
QuietAir elbow peacefully disperses air
Minimal contact for more freedom during sleep
Soft, lightweight frame to prevent pressure and irritation
Convenient quick release tubing and magnetic headgear clips
More visual freedom for reading or watching TV
Provides the freedom to sleep comfortably in any position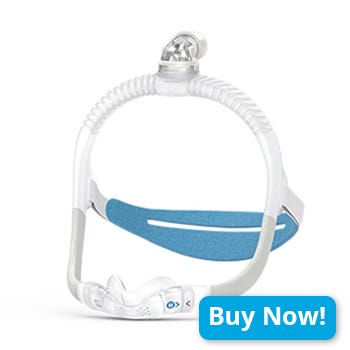 ResMed N30i Nasal CPAP Mask
The N30i has a revolutionary design that sports the tube connector at the top of the frame, allowing for more freedom and less claustrophobia during the night.
The minimal frame only has three parts to assemble and creates a wide field of vision for watching TV or reading before bed. The soft, curved nasal cushion creates a weightless seal to prevent leaks while you sleep.
ResMed N30i Benefits
The tubing connector is at the top of the frame
Minimal face contact
Easy to assemble
Whisper-quiet operation
Quick-release velcro straps
Best Travel CPAP Machines
Has it been a while since you got your last CPAP device? Is it big and clunky? Would you rather travel without it even though that may cause you to feel exhausted and miserable the whole time? Don't do that. Enjoy your trip by taking a smaller travel CPAP along for the ride.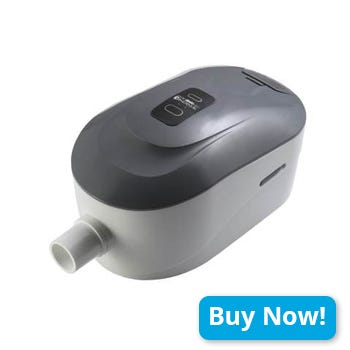 Transcend Mini
The Transcend Mini CPAP is the best for camping because it will provide sleep apnea treatment no matter where you travel, even off the grid. It can be charged via solar power and the P8 travel battery provides 14 to 16 hours of full power.
By weighing less than a pound (15 oz) this travel CPAP is easy to slide into any bag and carry anywhere. It even provides automatic altitude adjustment up to 8,000 feet. Plus, you can use the smartphone app to record how you sleep and compliance information during your trip!
Transcend Mini Features
Operates at a whisper (29 dBA)
Is compatible with the Transcend Heated Humidifier
Has an auto ramp feature to gradually increase air pressure over time to your prescribed settings
Comes with a compact travel case
Offers AHI leak detection
Can be charged with a DC outlet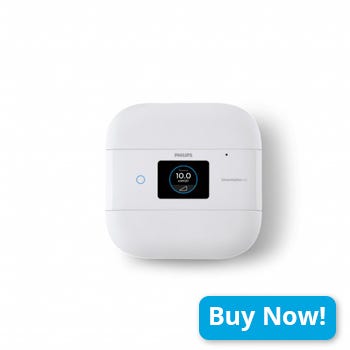 Respironics DreamStation Go
The Respironics DreamStation Go is the best mini CPAP to take on the go. By having a simple design with fewer components it's easy to quickly pack up and run out the door with!
This travel CPAP is compatible with any mask, so feel free to travel with comfortable options and has a 13-hour battery! The compliance tracking works with any Bluetooth device so you can check how well you slept at any time from the road.
Respironics DreamStation Go Features
Automatically adjusts for altitude changes
USB port can be used to charge other devices
Offers an auto ramp feature to help you fall asleep faster
Provides leak detection
Weighs 1.86 pounds
Easy to use LCD touch screen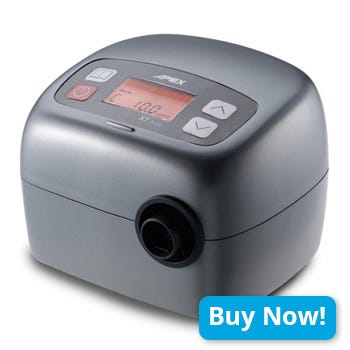 Apex XT Auto CPAP
The Apex XT Auto CPAP is a great travel CPAP option that offers plenty of comfort and variety. By weighing under 2 pounds and having a built-in power supply, it's compact and easy to pack.
The auto-sensing features such as the auto ramp, leak compensation, and PVA pressure relief will help you quickly fall asleep and stay asleep for great rest, even while away from home. You can even track your quality sleep with an SD card.
Apex XT Auto CPAP Features
Includes a travel case
Auto altitude adjustment
Leak compensation
Ramp feature
Easy to use LCD screen
PVA pressure relief
---
How To Travel With CPAP
Got an upcoming vacation? Well, you can't travel without your CPAP. If you don't treat sleep apnea during your vacation then you could wake up feeling terrible and fatigued! But don't cancel your trip, traveling with CPAP is easy.
Use a smaller, lightweight travel CPAP instead of taking your larger device.
Use a battery-powered CPAP in case you don't have a power source.
Use a DC converter to power or charge your CPAP in an RV or car.
Your CPAP is allowed on planes, but yours may need an alternate power source if there isn't an outlet available.
Carry your prescription in case TSA needs to see it.
Only use bottled water in the humidifier.
Keep your CPAP in your carry on so it won't get lost if your luggage does.
---
Accessories For Extra CPAP Comfort
If you still have trouble getting used to your CPAP mask, don't give up. Your sleep apnea treatment is vital to your health! We have a few hacks to increase your comfort and to help you fall asleep a lot faster while remaining compliant.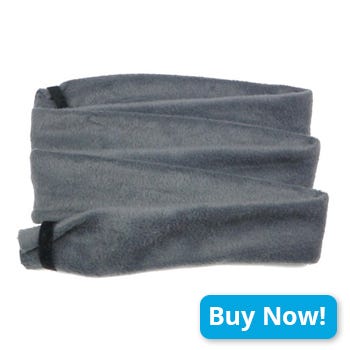 SnuggleHose Tubing Wrap - Is your CPAP tube too cold in the bed? Is the air passing through it too cold? Well, wrap in in a SnuggleHose. The soft fabric hose goes over the tubing to insulate it. It can decrease condensation and prevents cold tubing from touching your body during the night.
CPAP Gel - CPAP gel is made from all-natural aloe vera to create a perfect seal around your mask to prevent irritation and air leaks. The soothing gel comfort prevents red marks and has a cooling sensation for better sleep while wearing your CPAP mask.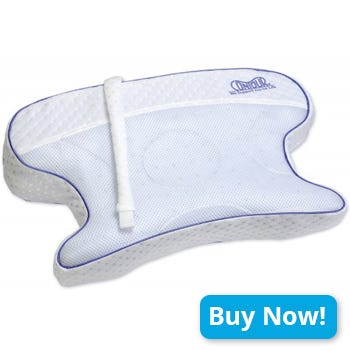 CPAP Pillow - If you have trouble sleeping with your CPAP mask because it gets in the way of your pillow, or slides off your face, try using a CPAP pillow. It has cut-outs to sleep on your side without moving your mask. It supports your head and neck for cozy sleep no matter what type of mask you have.
CPAP Mask Liners - CPAP mask liners are soft, fabric masks that go under your CPAP mask to create a soft barrier against the seal. It prevents irritation for those with allergies related to the mask materials such as latex or petroleum. They can prevent breakouts or irritation and stop sweating.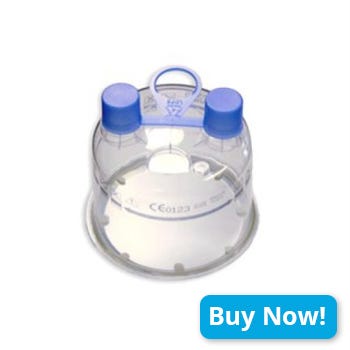 Heated Humidifier - A heated humidifier or water chamber can be attached to your CPAP to add moisture to the air passing through it. This can warm the air to reduce irritation when it's too cold. The moisture can also assist with congestion and allergies. If you don't have a CPAP with humidifier attach your own water chamber for relief!
---
Cleaning Your CPAP
Cleaning your CPAP is crucial for therapy success, because as your breath, moisture, and warm air pass through your supplies the perfect atmosphere for mold and bacteria is created. Plus, germs, viruses, allergens, and other harmful pathogens can collect. Using dirty CPAP supplies can be dangerous as it increases the risk of getting sick! Prevent infections by cleaning your CPAP on a regular basis.
Clean your CPAP mask and hose once a week by placing them in warm water with a few drops of mild detergent. Swirl the supplies around for about five minutes then thoroughly rinse them clean. Hang your CPAP hose and mask up to dry. Allow them to completely dry before using them again. Either detach your CPA headgear before cleaning your mask or allow it completely dry. Do not place it in the washing machine.
Clean your CPAP device by wiping it down with a warm, damp cloth. Make sure the cloth is clean.
Wash your CPAP filters by rinsing them under warm water. Squeeze them and blot them dry with a towel. Allow them to fully dry before putting them back in your CPAP.
Clean your CPAP humidifier every other week by emptying any remaining water and placing it in a solution of 1 part vinegar to 5 parts water. Allow it to soak for 30 minutes then thoroughly rinse it and allow it to completely dry. Some humidifiers are dishwasher safe, so be sure to refer to your manual to see if yours is or not. Remember, only fill it with distilled water to prevent mineral build-up!
But who has the time to do all these tasks? Who has hours on a weekly basis to allow their CPAP supplies to air dry? But your health depends on this! That's why we're here to help with CPAP cleaner hacks to speed up the process.
CPAP Wipes - CPAP wipes are moist clothes that you can use to wipe down your mask and machine to instantly freshen up your supplies. They remove dust, dead skin, and facial oils to keep your mask feeling new. Some wipes have refreshing scents like citrus and others are unscented. Be sure to choose an all-natural brand that doesn't include harmful chemicals.
CPAP Spray - CPAP spray can be spritzed right on to your mask to instantly refresh it. It will help clean your mask while deodorizing it. The cleansing citrus scent knocks out sweat, oil, and dead skin cells in a matter of seconds.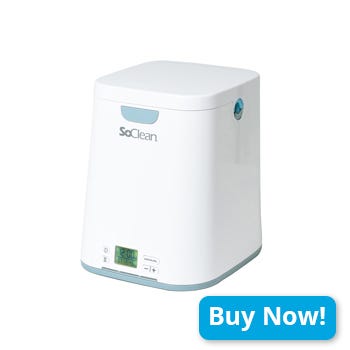 SoClean - The SoCLean is a CPAP cleaner and sanitizer that knocks out 99.9% of bacteria, germs, and other pathogens without the use of harmful chemicals. Simply place your CPAP equipment inside the machine and come back when they're nice and clean! The SoClean uses activated oxygen to naturally clean your equipment without water or chemicals in as little as two hours.
Lumin - The Lumin CPAP cleaner will instantly clean your CPAP supplies in 5 minutes! Simply place them inside and come back later for fresh equipment. The Lumin uses UV-C light to instantly knock out 99% of mold, bacteria, and more. Any item that fits inside the Lumin can be sanitized including toothbrushes, toys, and more!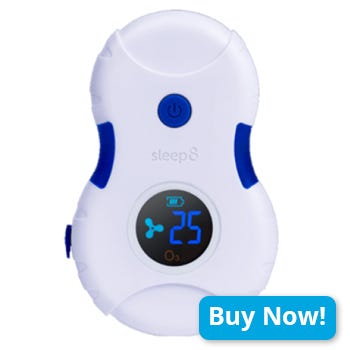 Sleep8 - The Sleep8 CPAP cleaner uses ozone to disinfect all of your CPAP accessories in two hours. Place all of your equipment in the cleaning bag and come back later to find clean CPAP supplies! This portable CPAP sanitizer is perfect for travel and fits in any bag.
---
CPAP Supply Replacement Schedule
Along with cleaning your CPAP equipment, you need to replace it on a regular basis. Sure, cleaning your supplies knocks out germs and irritants, but over time they still break down. As your mask touches your skin and absorbs oil, moisture passes through the tubing, minerals build up in the humidifier, and more, the plastic and other materials begin to degrade. As this happens small holes and cracks can begin to form, leading to air leaks and making your supplies more difficult to clean.
Your CPAP supplies should be replaced according to the following schedule: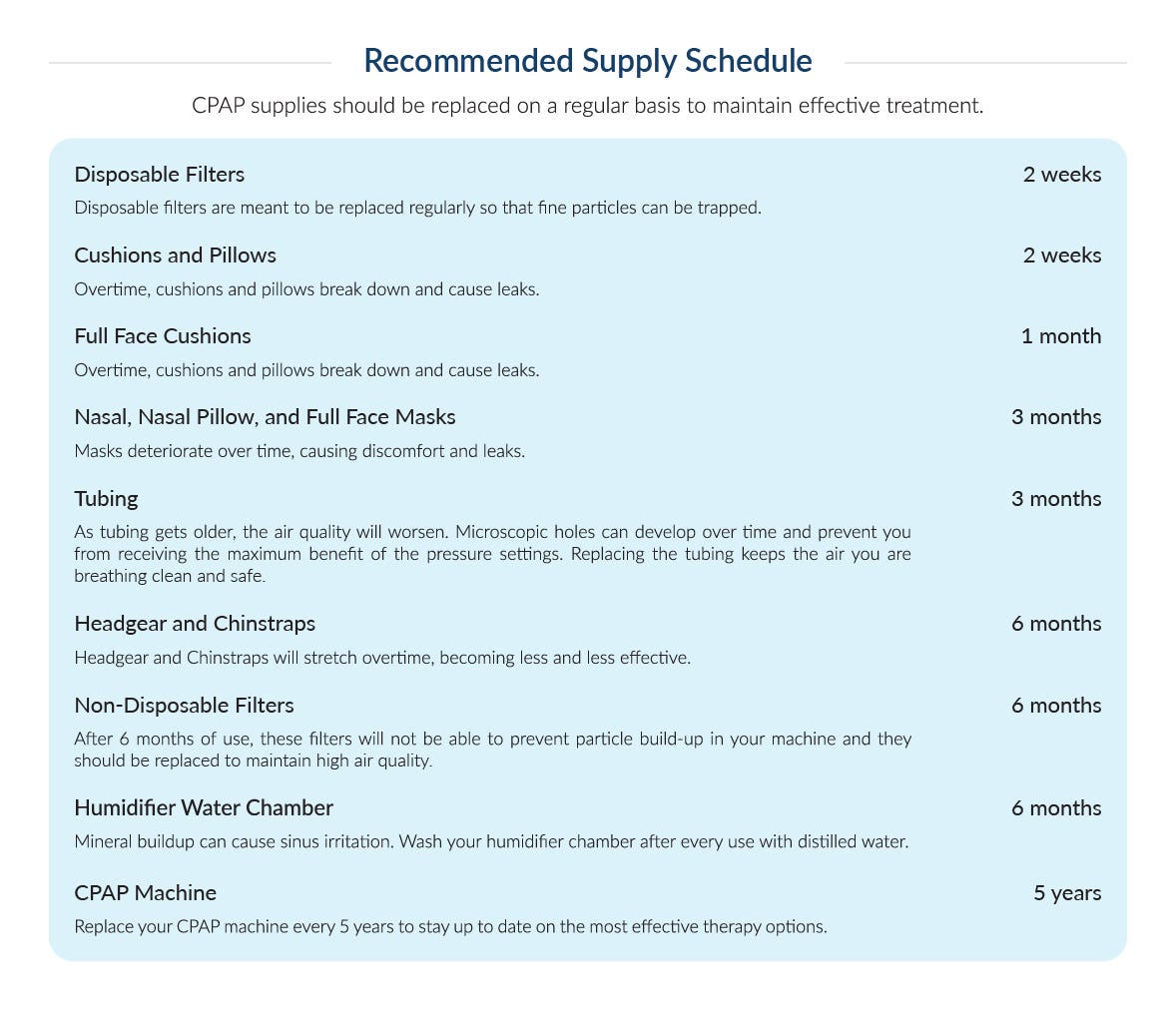 But how will you remember to replace each of these items on a regular basis? You don't have to. Simply sign up for our Subscribe & Save program to save 10% on your favorite supplies and relax as they automatically arrive at your home.
---
Solving CPAP Issues
I'm still snoring with CPAP
If you are still snoring while using your CPAP device you might be a mouth breather, meaning you should consider switching to a full face mask for better compliance. You may also have the incorrect mask size or need to adjust your CPAP pressure, so the titration isn't too low to hold your airways open.

Generally, CPAPs are only set to one pressure, so if you roll on your side, your device may be unable to hold your airways open. If you move a lot in your sleep consider using an auto cpap instead.
CPAP air pressure irritates me
If the air coming out of your CPAP causes discomfort, try switching to a full face mask to disperse the air across a larger area. A humidifier may increase comfort by adding moisture to the air. If it's difficult to exhale against the pressure consider using a BiPAP, which automatically adjusts to a lower pressure when you exhale.
My CPAP mask hurts my nose
It's common to find the pressure that CPAP masks place on your nose to be uncomfortable, especially if you've broken your nose in the past. Make sure you have a CPAP mask that's wide enough to correctly fit the bridge of your nose. You can also try switching to a mask with a forehead strap to relieve nasal pressure or a nasal pillow mask.
My CPAP makes me gassy
Well, what the toot?! It should help you sleep, not cause bloating or discomfort. If you're experiencing aerophagia, or excess gas, your pressure settings could be too high. As a result, the air can overload your lungs, causing you to swallow it. Then you have to get rid of it out of one end or the other. Switching to a BiPAP to reduce pressure as you exhale may also help.
My CPAP gives me dry mouth
Try using a CPAP with a humidifier to add moisture to the air. If you have diabetes, hypertension, or if you're an older patient a medication may be causing dry mouth, so consult with your doctor. You can also use a Xylimelt before bed to create saliva and prevent tooth decay during the night.
My CPAP irritates your skin
If you wake up with red marks or irritation there are a number of solutions to try. First of all, make sure your mask isn't too small or worn too tight. It shouldn't hurt. You can use CPAP gel or a mask liner to protect sensitive skin and to prevent skin contact if you're allergic to your mask. Keep your mask clean to remove bacteria that could lead to acne or switch to a smaller mask that has less skin contact.
My CPAP mask messes up my beard
Well, don't shave! Simply try a nasal pillow mask that only sits under your nose or a full face mask with a wide seal to prevent air from escaping even with the burliest of beards. CPAP gel and mask liners can also help create a secure seal around your beard without messing it up.