In today's day and age, wellness trackers are all the rage! According to a statistic released in 2023 by the National Heart, Lung, and Blood Institute, "Almost one in three Americans uses a wearable device—such as a smartwatch or band—to track their health and fitness."
This means many Americans have access to a lot of information about their wellness; including their workouts, heart rate, and, interestingly enough, their sleep patterns. Most fitness trackers, including brand names like Fitbit and the Apple Watch, will provide you with an in-depth report on your sleep quality after each night of sleep. With so much personal sleep data at your fingertips, you should be able to tell if you have a sleep disorder, right?
To answer this question, Aeroflow Sleep is here to explore the capabilities of what many sources are calling today's "best sleep tracker," aka the Oura Ring.
What Does The Oura Ring Track While You're Sleeping?
The Oura Ring can track your overall sleep quality while you're sleeping. It tracks your hours of sleep and breaks your total sleep time down into how long you spent in each phase of your sleep cycle. When you log onto the Oura app using a mobile device—iPhone or Android, you can see exactly how much time you spent in each of the sleep stages (light sleep, REM sleep, and deep sleep), plus how much time you spent awake during the night.
How can a tiny device, the size of a normal ring, collect so much information about your sleep? Well, the Oura Ring is able to classify your stages of sleep based on your "movement, skin temperature, resting heart rate, heart rate variability (HRV), and respiratory rate." These bits of information are collected independent of one another but all add up to your sleep health.
For example, the Oura Ring tracks your movements using a built-in device called an accelerometer. It also uses a thermometer-like sensor to capture your body temperature. Both can help recognize patterns in your sleep health. Our body temperature drops when we fall asleep and we're more prone to side effects (like RLS,) so the finger temperature sensor is a game changer in sleep tracking. Finally, you can use the Oura Ring to track your blood oxygen levels, which can reveal if your breathing stops at any point while you're sleeping.
Can The Oura Ring Tell You If You Have Sleep Apnea?
No, the Oura Ring cannot be used to diagnose sleep apnea or any other sleep disorders. Although the Oura Ring can give you a better picture of your sleep habits, this device cannot replace a doctor's medical diagnosis for two key reasons…
1) Oura Rings Are Not Medical Devices
Say it again! Oura rings are not medical devices, meaning they are not regulated by the FDA and cannot provide a medical diagnosis.
2) Insight Is Not The Same As A Diagnosis
The National Library of Medicine does believe that, with more testing and technological development, the Oura Ring could one day be used to diagnose patients…but not right now. Today, polysomnography (or a sleep study) is still the most reliable way to diagnose a sleep disorder.
So, this wearable technology cannot directly tell you if you have sleep apnea or not; it can however point out some important insights into your overall sleep health. Such insight can be helpful for you to bring up in a conversation with your doctor, especially when determining if a sleep study is necessary. Let's take a look at those possibilities!
What Might Sleep Apnea Look Like On A Wearable Sleep Tracker?
Using the Oura Ring to keep an eye out for potential symptoms of a sleep disorder is easy. Remember, the Oura Ring, and most sleep tracking devices out there, will measure your heart rate, blood oxygen levels, and the amount of time you spend awake during the night. These metrics are helpful, because they can make you more aware of symptoms you may be experiencing.
You may notice that your sleep tracker, an Oura Ring or otherwise, is reporting that your blood oxygen level is low while sleeping or that you are regularly awake for a long time over the course of the night. It may also indicate that your sleep quality is poor, based on the time spent in bed, frequency of awakenings in one night, and the total amount of hours you actually slept. All might point to an underlying issue that you can further discuss with your doctor.
Because the Oura Ring's data alone cannot be used for diagnosis, you should also tell your doctor if changes in your oxygen levels and sleep patterns are accompanied by sleep apnea symptoms; such as waking up with a headache, dry mouth, irritability, and extreme fatigue throughout the day.
What Should I Do If I See Signs Of Sleep Apnea On My Sleep Tracker?
Smartwatches and other wearable devices on the market today can only suggest a possibility of a sleep disorder, which is why Aeroflow Sleep does not sell them. If you see signs of sleep apnea on your sleep tracker, it's recommended that you reach out to your doctor.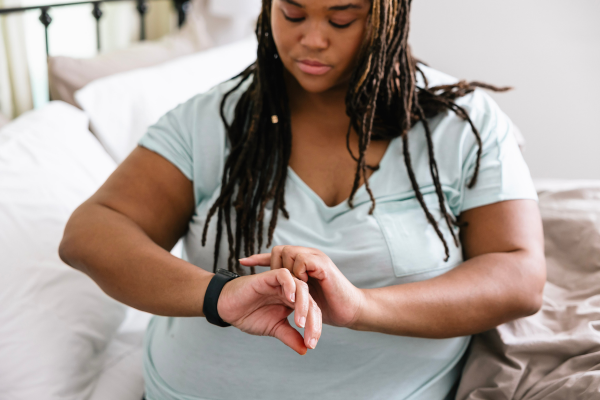 What's your doctor going to do that you don't already know from your Oura Ring? Well, they may order a sleep study for you. Sleep studies can be completed either at home or in a sleep lab, depending on what you and your doctor decide, and they are used to diagnose sleep disorders; like sleep apnea.
Obstructive sleep apnea (OSA,) which is the most common type of sleep apnea, happens when your airways are blocked while you're sleeping. CPAP therapy is considered the gold standard when it comes to treating OSA.
Unfortunately, CPAP machines, masks, and accessories can be expensive. If your sleep study reveals that you have sleep apnea, that's where Aeroflow Sleep comes in!
When To Contact Aeroflow Sleep
Aeroflow Sleep works with your physician and insurance provider to help you order the CPAP supplies that you need through your insurance. We do all of the heavy lifting, because it's a part of our mission to take the headache out of healthcare. It only takes 5-7 minutes to sign up.
Patients who are already on CPAP can also review their sleep data with a clinician should any adjustments need to be made; such as pressure settings. So, if your Oura Ring, their new patch, or another activity tracker points to poor sleep, reach out to your doctor, get a sleep study, and then contact us.
---

References
"Study Reveals Wearable Device Trends among U.S. Adults." National Heart Lung and Blood Institute, U.S. Department of Health and Human Services, 15 June 2023, www.nhlbi.nih.gov/news/2023/study-reveals-wearable-device-trends-among-us-adults.
"Sleep Stages." Oura Help Center, Oura, support.ouraring.com/hc/en-us/articles/11752397946003-Sleep-Stages.
Oura Team, and Caroline Kryder. "How Does the Oura Ring Track My Sleep?" The Pulse Blog, Oura, 16 June 2023, www.ouraring.com/blog/how-does-the-oura-ring-track-my-sleep/.
Front. Neurol., 23 February 2023. Sec. Sleep Disorders. Volume 14 - 2023 | https://doi.org/10.3389/fneur.2023.1105463
"Oura & Medical Conditions." Oura, Oura, support.ouraring.com/hc/en-us/articles/360038214494-Oura-Medical-Conditions.
de Zambotti, Massimiliano, et al. "The Sleep of the Ring: Comparison of the Ōura Sleep Tracker against Polysomnography." Behavioral Sleep Medicine, U.S. National Library of Medicine, 21 Sept. 2018, www.ncbi.nlm.nih.gov/pmc/articles/PMC6095823/.
3. Aeroflow sleep – CPAP and sleep apnea supplies through insurance. Aeroflow Sleep – CPAP and Sleep Apnea Supplies Through Insurance. Accessed September 26, 2023. https://aeroflowsleep.com/. May, Monique. Personal Interview. September 25, 2023. https://sleepopolis.com/news/oura-ring-patch-detects-sleep-apnea/
---