One person may identify as he. Another may be nonbinary, identifying as they. And, some use neutral pronouns; ey/em or xey/xem. Aeroflow Sleep respects this, because—simply put, we respect people. Unfortunately, a person's assigned sex at birth (ASAB) often medically contradicts their gender identity, especially when adopting a different gender does not negate their sex organs, hormones, etc.
This is exactly why obstructive sleep apnea (OSA) is silently attacking the trans community, and why, in solidarity with Kira Quinn, Doctor of Osteopathic Medicine and an openly trans woman, Aeroflow Sleep is reminding all that sleep apnea does actually discriminate.
IN THIS ARTICLE:
What Does It Mean To Be Transgender?
Gender Reassignment Therapy & Its Sleepy Side Effects
Aeroflow Sleep Treats Everyone
CPAP SUPPLIES THROUGH INSURANCE:
Aeroflow Sleep is in-network with most primary insurance companies and is accreditted by Medicare and Medicaid. Complete our Qualify Through Insurance Form, and we will automatically check to see if your plan covers CPAP supplies; including a machine, mask, and accessories. ***Must have a sleep study to qualify.***
You will also receive the care and attention every sleep apnea patient deserves; one-on-one clinical support in-home or via telehealth, a dedicated Sleep Specialist you can contact during business hours, and a user-friendly online portal with tailored replacement schedule, important updates and notifications, and educational resources.
Let us take the headache out of healthcare. Join the Aeroflow Sleep family today! It only takes 5-7 minutes to get started.
What Does It Mean To Be Transgender?
To be transgender, a person's ASAB is not gender affirming; therefore, it is not the gender that makes them at home in their bodies. In order to achieve their right to gender affirmation, some literally make the transition from one sex to another through hormonal treatments and surgery.
Being transgender is different from being homosexual though, because being lesbian or gay (or both - bisexual, or into any gender - pansexual) pertains to sexual orientation; with whom a person desires intimacy. Simply put, a man who was assigned female at birth can still fall in love with a woman, being heterosexual.
Cisgender is the opposite of transgender, meaning the person's ASAB and gender identity match. Again, this has nothing to do with sexual orientation.
All of this is important to understand as we move forward with the blog, because Aeroflow Sleep is not going to be discussing sexual orientation. Science has already found, "There [are] no significant sexual orientation disparities in sleep duration, trouble falling asleep, trouble staying asleep, or trouble waking up."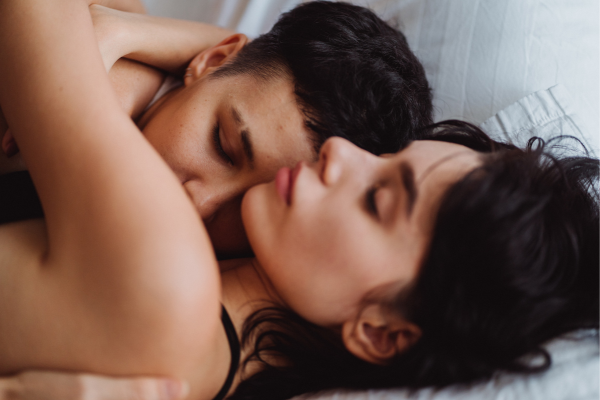 What we are going to be discussing is how researchers have—only in the past decade—begun to take into consideration certain comorbidities that ignore gender reassignment therapy; ones that contribute to OSA as side effects in defiance of a person's gender identity.
Gender Reassignment Therapy & Its Sleepy Side Effects
Trans women often begin with estrogen therapy. Their transition is known as MtF (male to female,) and research actually shows improvement in their OSA statuses after gender reassignment therapy. In fact, a recent study in the Journal of Clinical Sleep Medicine claimed some patients "with an initial history of moderate [to severe] OSA demonstrated complete resolution of symptoms and normalization of AHI."
Androgen therapy, which is used to help trans men present more masculine, is known as FtM (female to male.) Unfortunately, this transition is more susceptible to OSA. The same study cites a piece of scientific literature from 2014 where testosterone replacement therapy worsened OSA symptoms. If you're scratching your head at this, don't worry; so were we at first.
"...evidence suggests that Testosterone Replacement Therapy (TRT) may initially worsen obstructive sleep apnea in some men... Future research will require dedicated focus on evaluation of large, multiethnic cohorts of men through prospective trials to better elucidate both risk and hazard ratios of TRT as it relates to cardiovascular disease, prostate cancer, lower urinary tract symptoms, obstructive sleep apnea, erythrocytosis, and other to-be-determined theoretical risks in men..."
- The Journal of Clinical Sleep Medicine
In the end, it isn't just the anatomy that's driving sleepy side effects in the transgender community but, more importantly, the hormonal changes needed to transition properly. Testosterone is the key hormone replacement for FtM, and increased levels of testosterone can put a person at risk for cardiovascular disease, various cancers, and other comorbidities that lead to OSA. Estrogen does not have the same adverse effects when transitioning MtF.
Can Women Get Sleep Apnea?
Just because a person may be transitioning MtF does not mean they won't get sleep apnea or have to deal with any pre-surgery diagnosis post-surgery, because women can have sleep apnea too. The most important thing to identify among women with OSA is their age. There are three times when she's at high risk for sleep apnea:
During pregnancy and/or breastfeeding
Middle age or in perimenopause
Menopausal or postmenopausal
It's unlikely that the first will apply to a member of the trans community, however the other two are strongly rooted in hormones. "20% of women develop OSA during menopause [and]...the decline of hormones pushes women more toward OSA," so be sure to know the warning signs regardless of gender.
Where Genetics Draws The Line
Although genetics is where more research is needed, it's safe to say that anatomy does still play a pivotal role in the trans community's OSA diagnosis. Michelle Worley, Registered Nurse and Director of Clinical Operations at Aeroflow Sleep, medically reviewed a blog for us back in 2021, explaining the risk factors of things like a narrowed airway, a neurological defect (more often presented with CSA,) etc.
Such risks do not go away when transitioning, which is why it's especially important for anyone undergoing hormonal therapy to be upfront with their doctors about previously having OSA.
Aeroflow Sleep Treats Everyone
Now you can see why discrimination exists in this invisible illness, because OSA is greatly defined by your assigned sex at birth and will not deviate in favor of your gender affirmation. Plus, hormone changes have an impact too. Luckily, Aeroflow Sleep is here to treat everyone equally, no matter how their disease is presented or how they wish to be identified.
Don't know Aeroflow? We're the nation's fastest growing PAP supplier, and we believe in you so we work for you. We get with your sleep lab, your doctor, and your insurance provider, ensuring all paperwork, prescriptions, and forms are completed on your behalf. Plus, we partner with the best manufacturers in the market today and ship those products right to your door. The best part is…it may be covered up to 100% through insurance.
If you or a loved one have sleep apnea and would like Aeroflow Sleep to advocate for you, all you need to do to get started is fill out our online qualify form, then you'll have the peace of mind that we are on your side.
---

References
Luk JW, Sita KR, Lewin D, Simons-Morton BG, Haynie DL. Sexual Orientation and Sleep Behaviors in a National Sample of Adolescents Followed Into Young Adulthood. J Clin Sleep Med. 2019 Nov 15;15(11):1635-1643. doi: 10.5664/jcsm.8030. PMID: 31739854; PMCID: PMC6853407.
Earl DC, Brown LK. On Not Knowing What We Don't Know to Knowing What We Don't Know: Obstructive Sleep Apnea in the Transgender Community. J Clin Sleep Med. 2019 Oct 15;15(10):1393-1395. doi: 10.5664/jcsm.8010. PMID: 31596202; PMCID: PMC6778361.
Grech A, Breck J, Heidelbaugh J. Adverse effects of testosterone replacement therapy: an update on the evidence and controversy. Ther Adv Drug Saf. 2014 Oct;5(5):190-200. doi: 10.1177/2042098614548680. PMID: 25360240; PMCID: PMC4212439.
---