DreamStation Recall: Who Is Affected and What Should You Do?
As a result of the Philips recall, many other CPAP manufacturers are having difficulty keeping up with increased demand for CPAP machines. Because of this we are experiencing limited stock and longer than normal fulfillment times.
Philips Recall Update 10/24/22
Philips Respironics is no longer offering new or repaired versions of the recalled System One, 60 Series CPAP and BiPAP devices. Patients affected are instead being prsented with two options:
OPTION 1 - You may return the affected System One, 60 Series unit in exchange for $50. Upon receiving your System One, 60 Series device, a check will be issued to you by Philips Respironics.
OPTION 2 - You may continue to wait for Philips Respironics to supply you with a replacement device that is not the System One, 60 Series CPAP and BiPAP devices. An up-to-date prescription is required.
To select either of the two options, please sign into Philips Respironics' Patient Portal, which can be accessed at www.philips.com/src-patient-information. There is no default opton and, in the absence of selection, no action can be taken.
Philips Recall Update 03/28/22
Philips Recall Update 09/10/21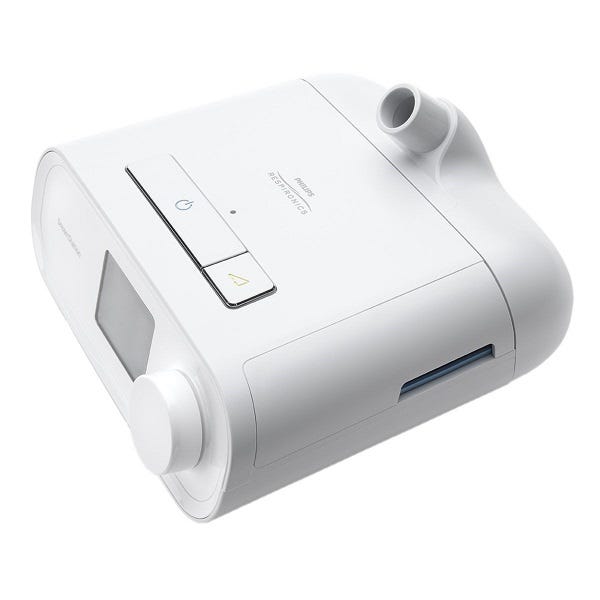 Philips Recall Update 09/01/21
Philips has begun replacing or repairing DreamStation CPAPs with the goal of finishing within a year. According to their statement:
"Philips anticipates rework to commence in the course of September 2021. In addition to the rework, the company has already started replacing certain affected first-generation DreamStation CPAP devices in the U.S. with DreamStation 2 CPAP devices [... and] intends to complete the repair and replacement programs within approximately 12 months."
There has been no guidance on which machines will be repaired and which will be upgraded to a DreamStation 2.
Why Has Philips Issued a Recall?
Philips, the healthcare device maker and manufacturer of the popular DreamStation CPAP, has issued a voluntary recall notification for nearly all of it's CPAP, BiPAP, and mechanical ventilator devices (excluding the DreamStation 2).
The recall is due to potential health risks associated with the breakdown of a foam used to make these devices quieter. This "sound abatement foam" is made of a polyester-based polyurethane (PE-PUR) which may degrade when exposed to high heat or humidity, releasing particles into the device's air pathways. Foam degradation may also lead to the release of chemical emissions, which may carry its own possible health risks.
Additionally, the breakdown may be made worse by the use of unapproved cleaning methods, such as ozone sanitizers.
Philips has immediately stopped the manufacture of the affected devices, and is redirecting all of its manufacturing resources toward the repair or replacement of CPAP machines and respiratory care devices. The company plans to replace the sound abatement foam component with a new material that is not affected by this issue. The new material will also replace the current foam in future medical devices.
---
Which CPAP Machines Does the Recall Affect?
---
The recall notification includes all CPAP and BiPAP devices manufactured before April 26th, 2021, as well as a number of mechanical ventilation devices.
Recalled machines include all serial numbers for the following:
CPAP (Continuous Positive Airway Pressure)/BiPAP (Bi-Level Positive Airway Pressure)
DreamStation CPAP

/

Auto CPAP

/BiPAP(

BiLevel PAP

)

DreamStation Go

CPAP

/APAP

SystemOne

Q Series

REMStar

SE

Auto CPAP

Dorma 400/500

CPAP
Mechanical Ventilator Devices
E30

DreamStation

ASV/ST/AVAPS

SystemOne

ASV4

C Series ASV/ST/AVAPS

Trilogy 100/200 Ventilator

A Series BiPAP V30 Auto Ventilator
The recall does not include the DreamStation 2; however, these machines may be unavailable as Philips redirects their manufacturing resources towards repairing or replacing existing machines.
For a complete list of the specific Philips affected devices visit http://philips.com/src-update
---
What Are the Possible Health Risks?
---
Philips Respironics has reported receiving several complaints about black debris found within CPAP devices' humidifiers, tubing, and masks. These complaints include symptoms such as headache, upper airway irritation, and cough.
Other potential side effects include:
Irritation of the respiratory tract, eyes, and skin

Asthma

Potentially

carcinogenic effects
At the time of publishing, Philips had not reported any cases of patient impact from the chemical emissions; however, they note that potential side effects do include:
Headache/dizziness

Nausea/vomiting

Irritation of the eyes, nose, skin, and respiratory tract

Potentially toxic or

carcinogenic effects
If you experience any of these symptoms, speak with your doctor or healthcare provider right away.
---
What Do I Need to Do?
---
Philips has already begun a program to replace the sound abatement foam with a new material not affected by this issue. To begin a claim for repair or replacement of your device fill out the form at https://www.philipssrcupdate.expertinquiry.com/ or call Philips at 877-907-7508. (Either way, have your device's serial number ready to enter. For DreamStations this is a 13-14 digit number beginning with P, J, or D.)
Since sleep apnea is a serious condition, you should discuss with your physician whether or not to continue your CPAP or BiPAP therapy until your machine is repaired or replaced. If you're using a life-sustaining mechanical ventilator, Philips advises that you should not discontinue use until you can speak to your healthcare provider.
To keep up-to-date as Philips issues additional guidance visit http://philips.com/src-update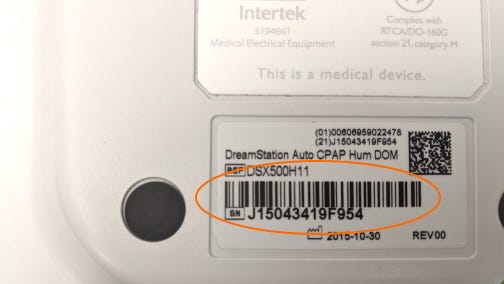 ---
Replacing Your CPAP Device
---
It's worth noting that if your CPAP machine is 5 years old or older your insurance may cover a brand new machine, regardless of the recall. Your Aeroflow Sleep Specialist can coordinate between your doctor and insurance provider to see if you qualify for a new device.
Many of the features you've come to rely on in the DreamStation are also available in machines like the ResMed AirSense 10.
To have your existing DreamStation repaired or replaced under warranty, contact Philips at https://www.philipssrcupdate.expertinquiry.com/ or call 877-907-7508.